It's almost time for fun fall festivities, and you know what that means… corn maze time! Not only is romping about in a corn maze a quintessentially must-do New Hampshire bucket list activity, but it's hard to find a better "Hello Fall!" excursion than getting lost in a corn maze (although pumpkin and apple-picking are right up there, too) as the sun starts to set and the crisp autumn breeze whips through the stalks.
Whether your favorite corn maze is spooky, sweet, or full of riddles, you'll find it here in this list of the 10 best corn mazes in New Hampshire!
Best Corn Mazes in New Hampshire
Sherman Farm, Conway NH
Beautiful Sherman Farm is home to a 12-acre corn maze that has been lauded as one of the best corn mazes in NH, winning Best Corn Maze in New Hampshire for 2014, 2015, 2017, and 2018; the corn maze opens for fall fun, weekends only September-October.
Sherman Farm is a family favorite for not only just their fun-to-find-your-way-out-of corn maze, but also for their other great family activities, like an inflatable pumpkin pad for jumping, their kiddie playground, fun hands-on games, and all kinds of local farm market goodies.
Oh, you can even feed and pet the cute goats while you're there, too, or just venture on out to check out all the awesome things to do in North Conway!
Read Next: Best Pumpkin Patches in New Hampshire
Riverview Farm, Plainfield NH
Riverview Farm is a gorgeous farm that offers all kinds of great pick-your-own goodies, and also happens to be one of the best spots for apple-picking in the state. Their other big claim to fame is, of course, their themed corn maze!
2020's theme was Monsters of New England, and that's the kind of creative fun you can expect from Riverview Farm; if it's more spooky fun you're after, then plan your visit for the Friday and Saturday before Halloween to experience the haunted corn maze.
With hayrides, antique tractor rides, and all the amazing farm-fresh goodies found in their Barn Store, there's more than just New Hampshire corn maze fun at Riverview Farm.
Read Next: Abandoned Places in NH
Washburn's Windy Hill Orchard, Greenville NH
Washburn's Windy Hill Orchard offers 4.5 acres of corn maze fun in this lovely orchard setting. Of course, the apples are often the star of the show here, but this New Hampshire corn maze here plays a heck of a supporting role!
In addition to the pumpkins you'll also find here, don't forget to visit the gift shop for handcrafted goods and delicious treats; Washburn's Windy Hill Orchard is known for their scrumptious apple cider donuts and their frozen apple cider slushies, so save a little room for the sweet stuff, too!
Moulton Farm, Meredith NH
Located in one of the cutest small towns in New Hampshire, Moulton Farm in Meredith pulls its own weight when it comes to the cuteness factor!
Beautifully laid out, Moulton Farm has a great selection of fresh-picked produce available, and lots of remarkable offerings available via their farm kitchen and bakery, too, so after you pick your own pumpkins, cut your own flowers, and make your way through the clever and oftentimes challenging NH corn maze, you can grab something to eat. Maybe take a few of the famous apple-cider donuts from Cider Bellies for the road!
Read Next: Amazing Spots for Apple Picking in NH
Elwood Orchards, Londonderry NH
Picturesque views everywhere you look, Elwood Orchards is just as gorgeous as their corn maze is challenging… and that's a lot! Not only can you do the whole pick-your-own apples and pick-your-own-pumpkin bit, but Elwood Orchards' corn maze is an epic-to-get-through puzzle with lots of twists, turns, and false exits!
If you're looking to up the ante a bit, consider going to the Night Maze, where finding your way out of this 14-acre behemoth gets even trickier under the New Hampshire moonlight. Grab some goodies from the farm stand to take with you into this New Hampshire corn maze, you might be there for a while!
Scamman Farm, Stratham NH

Note there is no corn maze at Scamman Farm in 2022!
Scamman Farm is a lovely farm that is located less than 20 minutes away from pretty Portsmouth, so even if you decide to make a full day out of your corn maze-ing, you can easily make it on over to Portsmouth for great restaurants and fabulous places to stay!
Scamman Farm's corn maze is 6 acres of riddles that will have you using your brain as much as your body to make your way through! For corn mazers under 5, Scamman Farm also has a mini hay maze and play area.
Don't leave the farm without feeding the goats and pigs and swinging by the Pumpkin Shack for some of their farm-fresh produce and other treats!
Read Next: Fall Foliage New Hampshire
Collins Farm, Bath NH
Collins Farm doesn't just cut a few lines in their corn for people to traipse through, no, Collins Farm goes all out to make the corn maze experience as engaging and interesting as possible. You aren't just looking for the exit, you have to find the hidden checkpoints via trivia first, and with flashlight mazes, haunted mazes, and Cash in the Corn events, you're probably going to want to go through Collins Farm's corn maze more than once!
In addition to the gorgeous flowers and veggies available at the farm, it is also home to an Adventure Trail experience, where "escape room meets the great outdoors."
Check out their merch, too, in case you need to score one of their "I lost my husband at Collins Farm" or "I lost my wife at Collins Farm" shirts to commemorate your experience at this cute New Hampshire corn maze!
Beech Hill Farm and Ice Cream Farm, Hopkinton NH
Beautiful Beech Hill Farm and Ice Cream Barn is absolutely adorable, with a great garden center that has gorgeous flowers, farm animals that are as sweet as can be, an ice cream barn that sells frozen, creamy deliciousness and cute country goods, and a corn maze that will have you all twisted and turned around in the best ways possible!
Beech Hill Farm's corn maze is fun for everyone, so it's ideal for families with younger kiddos and for anyone that is looking for a fun and easy-going time!
Beans and Greens Farm, Gilford NH
Beans and Greens Farm is your one-stop shop for fall farm fun. Pet the barnyard animals or take a tractor ride before you head into the multi-acre NH corn maze where you'll need to follow the clues to find your way through and around the miles of turns, loops, and dead ends until you find your way out!
Night maze adventures in October are for those who are looking to up the ante on difficulty level a bit for their corn maze fun. In addition to fall farm fun, Beans and Greens Farm also has your pumpkins, gourds, apples, cider, donuts, and pies, oh my, so don't leave this New Hampshire corn maze without grabbing some of these goodies, too!
Coppal House Farm, Lee NH
Beautiful Coppal House Farm is known for its stunning sunflower season (and wonderful sunflower festival!) and its incredible corn maze. Answer the trivia questions for clues on how to navigate through the maze and its many twists, turns, and dead ends until you find your way to the end, then go on a horse-drawn wagon ride to cap your New Hampshire corn maze fun.
If it's more of a Halloween vibe you're looking for, come for the Flashlight Night Maze and try your luck under the darkness of night! Buy a bottle of Coppal House Farm's award-winning sunflower seed oil before you leave so you can see what all the fuss is about there, too.
Good, old-fashioned fall fun like making your way through a corn maze as the Autumn wind grows colder will never go out of style; add corn maze adventures to your New Hampshire bucket list right away!
---
You might also like:
---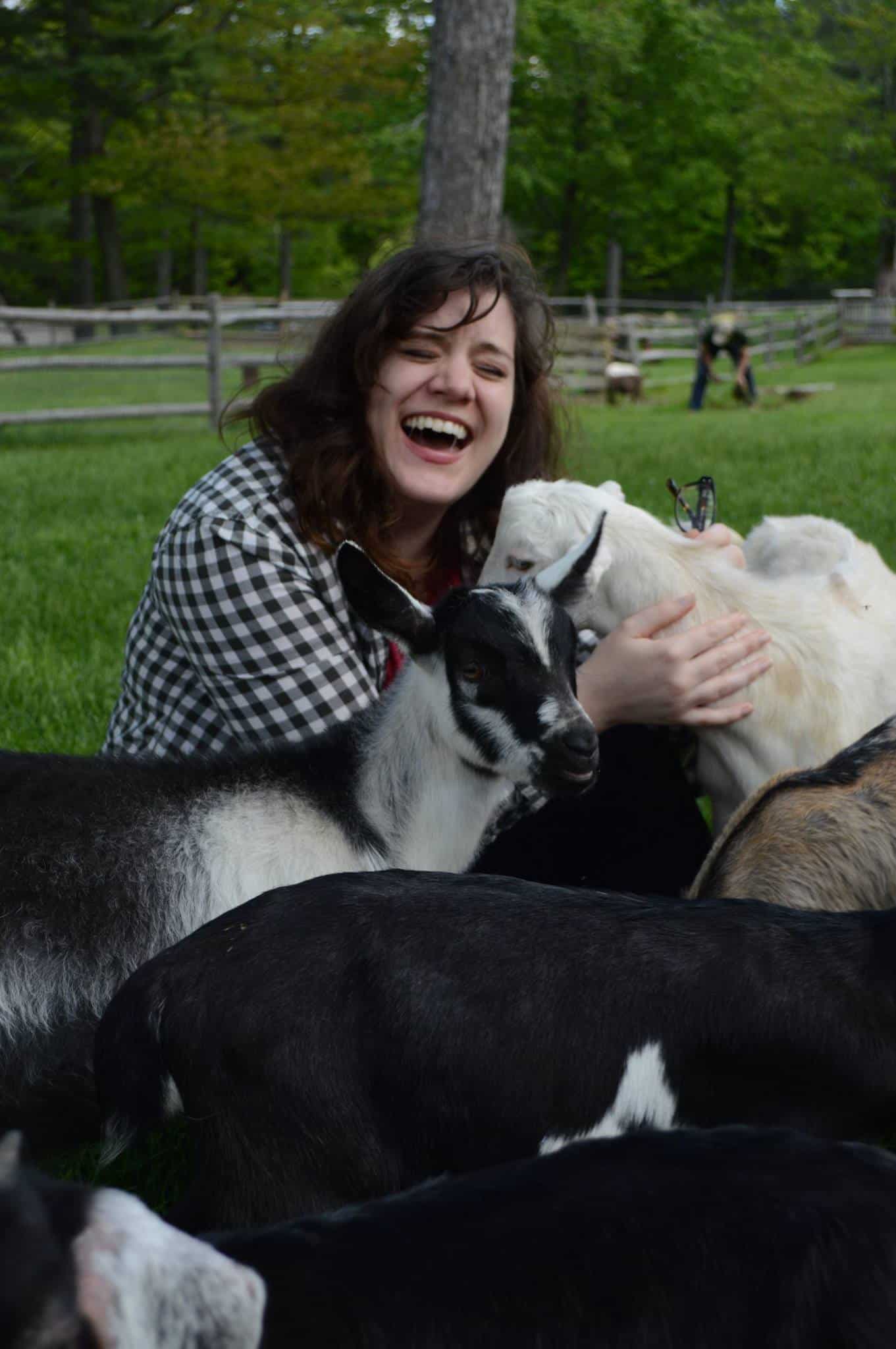 Amy Hartle is the founder and Editor-in-Chief of New England With Love, a comprehensive resource for travel in the New England region. Amy has been exploring New England since 2001. She lived in Vermont for many years and is a graduate of Plymouth State University in New Hampshire. Amy has been writing about travel for over a decade. On this site, Amy aims to share her love of New England and help you to have the best possible adventures!
Amy has been a full time blogger since 2012, and is also the publisher of Two Drifters, where she writes about couples travel and relationships, as well as Let's Adventure Baby, a family travel site. When not traveling the world or creating epic blog content, Amy can be found cuddling with her husband, son, and cats, & drinking a maple latte.