*This site uses affiliate links; if you make a purchase through these, I may receive a small commission at no cost to you.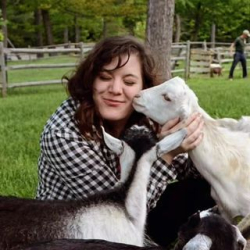 Latest posts by Amy Hartle
(see all)
When it comes to fall in New England, Massachusetts is the place to be for pick-your-own apple farms that are perfectly picturesque, hiking routes that immerse you in stunning natural beauty, haunted locations that put you in that spooky state of mind, and of course, fall foliage destinations that are absolutely breathtaking!
That's all great fall fun, but if you're looking for an awesome autumn activity that will really have you feeling fabulously fall-tastic, then you need to look through this list of the best corn mazes in Massachusetts; sometimes you have to get a little lost to find what you're looking for, right?
Best Corn Mazes in Massachusetts
Marini Farm Corn Maze, Ipswich MA
Marini Farm offers an 8-acre corn maze that is educational, interactive, and oh so incredibly fun! Find the 18 stations located in the maze that will give you the answers you need to fill out your "game sheet," and find your way out of this Bay State maze. There is a 1-acre mini-maze for little ones to make their way through, too!
Marini Farm also has a play area, farm stand, and bakery, so after you find your way out of the maze, you can refuel with some of Marini Farm's famous cider donuts!
Hanson's Farm, Framingham MA
Hanson's Farm is known for two fantastic fall experiences that they offer: Tom and Matt's Corn Maze and Hanson's Haunted Hayride. The corn maze may be small, but it still offers great family fun! Visit the farm animals, enjoy the sunflower field, and check out some of the pick-your-own fruits, flowers, and pumpkins.
If you're interested in something a little more harrowing than a corn maze and sunflower field for your autumn fun, visit at night for their Haunted Hayride, available every Friday and Saturday night in October. Boston is also just up the road if you're looking for more fun things to do in the area!
Read Next: Best Pumpkin Patches in Massachusetts
Nessralla Farm, Halifax MA
Nessralla Farms' massive 12-acre corn maze isn't the only thing that draws people out for fall fun, with pumpkin picking, decorative hay bales, corn stalks, and mums for sale, scarecrows and other cute fall decorations to pose and take pictures with, a farm stand with veggies, flowers, and handcrafted goods for purchase, and a zip line to enjoy too!
Nessralla Farms' corn maze can be challenging, but it's a fun challenge to try to navigate your way through the extra tall stalks of corn.
Read Next: 10 Abandoned Places in Massachusetts
Mike's Maze at Warner Farm, Sunderland MA
Mike's Maze is so much more than just the 8-acre corn maze that is artfully designed each year, it is also a veritable wonderland for autumn awesomeness! There are potato blasters to ricochet spuds up into the air, derby-style pedal carts for kids and adults, a petting zoo, giant Jenga, Chess, and Connect 4, and a Pasture Playground where kids (or adults, there's no age limit at Mike's Maze) can race down a tall double tube slide, bounce on a huge jump pad, or race rubber duckies.
Between the corn maze and all the other activities, you'll probably be ready to swing by the Corn Café and get something to munch on, too! Werner Farm is the perfect location for an activity-packed autumn day.
Read Next: 13 Haunted Places in New England That are Wicked Creepy
Connors Farm, Danvers MA
There is so much fall farm fun to be had at beautiful Connors Farm! Not only is there a great 7-acre corn maze with interactive games designed to guide you through and out, but the entire farm is designed for a perfect autumn outing. Pick your own apples and pumpkins, take a spin on the hayride or the Putnamville Railroad train, and when you've worked up an appetite, visit the Farm Stand or one of Connors Farm's great spots to eat, like Connors Country Kitchen or Grandma's Sweet Shop!
For spooky fun, there's the creepy nighttime maze experience, Hysteria at Connors Farm, and of course, Salem is just up the road with all kinds of haunted Halloween fun!
Read Next: 15 Haunted Hotels in New England To Stay in If You Dare
Flint Farm, Mansfield MA
Flint Farm is a quaint, quiet family farm that has a few claims to fame that bring people in from around the region: excellent ice cream that is sold until Halloween, farm-fresh corn that is harvested and goes on sale in July, and the 4-acre corn maze that offers a heaping helping of old-fashioned fall fun at the farm.
You'll also find fresh veggies, pumpkins, and fall décor available at Flint Farm, so you can take home a few little souvenirs from your a-mazeing time spent twisting, turning, and getting lost in the cornfields; don't forget to visit the Flint Farm Ice Cream Stand before you leave!
Read Next: 9 Spookiest Ghost Tours in Boston
C & C Reading Farm, West Bridgewater MA
C & C Reading Farm offers wagon rides, a pumpkin patch, and a 3-acre themed corn maze with fun and educational games to play along the way as you try to find your way out of the tall stalks of corn; if you'd like to up the ante a little on your maze adventure, ask about their Flashlight Nights in the Maze so you can try to find your way out under the cover of darkness!
You'll also find all kinds of local fresh fruits, veggies, and handcrafted goods like artisan pasta, jams and jellies, and fresh-baked bread. Fuel up before your corn maze quest with some of C & C Reading Farm's fantastic cider donuts!
Davis Mega Maze, Sterling MA
Davis Mega Maze is an epic 8-acre corn maze that is designed to be both a challenge and an entertainment attraction, with several different "extreme mazing levels" which can be selected depending on how intense of an experience maze-goers are looking for. Davis Mega Maze is also the site of the Davis Mega Farm Festival, featuring games, live music, award-winning Kansas City BBQ, and craft beer.
Directly across the street is Davis Farmland Discovery Farm, where you'll find Adventureland, an animal showcase featuring "Safari Hayrides," and a fabulous kid playground called Imagine-Acres. Davis Mega Maze is the place to go for maximum fall fun for adults and children alike!
Read Next: 13 Haunted Places in Massachusetts: Paranormal Hot Spots 👻
Wojcik's Farm, Blackstone MA
Wojcik's Farm's motto is "Come spend a day in the countryside," and there really is no better way to experience a quintessential New England autumn day than to spend it picking your own apples, taking a wagon ride out to a pumpkin patch to pick your perfect pumpkin, and getting lost for a bit in a great 5-acre corn maze! You can even come back on a chilly fall night with a flashlight if you're up for the challenge of finding your way to each of the checkpoints and out of the maze under the light of the moon.
Once you've worked up your appetite, swing by the Snack Shack to top off and check out the Farm Store and Bakery for locally-sourced goodies like honey, jams, salsas, and country home décor. Heads up, cider donuts are only made Saturday and Sunday mornings, and they sell out FAST!
Read Next: 11 of the Spookiest Ghost Tours in New England
Sauchuk's Corn Maze and Pumpkin Patch, Plympton MA
One of Massachusetts' most popular corn mazes, Sauchuk's Corn Maze is 7 acres of carefully constructed "agri-tainment" situated in a lovely country setting and featuring a whole lot of farm-style fun, like playing with apple blasters, duck races, tug-o-war, a zip line, hayrides out to the pumpkin patch, pick your own pumpkins, and so much more! Refreshments like cider donuts are also available at Sauchuk's Corn Maze and Pumpkin Patch, and Plymouth is less than 15 minutes up the road, with lots of fun things to see and do there, too!
Read Next: Spookiest Ghost Tours in Boston and Ghost Tours in Salem MA
There's a reason that getting lost in a corn maze made its way onto this essential Massachusetts travel guide, now you get to find out why for yourself!
You might also like:
---