*This site uses affiliate links; if you make a purchase through these, I may receive a small commission at no cost to you.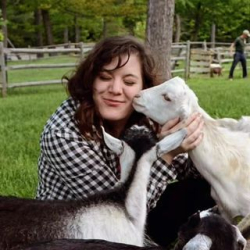 Latest posts by Amy Hartle
(see all)
If you're looking for fall fun on a crisp autumn afternoon, what could possibly be better than getting outside in that brisk Maine weather with some wholesome activities like apple-picking, pumpkin-picking, and corn-mazeing?
For fabulous fall fun, look no further than the coolest corn mazes in Maine!
Best Corn Mazes in Maine
Treworgy Family Orchards, Levant ME
Beautiful Treworgy Family Orchards is the place to go for a fun fall day for the whole family! Of course, there are the pick-your-own-apples, which is always a great fall experience, but then add in a petting zoo, hayrides, a pumpkin patch, and a challenging corn maze, and you've got yourself the perfect autumn outing.
Treworgy Family Orchards also has a café with all kinds of yummy eats, including staples like hot cider and fresh donuts!
Read Next: Fall in Maine: Where to Go and What to Do for Autumn Magic
Zach's Farm, York ME
Zach's Farm is a cute little farm that offers fun fall activities like taking a spin on a hayride, pumpkin-picking at the pumpkin patch, playing at the hay bale playground, and of course, getting lost in a corn maze. Flashlight tag is a unique feature of Zach's Farm's fall offerings, so come after dark if you'd like to enjoy a little night-time fun in the cornfields.
Plus, there's always lots of fun to be had in York, no matter what!
Pineland Farms, New Gloucester ME
Pineland Farms is a huge agricultural attraction with over 5,000 acres of gorgeous views, so you'll get some great eye candy during your visit, whether you're hiking or mountain biking the woodland trails, playing a round of disc golf, touring the farm, or getting lost in the 5-acre maze!
Pineland Farms hosts events all year round, too, so check their calendar to see what to expect during your visit.
Hoopers Orchard, Monroe ME
Hoopers Orchard offers a quaint and quiet autumn experience with pick your own apples and pumpkins, and a corn maze that is ideal for families with young children looking for a sweet activity that is fun for little ones.
Enjoy some of the fresh-pressed cider and the fresh cider donuts available at Hooper's Orchard, too, and maybe even take some of the other locally-made goodies back home with you, too!
Thunder Road Farm, Corinna ME
Thunder Road Farm provides the perfect setting for a great fall day, with a pumpkin patch for pumpkin-picking, a corn pit, hayrides, a pirate ship playground, duck races, a cow train, and a jumping pillow for the kiddos, and a sunflower field for strolling in.
Try your hand at the 6-acre corn maze during the daylight or come back at night for the flashlight maze; some days Thunder Road Farm hosts local food trucks to top everyone off after their romps through the maze!
McDougal Orchards, Springvale ME
Picturesque McDougal Orchards specializes in pick-your-own goodies like apples, peaches, and berries, but they also deliver great fun-at-the-farm experiences like going on wagon rides, feeding the farm animals, visiting McDougal Orchards' woodland "fairy village," and strolling through a quaint and simple corn maze.
You'll also find lots of delicious fall treats for sale, like hand-pressed apple cider and fresh cider donuts—yum!
Wallingford's Fruit House, Auburn ME
Wallingford's Fruit House is popular for their beautiful orchard offerings, petting zoo, and their incredible corn maze, providing the perfect challenge for those who want to get a little lost! Wallingford's also has a haunted maze called Nightmare on the Ridge for anyone looking to get in the Halloween mood with a spooky spin on the corn maze.
Don't skip a visit to the bakery, because Wallingford's is well-known for its fantastic baked goods; apple dumplings are especially popular!
Ricker Hill Orchards, Turner ME
Ricker Hill Orchards is a family farm that offers extra activities like bounce houses and disc golf in addition to the pick-your-own-apple and pumpkin fun, but one of Ricker Hill Orchard's most popular activities each autumn is the cozy corn maze that is fun for all ages and can typically be completed in less than an hour.
Don't forget to grab some fresh cider donuts and a pack of their famous Mainiac Hard Cider on your way out!
Goughan's Farm, Caribou ME
Goughan's Farm is the place to go for a full afternoon of good, old-fashioned fall family fun in Maine, with a mini-golf course, a pumpkin patch, a petting barn with baby animals, kiddie rides for the littlest in the group, and of course, a corn maze/scavenger hunt!
The theme changes every year but the fun remains, plus, Goughan's Farm offers a Haunted Dairy Bar for the kiddos to walk through in costume and get a frozen sweet treat, too.
Keep your eyes peeled on the drive to and from the farm because Aroostook County is one of the best regions in Maine to spot moose!
Pumpkin Valley Farm, Dayton ME
Whatever fall activity you're looking for, chances are Pumpkin Valley Farm has it! Stroll through the sunflowers, visit the baby animals, pick your pumpkin at the pumpkin patch, play on the jumping pillow and in the corn pit, shoot balls out of the launcher over the fields, and work the corn maze by answering the questions as you go along for clues on which way to go.
Pumpkin Valley Farm even has an adult Wine Night where you can stroll through the corn looking for the wine and chocolate sample stations… sounds like an a-mazeing time, right? Definitely add that one to the list of best corn mazes in Maine for adults!

Whichever one of these corn field mazes in Maine you end up visiting for your autumn adventures, enjoy yourself and have plenty of fantastic fall fun!
You might also like:
---