---
*Links in this article may be affiliate links, from which we may earn commission. See our
Privacy Policy
for full details.
---
If the title of this post made you imagine the delightful, sensory inundation that you experience when walking into a coffee shop, read on for some of Connecticut's very best places to get caffeinated and have a great day! Coffee shops offer something that everyone from morning larks to night owls can enjoy.
Whether you prefer to grab a cup of coffee to go, savor a latte while working to the steady hum of people coming and going, meet a friend for lunch in a comfy space, or swing by for an afternoon pick-me-up, you'll find something that suits your preferences on this list of the best coffee shops in Connecticut.
These cafes serve drinks including pour-over, latte, espresso, macchiato, cappuccino, and many others, plus delectable treats, and opportunities to socialize at the Constitution State's coziest, most unique, and inspiring spaces. So, pull out your coffee bucket list and get ready to traverse this small state for these must-visit coffee shops.
Silk City Coffee, Manchester
Manchester is home to spectacular hiking trails at Case Mountain, the world-renowned Thanksgiving Day Manchester Road Race, beautifully-gardened Wickham Park, and Silk City Cafe. At the heart of downtown Manchester, you'll find Silk City Cafe, which will be a superb destination to start or end your day in town.
Named after one of the Town's nicknames and for the silk mills which historically dominated the industry, Silk City Cafe was opened in 2016 by two community- and coffee-loving couples. On the menu, you'll find an impressive array of coffees and teas, egg sandwiches, lunch sandwiches, and sweet pastries.
An airy and inviting atmosphere welcomes visitors on Monday through Saturday, and live music is featured on Friday nights. With a motto of "Love Coffee Love People," you'll feel right at home in this sweet and sincere space.
Craftsman Cliff Roaster, Norwich
Another community-centered space, Craftsman Cliff Roaster is in the southeastern Connecticut town of Norwich. Step through the doors of the white brick building, and you'll find an interior that's nautical-meets-earthy-crunchy. Overall, it's an extremely cozy space to enjoy your sips and bites.
The owner, who brings west coast culinary and coffee expertise, sources fair trade products that are harvested and processed in chemical-free ways, then roasts them right before your eyes. There's way more to Craftsman Cliff Roaster than just plain coffee though; try an espresso or one of many teas, or some steamy drinking chocolate made from cacao that's roasted in-house.
Don't miss out on the freshly made chocolate bars, either! Are your senses alert yet?! Even though it's only a few years old, this place already has deep roots, so branch out to eastern Connecticut for a look at the menu.
Shearwater Organic Coffee Bar, Fairfield and Westport
Opened in 2013, Shearwater Organic Coffee Roasters prides itself on the integrity of its products. It's truly one of the best coffee shops in Connecticut. Rich-tasting, pesticide-free, artisanal, and sustainable, this is the kind of coffee to sip slowly and close your eyes so you can experience how it plays with your senses.
Modern spaces and knowledgeable staff make Shearwater an inviting place to make an informed choice and enjoy a cup of coffee. Warm and sunny space inside and out on the patio, both the Fairfield and Westport locations offer the perfect place to sit, sip, and savor. When in southwest Connecticut, don't miss the chance to try Shearwater's upscale offerings.
Ashlawn Farm Coffee, Old Saybrook
Open since 2002, Ashlawn Farm Coffee is located in the quaint seaside town of Old Saybrook. Originally established in an outbuilding on the family's farm, Ashlawn Farm Coffee now welcomes customers into a rustic yet refined building with an interior evocative of its farm origins.
The wood finishes are as picture-perfect as the food and beverages. The owners take pride in sourcing high-grade specialty coffee beans from all around the world, then roast it to perfection, right on site. Ashlawn also features an amazing array of pastries and breakfast treats; try the savory breakfast biscuit, a pain au chocolat, or a blueberry muffin.
Need another reason to visit? Many locally-sourced ingredients are incorporated into the menu, and the company is committed to environmental sustainability.
Blue State Coffee, New Haven, Hartford
Blue State Coffee is a family-owned, mission-driven, community-oriented business. Each year, they support local nonprofit organizations and purchase ethically-sourced coffee beans so that both vendor and consumer alike feel good. Blue State's extensive range of coffee beans is roasted right in Connecticut in small batches to provide a flavorful and exciting coffee experience.
Need something to complement your caffeine? Grab a sandwich, pastry, or smoothie on the side. With four locations in New Haven and one in Hartford (not to mention another in Providence, Rhode Island), it will be easy to stop by wherever you are in Connecticut. Each location has its own personality, so why not visit all of them?
Perkatory Coffee Roasters, Branford, Middletown, Southington, and West Hartford
In search of a coffeehouse that leans a little more punk rock? Then you must visit Perkatory Coffee Roasters, a cool, community-driven business that serves up coffee roasted in-house at four locations around Connecticut. As soon as you walk through the doors, you'll realize Perkatory isn't your traditional coffee shop.
From stickers festooning the counter to a skeleton greeting customers (and not just in October), to the music, this place brings skater influence to coffee culture. With a variety of traditional and special drinks, plus a large selection of flavorings and a small rotating menu of pastries, there's something for every caffeinated and non-caffeinated customer.
Drinks like "Irish Scream" and "My Bloody Valentine" will give you a taste of just what's on the menu. Events including coffeehouses are held on occasion, so be sure to check out the social media so you don't miss out. For a truly unique and funky coffee experience, spend some time at one of Perkatory's four locations; it
Grounded Coffee Company, Willimantic
One of the newer shops featured on this list, Grounded Coffee Company opened up in 2016. Grounded serves gourmet coffees and a limited food menu that includes bagels and pastries. If you plan to stay to sip and munch on-site, you can do so indoors or outside on a patio, depending upon the season.
Grounded is a community gathering space too, and events from books clubs to mixers are held, so stop on by with friends or to make some new ones. Grounded Coffee Company's coffee is sourced from roasters right in New England and the east coast, offering customers an impressive variety of small-batch options.
Story and Soil Coffee, Hartford and Middletown
Story and Soil Coffee is founded on the values of community and positivity. Oh, and it has transcendent coffee and baked goods, thanks to partnerships with local artisan producers. Visit the charming and quirky Frog Hollow neighborhood of Hartford to enjoy this treat, or head to RJ Julia Booksellers in Middletown for a treat while you shop for books.
Open daily, enjoy a sweet or iced caffeinated treat alongside a sandwich or pastry. A neighborhood joint that welcomes everyone in, Story and Soil is a good place to do some writing or to people-watch. The brick and forest green exterior is as inviting as the staff you'll encounter inside.
Rated among the best coffee shops in the country by Food and Wine magazine, Story and Soil should be a must-visit on your coffee shop bucket list.
Giv Coffee, Canton
The owners of Giv Coffee have been pouring perfectly crafted cups of their micro-roasted coffee for over 11 years. Originally operating at farmer's markets, they opened a coffee shop in the town of Canton in 2015. Situated on a main route, it's easy to get to, but once you arrive, you'll be swept away.
Giv is located in an old house-turned-cafe, decorated with farm-inspired and global decor. The variety of seating makes it perfect whether you're caffeinating solo, as a pair, or in a group; pick a few bar stools, a comfy chair, or a table to sit at.
The mission of using coffee to cultivate positive change is evident in the service, flavor, and atmosphere of Giv. You know you're in for a real treat when you arrive at Giv.
Two Wrasslin' Cats Coffee House and Cafe, East Haddam
Don't let the two six-foot cats on the front of the house fool you- Two Wrasslin' Cats is a coffee house and cafe, not a veterinarian's office! The bright blue with green trim 18th-century house in which the cafe is located is funky and fun. It's got quirk, charm, and is the kind of place you linger rather than rushing out of.
The simple, but effective coffee menu is complemented by a great selection of sandwiches, creative breakfast and lunch options, and ice cream. The bulletin boards skewered with notices from organizations and flyers for upcoming events, the colorfully painted walls, and exterior, and the eclectic decor all showcase the community institution that is Two Wrasslin' Cats.
For a friendly experience in a quirky space, don't miss out on Two Wrasslin' Cats. Before you leave, be sure to take a picture with the cat's cut-out which is outside the building!
—
You might also like: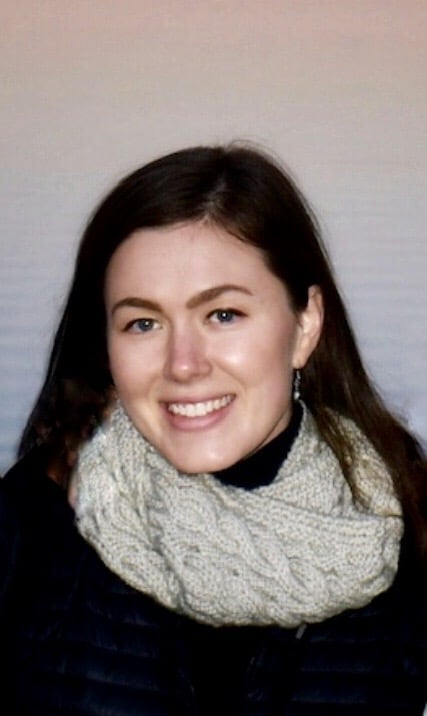 Mallory grew up in Connecticut, and after some time living in Ireland, Montana, and Virginia, she felt called back home to New England. She lives in Boston and writes about the intersection of urban living, outdoor adventure, and enjoying the simple things at SimpliCity Outside. Her favorite New England adventures involve hiking, finding ice cream shops, and exploring small towns.