*This site uses affiliate links; if you make a purchase through these, I may receive a small commission at no cost to you.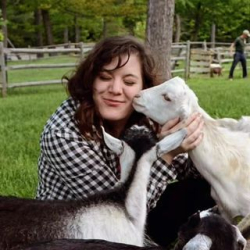 Latest posts by Amy Hartle
(see all)
When thinking of classic New England foods to try, clam chowder, lobster rolls, and Ben & Jerry's ice cream likely come to mind! But there are plenty of other regional specialties worth trying. Luckily, this list is the perfect place to start your New England foodie journey!
Whether you're a New England local wanting to try more foods from your area or a visitor just for a weekend, it's worth trying some of these incredible foods. Who knows, some of them might even surprise you!
Here are all of the top classic New England foods to try.
Vermont Creemees
When the weather starts to get warmer in Vermont, there's one classic treat that comes out of hiding: creemees. Creemees are soft-serve ice cream, and they're usually served with various toppings, from chocolate sauce to sprinkles.
Creemees are a summer staple in Vermont; you can find them at stands all over the state. If you're looking for a classic New England treat to try, creemees are definitely the way to go.
For bonus points, be sure to try a Vermont creemee in maple. This is a traditional treat that all the locals love, and it's absolutely delicious!
Del's Lemonade
This iconic treat, Del's Lemonade, can be found all over the region, though is most popularly in Rhode Island, and is the perfect refreshment on a hot summer day. It's simple but delicious and has a refreshingly tangy tartness.
You can find it at food trucks, convenience stores, and farmers' markets. Seriously, in some of the popular Rhode Island destinations, these food trucks/food stands can be found almost everywhere, so they're impossible to miss!
Lobster Rolls
There's something about a lobster roll that just feels like summer. The classic New England dish can be enjoyed on a hot day at the beach or in your backyard with friends and family. All you need is some bread, lobster, and a little mayo (or other condiments).
It can be found all over New England but is thought to have originated in Connecticut. There are many places to try a lobster roll in New England, but some of the most popular spots are Red's Lobster House in Wiscasset, Maine, Arnold's Lobster and Clam Bar in Eastham, Massachusetts, and Brown's Lobster Pound in Seabrook, New Hampshire.
Apple Cider Donuts
If you're looking for classic New England food to try, apple cider donuts are a perfect choice. These donuts are made with fresh apple cider and have a delicious cinnamon-sugar coating. You can find them at most farmers' markets and orchards in the fall.
No matter where you're visiting in New England, you'll most likely be able to find this delicious treat somewhere nearby. You won't be able to miss them because they smell so good! Pair it with warm apple cider, and you've got yourself a fantastic treat.
Whoopie Pies
Believe it or not, but whoopie pies are also one of the best foods to try when you're visiting New England! These delicious treats are two cake-like cookies (traditionally chocolate) with a creamy filling in the middle. Whoopie pies can be made with different filling flavors, including vanilla, strawberry, and raspberry.
Whoopie pies are a great dessert to try if you're looking for something new and unique. They can be found in most bakeries and grocery stores in New England, and they're worth a taste!
Funnily enough, there's also lots of conversations around which state they originate from. It's a toss up between New Hampshire, Massachusetts, and Maine!
Read Next: Where to Find the Best Whoopie Pies in Maine
Vermont Cheddar Cheese
No trip to New England is complete without trying Vermont cheddar cheese! It's usually a sharp cheddar taste and is most famously made by Cabot and can be purchased at most grocery stores across the country.
There's a reason cheddar cheese is such a classic: it's delicious. And Vermont cheddar cheese is no exception. This type of cheddar is made in the New England style, with a slightly sharp flavor that pairs perfectly with crackers, apples, and grapes. If you want to try local food while visiting New England, add Vermont cheddar cheese to the list!
New England Clam Chowder
Clam chowder is another classic dish originating in New England. It's a thick soup or stew made with clams and potatoes and often features bacon, onion, and celery. There are many variations of the recipe, so it could vary slightly in flavor depending on where in New England you try it.
Clam chowder can be served either hot or cold and is a popular dish to eat during winter. If you're looking for a hearty and delicious meal to try this winter, be sure to give clam chowder a try!
Fenway Franks
If you're visiting Boston, you must try a Fenway Frank! I know what you are thinking, isn't that just a hot dog? Well, it's not just any hot dog! They're classic New England food and only available at Fenway Park. The Franks are a must-try for any sports fan.
But if you're not into sports, that's okay; it's still worth going to a game just to try this snack. They're made with beef, and they're smoked and grilled to perfection. You can get them with or without ketchup and mustard, but for a real treat, try them with both.
The Franks are definitely one of the best foods Boston offers, so make sure you try them during your next visit.
Coffee Milk
This may sound odd, but coffee milk is another classic New England foods to try. It originated in Rhode Island but can still be found in many local grocery stores and farmers' markets throughout New England.
This unique drink is made by mixing coffee syrup and milk together, just as the name suggests. Coffee milk is a delicious way to start your day and a great afternoon pick-me-up. If you're looking for something different, be sure to give this tasty drink a try.
New England Coffee
Founded in Boston, New England Coffee is a local independent coffee maker. In pretty much every grocery store or cafe, you'll be able to find this coffee. So many locals drink it, so it's worth trying it at least once during your New England visit.
Plus, who doesn't love a warm (or iced) cup of coffee as a pick-me-up in the morning? If you love it, you can buy some bags of the beans to take home and make on your own time to remember its taste.
Saltwater Taffy
While saltwater taffy hails from New Jersey, many still consider it to be a classic must-try treat in New England. It is commonly found in many coastal towns and destinations, like Cape Cod, Massachusetts, and Newport, Rhode Island.
Saltwater taffy gets its name because it's often flavored with salt water. Some of the most popular flavors include strawberry, grape, and blueberry, but sometimes you can find unique flavors too!
Boston Cream Pie
If you're looking for a traditional New England dessert to try, look no further than the Boston cream pie! As the name suggests, this sweet treat hails from Boston, Massachusetts. For a real unforgettable dessert, be sure to get it at one of the restaurants or pastry shops in the North End.
This treat is made with a layer of vanilla cake, followed by a layer of rich custard, and topped with chocolate ganache. The Boston cream pie is believed to have originated in the late 1800s at the Omni Parker House Hotel, and it has since become a popular dessert all across New England.
So, if you're looking for something sweet and nostalgic, try the Boston cream pie!
Cranberry Sauce
Cranberry sauce is another traditional food hailing from New England! Yes, that's right; one of the best parts of the Thanksgiving holiday is from the northeast. So, when visiting, be sure to give it a try!
Cranberry sauce can be purchased at most stores throughout New England, just like in the rest of the USA. Believe it or not, Ocean Spray is actually local to New England too, so that's a great brand to try. It's from Massachusetts!
If you'd like to see how these cool berries are grown and harvested, check out a MA cranberry bog tour in fall!
Vermont Maple Syrup
Maple syrup is a classic New England food that can be enjoyed in various ways, and the best place to try it is in Vermont! However, it can still be purchased throughout New England if you're not visiting Vermont.
Pour it over pancakes, waffles, oatmeal, or French toast for a sweet and satisfying breakfast. Drizzle it over ice cream or yogurt for a delicious dessert. Add it to your coffee or tea for a special treat. Or just eat it straight from the bottle!
No matter how you enjoy it, Vermont maple syrup is sure to satisfy your cravings for something sweet and delicious.
Fluff
Yes, that sticky white marshmallow goo that tastes so delicious with peanut butter in a sandwich is actually from Massachusetts. So, while visiting, if you've never had it before, it's a perfect time!
Like other foods on this list, fluff can be purchased at all local grocery stores. It can be eaten plain if you love sweet treats, in a sandwich, or even used as a dip for pretzels or graham crackers.
Bonus: Ben & Jerry's Ice Cream
Ben & Jerry's ice cream is a classic example of a New England food, though you've probably had it before! The two founders, Ben Cohen and Jerry Greenfield were friends in high school.
Ben & Jerry's quickly became known for its unique flavors and for using fresh, local ingredients. Today, the company has franchises worldwide, but there's no place quite like the actual factory in Waterbury, Vermont.
Well, there you have it, all the best classic New England foods to try! Which food is your favorite?
---
You might also like: