---
*Links in this article may be affiliate links, from which we may earn commission. See our
Privacy Policy
for full details.
---
So you want to go camping in Acadia National Park, huh? Good. You should. It's beautiful and we've got some great suggestions. But, to start, let's set some expectations.
Acadia draws enormous crowds to the small and rugged coastal paradise of Mount Desert Island on the quiet Downeast coast of northeastern Maine. In fact, the crowds are quickly outstripping Acadia's ability to handle them.
Let's look at the numbers for a second: Acadia gets nearly 3.4 million guests each year. True, it's not as busy as some other national parks. In fact, seven other national parks got more visitors than Acadia using the same stats from 2019.
But Acadia's tiny size puts those visitor numbers into stark contrast against just about every other park. Grand Canyon National Park is a useful comparison.
The Grand Canyon's 5,900,000 annual visitors flocked to a national park with 1,200,000 acres. Acadia's 3,400,000 guests had access to 49,000 acres. That's 4.9 people per acre in Grand Canyon national park versus 69.3 for Acadia.
The numbers don't lie—Acadia is packed.
That doesn't mean you can't have a great time, but it does mean camping and exploring Acadia takes some research and planning to help avoid crowds and find some quiet spaces and moments worth enjoying with your family or fellow adventure pals. So stick with us and read our guide to Acadia National Park campgrounds before venturing out!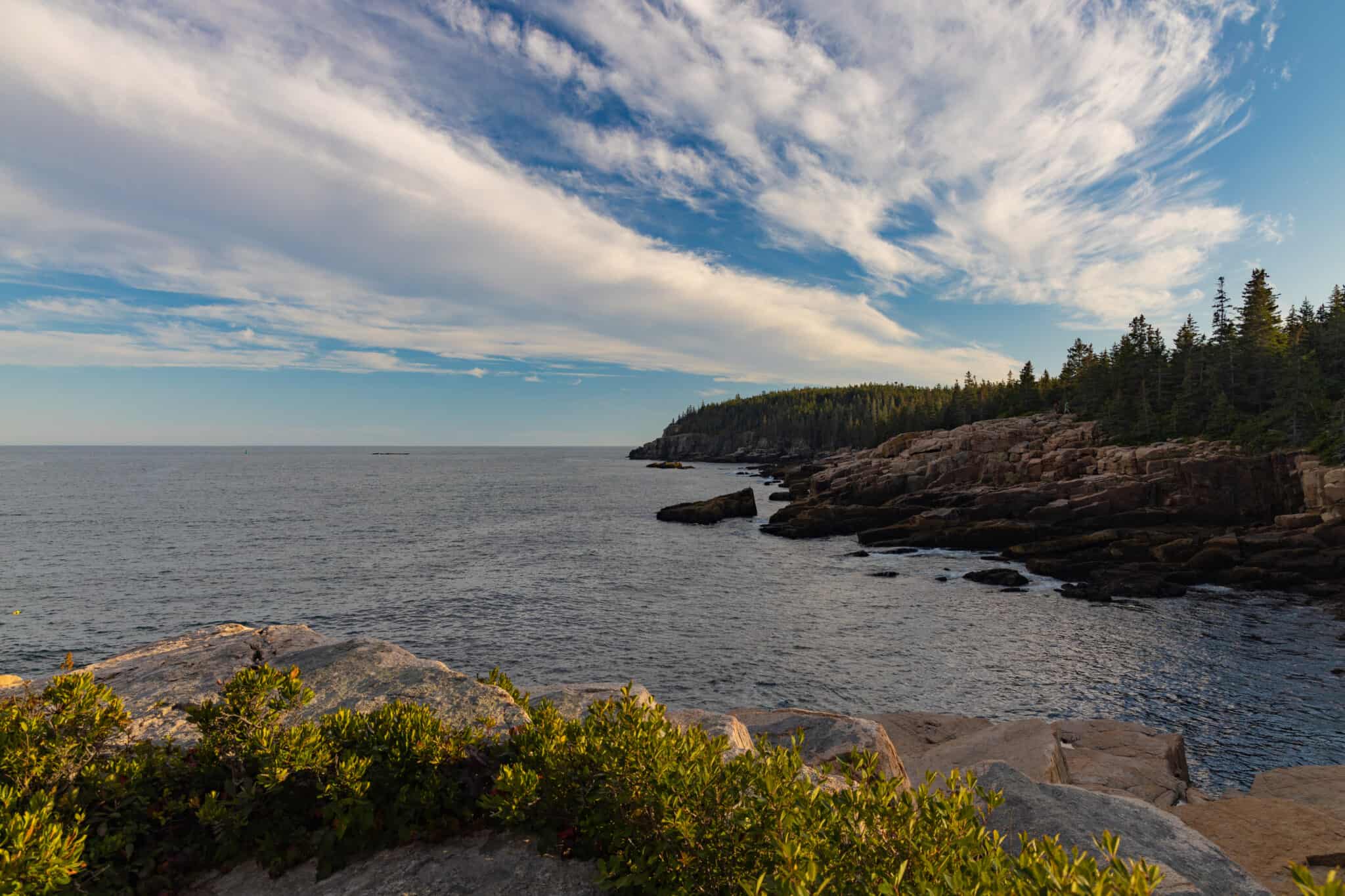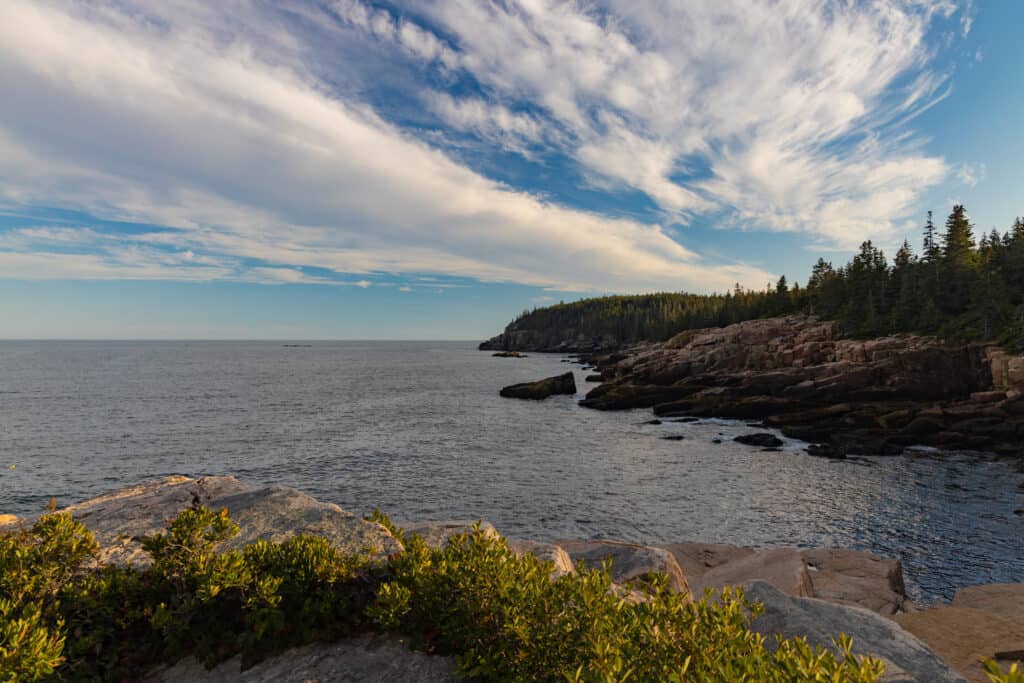 Camping in Acadia National Park: Official Campgrounds
There are three campgrounds in Acadia National Park (okay, actually four—we'll get to that later) within park limits for visitors: Blackwoods, Seawall, and Schoodic Woods. They're beautiful and well-run with wooded sites and lots of space between them.
In an age of RV campgrounds with giant trailers packed in like cars on a busy freeway, Acadia's campgrounds are an absolute treasure. One note—they're all frontcountry, meaning you can drive in and leave your car at your site. That can be a positive or a negative depending upon your priorities.
While backcountry camping is having an absolute renaissance moment in America's outdoor community, Acadia just isn't the best place for it. Bigger parks with more wide-open space out west and less delicate coastal ecology prone to erosion are a much better option for backcountry exploration.
Which Acadia campground is right for you? That really depends on what you want your Acadia trip to look like! Acadia's footprint on Mount Desert Island is essentially split in half where Somes Sound geographically divides the island into two lobes.
The touristic views of Acadia you see scrolling past on social media—Thunder Hole, Jordan Pond, Park Look Road, Sand Beach and Cadillac Mountain—are on the Northeast half along with Bar Harbor. The other half—the quiet side, as locals like to call it, tends to have far less visitors despite some equally impressive locations (Bass Harbor Head Light, Manset Village, and Seawall beach to name a few).
Blackwoods Campground
Blackwoods Campground is right in the middle of everything on the busier side of the island, nestled between Route 3 and Park Look Road. There are trailheads leading right to the summit of Cadillac from the campground and trail connections to some of Acadia's best known hikes and summits—Dorr, Champlain, The Bubbles, and Sargent Peak.
If you're looking for a whirlwind intro to Acadia, crowds be damned, Blackwoods is absolutely the best option. It's got easy access to Bar Harbor restaurants and amenities and given how bad the parking situation gets in the summer, that guaranteed spot in your camp site is a pretty sweet deal. The cars and crowds may be a bit of a turn off when you venture out, but you're closer to all the major attractions than just about anyone else.
You'll be hitting summit trails right from the campground and enjoying stunning views while everyone else is looking for a trail map in Bar Harbor. Blackwoods is hands down the top choice for convenience, hiking trail access, and proximity to Acadia's multitudinous sights and activities.
Seawall Campground
On the quieter side of the island, in a slightly less traveled section of the park just beyond Southwest Harbor, you'll find Seawall Campground. Seawall is, in many ways, the absolute opposite of Blackwoods despite having nearly identical amenities.
No immediate trail access means campers tend to be a bit more relaxed and spend more time at their wooded, semi-private sites. Seawall Campground is quiet, slow-paced, and truly a great place to unwind. It's a quick and beautiful walk to Seawall Beach, as well. On clear nights with a headlamp and some moonlight, a midnight walk to Seawall Beach is about as serene as it gets.
A dedicated picnic area across from the campground has spectacular views for evening grilling. You're also close to Bass Harbor Head Light and two of Mount Desert Island's most famous lobster pounds: Charlotte's Legendary and Thurston's. Take that, Bar Harbor.
A nearby ferry terminal gives excellent access to Swan's Island for a day trip, and low-impact hiking trails at Ship Harbor and Wonderland are close by for easy and scenic nature walks. Seawall is the place to be if you want a quieter Acadia experience with a still-easy half hour drive to just about everything else in the park.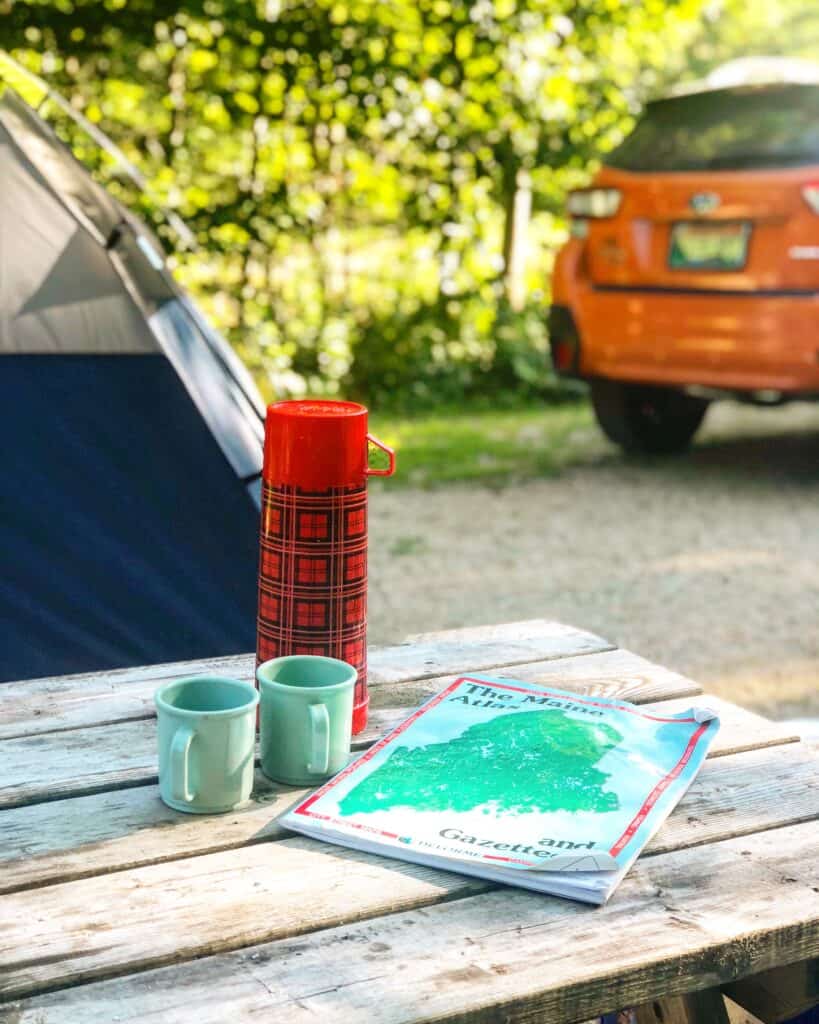 Schoodic Woods Campground
Looking to go a bit farther afield and see parts of Acadia that everyone else seems to forget about? Schoodic Woods Campground might just be perfect for you.
About an hour drive downeast from Mount Desert Island, an untouched peninsula of littoral forests and rugged pink granite cliffs just beyond Winter Harbor is Acadia's newest land acquisition. The longer drive through undiscovered coastal villages means way less tourists.
Over the last few years, more and more Vacationland residents have forgone the main section of Acadia for the Schoodic Peninsula instead. As out-of-state tourists begin discovering the far-flung wonders of Downeast Maine and the Bold Coast, we definitely suggest checking out the Schoodic section of Acadia before the crowds move in.
The campsites at Schoodic Woods are even more generously spaced out, and its more recent addition to Acadia means brand new, beautifully built outbuildings, bathrooms, and roads.
Nearby Winter Harbor is a sleepy little spot: a small grocer, a few restaurants, and a couple shops. There are, however, plenty of options for renting bikes and kayaks—and it's the perfect location. A day spent mountain biking up and around Schoodic Head and Schoodic Loop Road is indeed a day well spent.
A scenic drive, too, gets you to some gorgeous locations that most tourists will never see: Prospect Harbor Lighthouse, Corea Harbor, and hiking trails at Petit Manan Wildlife Refuge. The trailhead at Petit Manan has signs reminding visitors that picking blueberries is encouraged but blueberry rakes are not allowed.
Are you looking for the kind of summer vibe wherein blueberry rake regulations seem relevant? Us, too. Check out Schoodic Woods Campground as soon as you can—five years from now it'll be just as booked up as Blackwoods and Seawall.
Pets
A quick note on bringing fido with you: all of Acadia's official campgrounds are dog-friendly for well-behaved, leashed pooches as are just about every private campground. A lot of Acadia's trails, however, are not dog friendly. Sometimes due to safety (open iron rungs on exposed cliffsides, for example) and sometimes due to sensitive ecosystems; it's always a good idea to check every trail and area to see if your canine pal can tag along.
Private Campgrounds near Acadia
Acadia's official campgrounds within park limits are the best and truest options for wilderness camping, indeed (again—there's an exception but we'll get there, let us have our fun). Still, there's more than a dozen additional options for family camping, cabins, and RV parks close to Acadia.
One important note: no matter what the website says or what the campground name makes it sound like, none of these options are technically in Acadia National Park. Some are close by, and some are decidedly not.
Mount Desert Island isn't enormous, but summer traffic from end of the island to the other depending upon where you stay can be either a breeze or a nightmare; so take your time when googling the campgrounds below, don't let the names fool you, and take a look at where they are in relation to the sites and activities in Acadia you plan to undertake.
Mount Desert Campground
These campsites near Acadia are wooded, quiet, private sites set back from the road at the landbound end of Somes Sound. A rare location that doesn't feel overwhelmed with tourists, either.
Despite its location off a busy main road, Mount Desert Campground is remarkably serene with beautiful waterfront sites on a sheltered bay. There's also a uniquely designed boardwalk-style dock for kayaks and skiffs stretching more than 250 feet.
This is an excellent mix of pseudo-wilderness camping and modern amenities with a convenient location to explore both sides of Acadia. It's perfect if you plan to bring a kayak along for some paddling.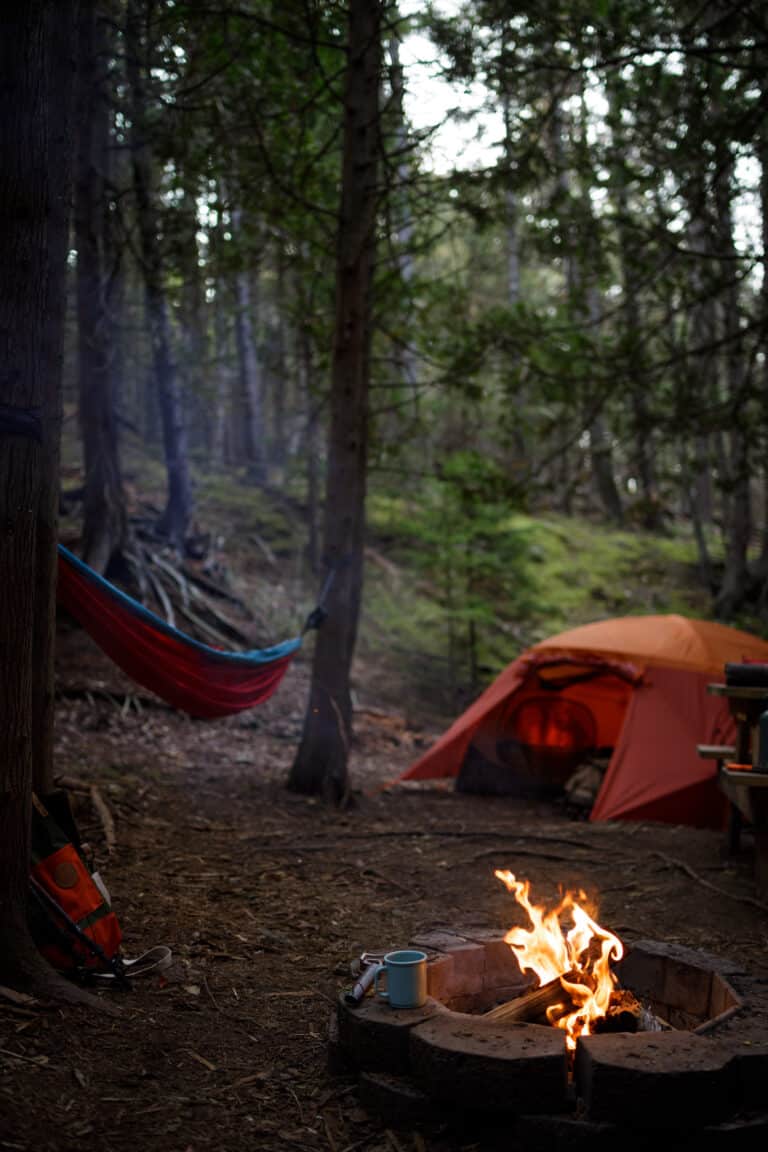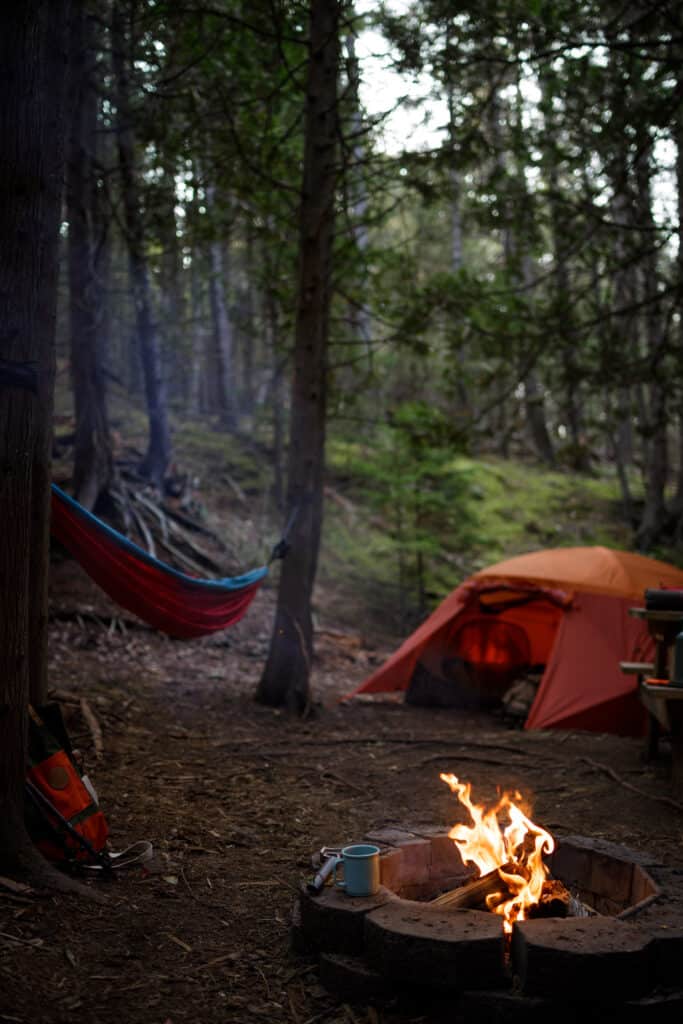 HTR Acadia (Formerly Somes Sound View Campground)
Built atop an old quarry used to construct much of Acadia's original stonework infrastructure (seriously, there are fences blocking off deep, sudden quarry holes), HTR Acadia is at times a mixed bag—the terrain is pretty uneven and sites are cramped together—but the ocean-front platform sites looking out over Somes Sound are legendarily beautiful.
You're pitching your tent on a wooden platform built over the water, so we're certainly happy to let the cramped quarters slide. These photogenic sites book up early, though, so plan ahead! If you're simply looking for a decent spot to pitch a tent with easy access to the quiet side of the island and don't mind tight quarters or a bit of noise from your neighbors, this is definitely worth checking out—particularly for the price.
Quietside Campground & Cabins
You'd be forgiven for thinking Quietside was an official Acadia campground, despite being tucked into a quiet stretch of Tremont between Bass Harbor and Bernard. It's well run, gorgeous, and peaceful to boot. Quietside takes its name seriously—this all tent, no RV location has a mix of frontcountry drive-in sites near the camp road and some densely wooded walk-in sites. Large, sturdy wood platforms for your tent mean perfect conditions for setting up base camp regardless of weather.
Southwest Harbor is close, as is Pretty Marsh and plenty of seafood joints. Bonus points: Quietside has a number of cabins with varying levels of rusticity if you feel like upgrading the tent to a real roof and bed. If you can't book a site at one of Acadia's official campgrounds and want something just as well run and woodsy, this is the place.
Oceanside KOA
This KOA location, right over the bridge on Route 3 just beyond the entrance to Mount Desert Island, has something for everyone. It's a quick drive to Bar Harbor and Acadia and back the other direction to Trenton and Ellsworth for all the breweries, lobster pounds, and cafes you could ever want. There are waterfront sites for launching kayaks and canoes you bring along and a good mix of tent sites, pop-up trailers, and RV hook-ups.
There's plenty of cabin rentals, as well. By no means quiet or rustic, KOA is nonetheless the epitome of affordable, family-friendly camping with an excellent commitment to making the outdoors accessible for all. If it's your first time to Acadia, Oceanside KOA is also quite close to the Hulls Cove Visitor Center—an excellent starting point for planning your Acadia adventure.
RV Parks near Acadia
You may have noticed this list isn't too focused on RV Parks—and that's for a reason. It's a fun, family-friendly way to spend a few weeks on the road, but there's definitely a push and pull between the tourism dollars RVs bring in and some tension from locals regarding the additional congestion and wear and tear they cause on Mount Desert Island's small, back roads and sleepy villages.
Our advice? Leave the RV at home and spend some time roughing it. But, if you really are intent on a heated pool and cable hook-up, here's a few places to look into that will do the trick: Hadley Point Campground, Mt Desert Narrows (and their second location just off the island—Narrows, Too), Smugglers Den, Bar Harbor Campground, and Bass Harbor Campground. Some of these also have tent sites and/or wooded sites, but they certainly cater to larger fleets of RVs.
Something a Little Different…
Looking for a truly unique camping experience near Acadia? With the growing popularity of glamping (wow, we really need a better word for that), some chic alternatives to traditional camping have popped up: check out Acadia Yurts, Woods of Eden, and Terramor Outdoor Resort.
With all three located in the heart of Mount Desert Island, these yurts and glam cabins may be the insta-worthy vacation you've been dreaming about—or, maybe the gateway to camping your partner or family needs.
Last But Not Least…
That fourth Acadia campground we were being all secret squirrel about? It's way out on Isle Au Haut, accessible only via mailboat from Stonington or private charter. The year-round population of the island is about seventy, and more than sixty percent of the land is managed and protected by Acadia National Park. A long history of multi-generational vacation homes more than doubles the islands population in the summer, but more than anything else, Isle au Haut is a hiker's delight.
Duck Harbor Campground is a tiny slice of coastal wilderness heaven with five lean-tos, a picnic area, an outhouse, and a ranger station about five miles away by foot; the journey means driving to Stonington, taking a boat to Isle au Haut, and then hiking to Duck Harbor around the island's perimeter. If you're looking for a unique, bucket list island camping experience in Acadia—it won't get any better than this. But mind the calendar: when sites open up on the website in late April, they tend to be completely booked within a few days.
As you can see, there are plenty of campgrounds on Mount Desert Island (and beyond!) that could fit the bill for your next Acadia camping adventure.
---
You might also like:
---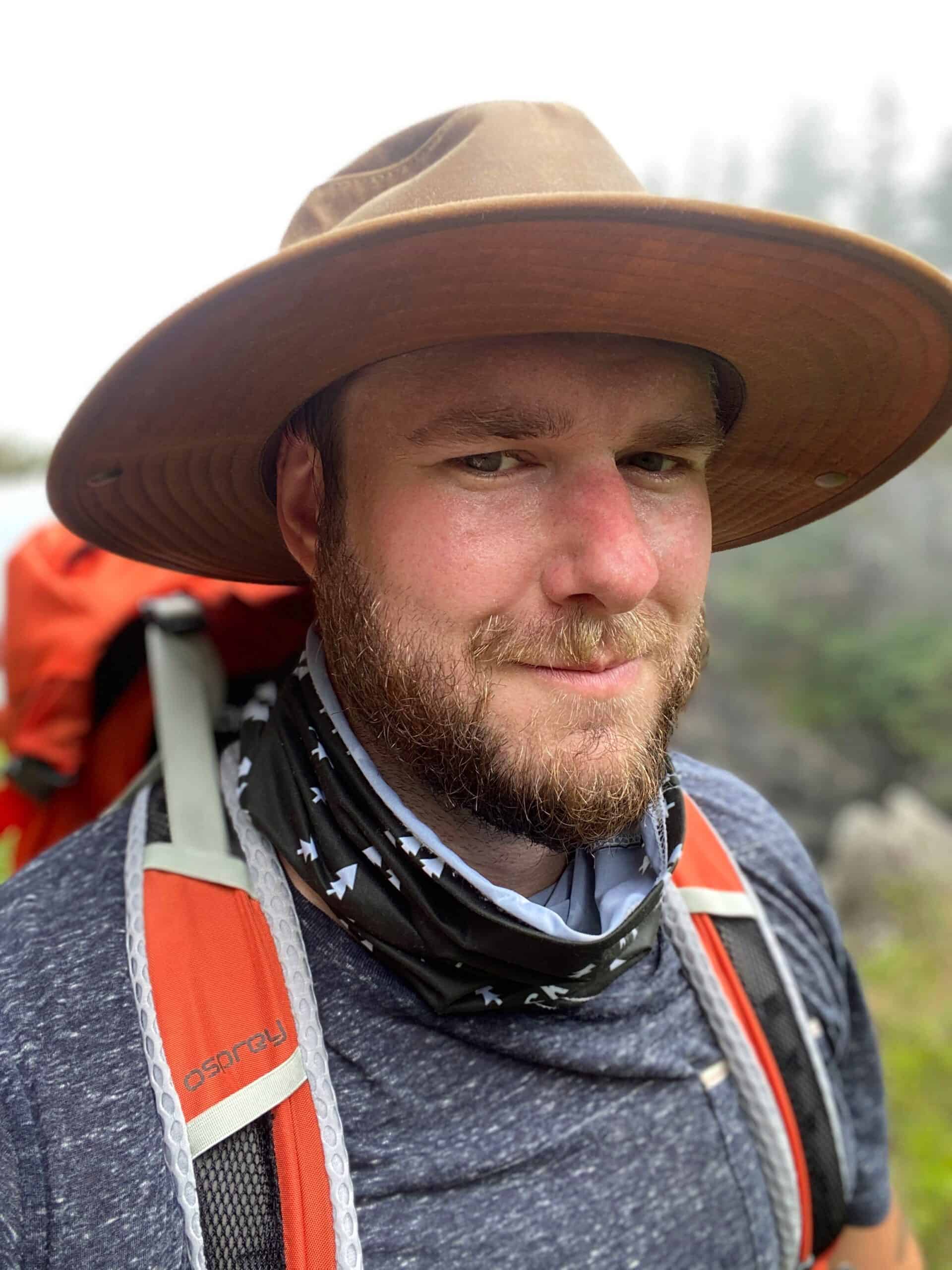 Justin is a writer and photographer based in coastal Maine.  He grew up in New Hampshire, went to college at GWU in Washington, DC, and trained as a chef at Le Cordon Bleu in Cambridge, Massachusetts. Justin has years of experience in professional kitchens, gourmet food sales, and as a wine buyer. He also co-founded Rosehips & Charcoal, a boutique social media consultancy that helps northeast getaway rentals tell their unique stories and grow their online presence.  When he's not working, hiking, or snapping pictures, you can most likely find him drinking wine in the woods in questionable footwear. You can follow along on his Maine adventures and wilderness gourmet shenanigans at @tidetopine on Instagram.