Visiting the Ocean State's capital city? There are plenty of awesome breweries in Providence Rhode Island to add to your list of fun things to do!

Whether you make touring the breweries in Providence a main event or a side stop, you have to include at least a couple of these great spots in your itinerary while visiting the Creative Capital!

Moniker Brewery
First up is Moniker Brewery, one of the best breweries in Providence Rhode Island. It has a tap room and a beer garden, and both are comfortably hip; check out that awesome fireplace outside!
Some of Moniker Brewery's biggest crowd-pleasers include G-Dangit, a double dry-hopped IPA and Modern Chemistry, a pale, hoppy ale.

Narragansett Beer
With a history stretching back to 1890, Narragansett Beer is a truly historic brewery, and their tap room and beer garden continue to live out their legacy of serving up great brews!
Some of Narragansett Beer's most interesting beers are their collaborations, like their Del's Shandy, a collaboration with Del's Frozen Lemonade to make a light citrus summer classic, and their Autocrat Coffee Milk Stout, a collaboration with none other than Rhode Island's favorite coffee milk producer, Autocrat!
The Guild
The Guild is technically located in Pawtucket but is definitely one of the breweries you won't want to miss out on in the Providence area, with live music events to look forward to each week.

The Guild offers a limited pub menu to complement their fantastic beer selection, with fan favorites that include their Queen and Country English Pub Style Ale and their Path Forward Amber Lager.
Long Live Beerworks
Long Live Beerworks is located in a cool restored mill building that allows for open viewing of the brew space where all the brew magic happens!
Their tap room features 18 tap lines and Long Live Beerworks doesn't have a flagship brew line because they enjoy creating new brews to keep the brand fresh and interesting; this concept is a part of what makes brews like Nanaimo Bites, a pastry stout, possible!
Trinity Brewhouse
Trinity Brewhouse is one of Providence's go-to spots if you're looking for a great meal and a great beer. With a full menu and a fantastic location in downtown Providence, Trinity Brewhouse is a local favorite.
On tap you'll find craft brews like their Mocha Chocolate Ya Ya stout and their Tart Side of the Cherry kettle sour to compliment their great food menu!
Providence Brewing Company
Providence Brewing Company is a revival of the original Providence Brewing Company that was brewing beer back under Prohibition, but reviving the brand it is with its lovingly crafted brews.

Never afraid to take risks (and incorporate the owner/master brewers Cuban heritage), Providence Brewing Company serves up unique brews like their Pedro Navaja, a Cuban-inspired beer with a soft citrus, sweet malt flavor, and the Tropical Urthang, a smoothie beer!
Union Station Brewery
Union Street Brewery is a true full-service brewpub, with a wide selection of great craft beers on tap and a great menu full of classic and non traditional pub foods.
Enjoy the exposed brick and laidback atmosphere while you listen to live music and enjoy some of Union Street Brewery's best like their fruity Sparkle City Sour or their bold The King is Dead double IPA.
Beer on Earth
Beer on Earth is a self-described "art forward brewery" that has created a hip tap room experience with lots of great local art and handcrafted brews!
Some of Beer on Earth's most popular craft beers include their Purple Belt, a fruity IPA, and their Lesson in Appreciation, a Polish-style smoked lager that was crafted in collaboration with Apponaug Brewing.
Smug Brewing
Located in nearby Pawtucket, Smug Brewing has a great tap room that hosts trivia nights, book readings, and food trucks on site in their welcoming space.
Some of Smug's most interesting craft brews include the Cobra Kai, a stout with flavors of cardamom and cinnamon, and the Catatonic, a fruit forward IPA that features both tropical and citrus flavors to create the purrfect blend!
Crooked Current Brewery
Crooked Current Brewery is technically located in Pawtucket, but proudly asserts that even though it is the "smallest brewery in the smallest state," it still serves up big flavor for craft beer lovers!

Fan favorites include the Hawaiaan Porter, the Oatmeal Raisin Stout, and the White Stout; enjoy in the intimate tap room or out in the beer garden!

Revival Brewing Company

Revival Brewing Company serves up their brews at Lost Valley Pizza and Brewery, one of Providence's favorite brew pubs. Its giant pizza oven is actually converted from a kiln used back in the building's blacksmithing history!

Wood-fired pizzas and a small bites menu compliments the great selection of craft beers, including the Star Child Pilsner, their Pride-themed Bohemian-style Pilsner, and their Wild Berry Sour Ale that is bursting with fruity flavor.
Foolproof Brewing Company
Foolproof Brewing Company is technically located in nearby Pawtucket, but this beer collective offers a fantastic selection of craft beers, with unique brews like their Big Blue Beer, an IPA featuring flavors of vanilla bean and blueberries.

The tap room has windows that let you watch as the brewing magic unfolds, and weekly events like trivia and game nights, and food trucks are often found parked outside, too!

Read these next: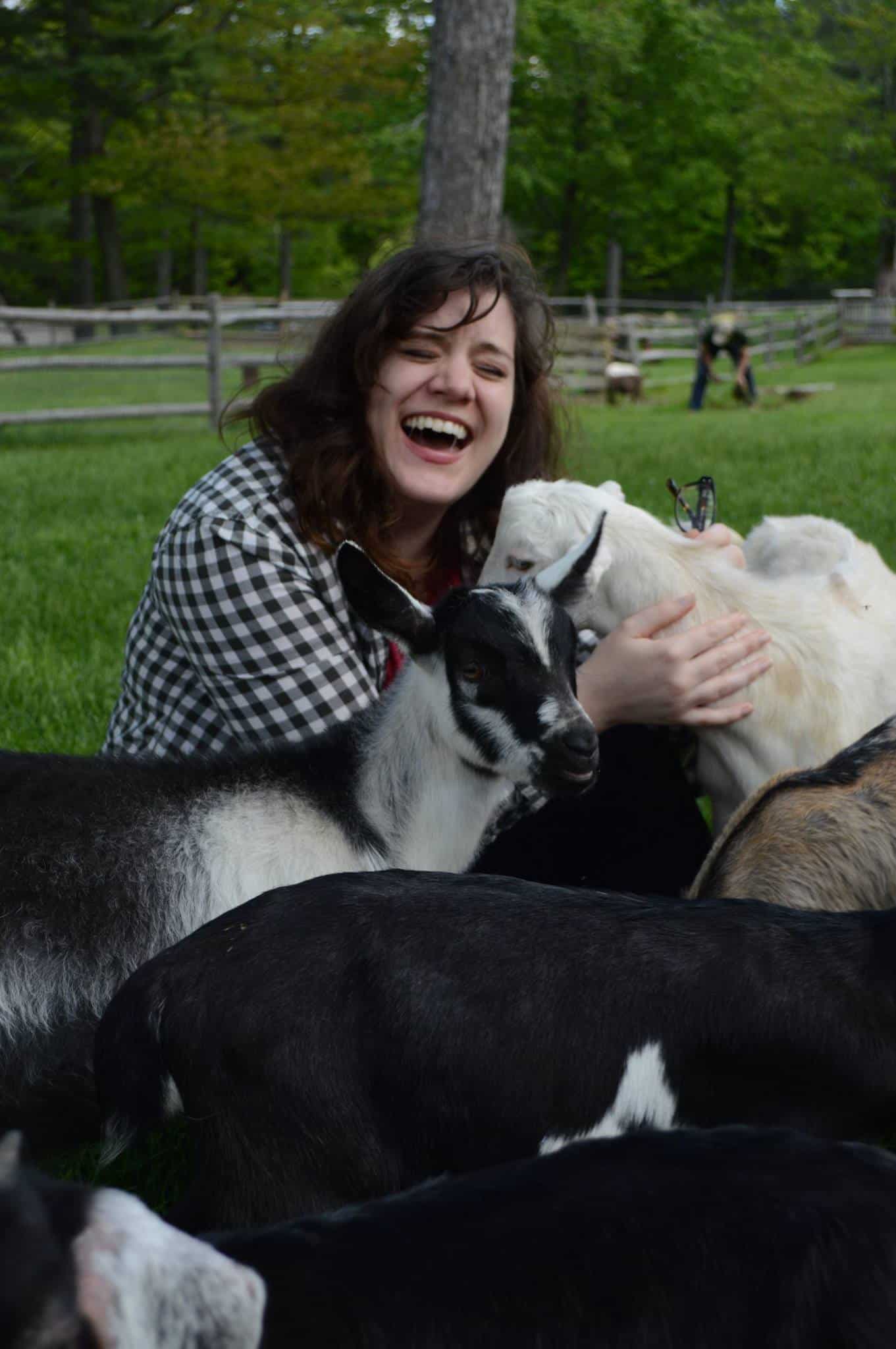 Amy Hartle is the founder and Editor-in-Chief of New England With Love, a comprehensive resource for travel in the New England region. Amy has been exploring New England since 2001. She lived in Vermont for many years and is a graduate of Plymouth State University in New Hampshire. On this site, Amy aims to share her love of New England and help you to have the best possible adventures!
Amy has been writing about travel for over a decade, and is a full time blogger, publishing both Two Drifters and Let's Adventure Baby. When not traveling the world or creating epic blog content, Amy can be found cuddling with her husband, son, and cats, & drinking a maple latte.