Did somebody say food? Believe it or not, you can find some great restaurants in New Haven Connecticut!

No matter what you're in the mood for, chances are you'll find something to fit the bill here in this list of the best restaurants in New Haven CT.
Sherkaan Indian Street Food
Sherkaan Indian Street Food is all flavor! Pricing is mid-range, and the interior decoration is unique, with bicycles everywhere you look, including hanging from the ceiling!
The menu at Sherkaan Indian Street Food rotates seasonally, so you might find chaat dogs, vada pav sliders, masala dosa, and makhani naan, depending on what time of year you visit. In addition to fantastic Indiana street food staples, you'll also find a great cocktail menu, too, with part of drink purchase payments being donated to Save Tigers Now.
Olea
For the best Mediterranean food in New Haven Connecticut, head to Olea. The interior is extremely elegant, befitting a great date night with the perfect excuse to dress up a little!

Head chef Manuel Romero sources ingredients both locally and from countries along the Mediterranean, so authenticity is near impossible to dispute! To eat there, do note that it's recommended that you wear business casual attire and no tank tops. Choose from tapas, traditional entrees, or the Chef's Tasting Menu, a 5-course meal; hard to go wrong at a place where everything is delicious.
Pacifico
Pacifico is an incredible Nuevo-Latino restaurant that's incredibly fun on the inside. It's located near the Yale Center for British Art and is on two floors, so it's not super difficult to find a spot to sit when you eat there.
Run by chef Rafael Palomino from Columbia, you'll find incredible fusion dishes like a paella palomino, churrasco a la Parilla, and so much more to choose from. Pacifico is a favorite brunch spot in New Haven.
Otaru Sushi Bar
The top spot to grab sushi in New Haven is Otaru Sushi Bar. With dine-in, delivery, and takeout options, you can't go wrong with eating here. It's even been described as rivaling some of the top sushi bars in NYC.

Run by chef Sunny Cheng who worked in popular sushi restaurants like NYC's Nobu and O Ya, you'll find a great selection of roll flavors, miso soup, and even pork gyoza. What could be better than a great sushi bar on a New Haven night out?

Oak Haven Table & Bar
Oak Haven Table & Bar is an great gastropub and one of the best restaurants in New Haven CT. The restaurant aims to help bring unique flavors and dishes to New Haven, with many of their entrees even being farm-to-table.
Choose from phenomenally-prepared dishes like arancini with butternut squash, cheese plates, portobello fries, and herbivore tempura; the atmosphere is comfortably laid-back, so relax and enjoy yourself a while!
Lalibela Ethiopian Restaurant
Ethiopian food is so tasty at Lalibela Ethiopian Restaurant! Pricing is mid-range, and the interior is very cozy and comfortable, the perfect atmosphere to enjoy traditional Ethiopian cuisine.

The menu is pretty extensive, with a great selection of vegetarian options as well. There's a wide variety of appetizers and meats, including chicken, lamb, beef, and even seafood. You might even see their food truck out around town, too!

Barracuda Bistro & Bar
Barracuda Bistro & Bar is the place to go in New Haven if you're in the mood for Latin American food. The interior is super laidback yet elegant, with great lighting throughout that sets the mood.
In 2017, Barracuda was named one of the top 10 Latin American and Spanish restaurants in the state, and with their incredible selection of Latin American staples like empanadas, arepas, and more, it's not hard to see why!
ZINC New Haven
If you're looking for a fine dining option, check out ZINC New Haven. The interior is very chic and upscale, with food that's farm to table; ZINC is an excellent choice for a date night.

The menu has several interesting selections, like Saigon beef lettuce wraps, hickory-smoked duck nachos, and even smoked paprika shrimp; global meals prepared with local ingredients.

September in Bangkok
September in Bangkok is one of the best Thai restaurants in New Haven! It has a comfortable interior that will make you feel like you're home, with plenty of indoor and outdoor seating.
The menu is incredible, with great dishes like samosa rolls, string beans tempura, and Thai tacos, among others. September in Bangkok is always a crowd-pleaser when looking for a great spot to meet up with friends!

Frank Pepe Pizzeria Napoletana
No list of best restaurants is complete without mentioning at least one pizza restaurant! Tasty pizza is the name of the game at Frank Pepe Pizzeria Napoletana. This local establishment has been serving the New Haven area since the 1920s.
Original founder, Frank Pepe, was born and raised on the Amalfi Coast in Italy near Naples, and today there are still some ingredients that are imported in from Italy in keeping with his traditional practices.

This is one of the top contenders for best pizza in New Haven, er, excuse me, apizza!
Te Amo Tequila Bar & Tacos
Last but not least is Te Amo Tequila Bar & Tacos, a traditional yet modern Mexican restaurant in New Haven. The restaurant was founded by the same people who founded Barracuda Bistro & Bar and directly translates to "I love tequila and tacos."
All the staples you'd expect to find in a great Mexican restaurant are found at Te Amo, but with an important distinction: an absolutely incredible tequila bar that serves up some incredible margaritas! Some crowd favorites include the Spicy Mango Margarita and the Hot Sombrero. If you're going to visit Te Amo Tequila Bar & Tacos, you really should love tequila and tacos!
New Haven is a great place to visit with a ton of awesome things to do, it should come as no surprise that this hip college town has a great foodie scene, too! There are so many great restaurants in New Haven to choose from, have fun sampling!

Read these next: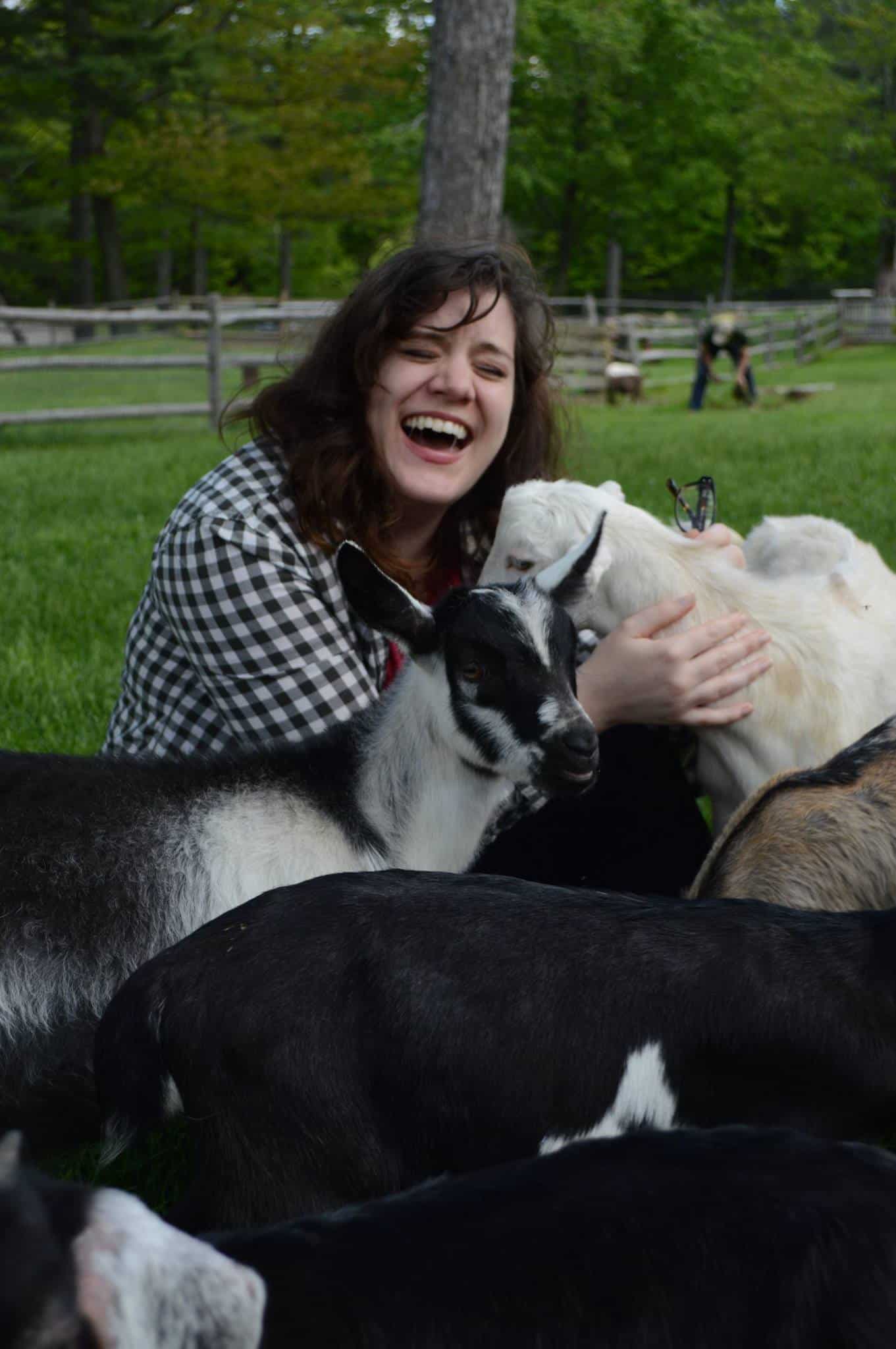 Amy Hartle is the founder and Editor-in-Chief of New England With Love, a comprehensive resource for travel in the New England region. Amy has been exploring New England since 2001. She lived in Vermont for many years and is a graduate of Plymouth State University in New Hampshire. On this site, Amy aims to share her love of New England and help you to have the best possible adventures!
Amy has been writing about travel for over a decade, and is a full time blogger, publishing both Two Drifters and Let's Adventure Baby. When not traveling the world or creating epic blog content, Amy can be found cuddling with her husband, son, and cats, & drinking a maple latte.