---
*Links in this article may be affiliate links, from which we may earn commission. See our
Privacy Policy
for full details.
---
Tucked away on the North Shore, there are some great places to eat in Rockport! While exploring this cute coastal community, you're going to need to know where to find the best restaurants in Rockport MA… that's where this guide will come in handy.

Here in this list of the best restaurants in Rockport MA, you'll find a great variety. While Rockport specializes in its fantastic, fresh-caught seafood, you can also find French cuisine, pub food, and so much more!

If you're looking for where to eat in Rockport, you're sure to find something that sounds good on this list of the best restaurants in Rockport MA.

Feather & Wedge
First up is Feather & Wedge, a trendy restaurant that reflects Rockport's rich history. The restaurant's interior is very cozy yet sophisticated, and there's tons of outdoor and indoor seating as well.
The menu at Feather & Wedge is divine, and it changes throughout the year. Traditional dishes that have been on the menu over the year have included French onion soup, charcuterie plates, lobster cakes, and even seared swordfish.
Feather & Wedge is the perfect restaurant to go to for a romantic evening or even a night out with friends. To ensure that you can get a table, be sure to reserve your spot online ahead of time.
Passports
With a fun restaurant name like Passports, how could you not eat there? This restaurant has international twists on American cuisine, so the dishes are extremely unique and unlike anything else that you can get in Rockport. Plus, prices are mid-ranged!
The menu is filled with fun dishes like steak au poivre, chicken Roquefort, and Asian short rib, among other entrees. If you'd rather have something more simplistic, there are also salads, soups, sandwiches, and burgers.
Passports doesn't look like much from the outside, but once you go inside, you'll feel right at home with warm natural lighting and wood seats that'll make you feel comfortable. This is a great restaurant to eat at for either lunch or dinner.
Duckworth's Bistrot
Did somebody say French cuisine? Duckworth's Bistrot is a traditional bistro with fantastic food and wine. It is a more luxurious restaurant in Rockport, but the price is well worth the tastiness of the food.
The menu changes throughout the year and also each season, but past dishes have included chicken schnitzel, steak frites, and even seared duck breast. There are also many starters and desserts that you can pair with your main entree.
Duckworth's Bistrot is an excellent restaurant to eat at for a romantic night out, or if you're looking for a place to eat for a celebration!
Top Dog of Rockport
While only opened seasonally, Top Dog is one of the best restaurants in Rockport, Massachusetts. This joint is extraordinarily laidback and is the perfect place to stop by to grab some hot dogs or burgers in the summer. They even serve seafood!
The prices here are very budget-friendly, which is why it's such a popular place to eat in Rockport. If you're in the mood for casual eats and a night out with family and friends, this is the restaurant to stop by.
Plus, Top Dog is extremely kid-friendly. They have a fun chalkboard wall that they let children draw on while they wait for their food to keep busy!
Red Skiff Restaurant
Red Skiff Restaurant is an excellent place to eat in Rockport if you're looking for some tasty comfort food. They're open for both breakfast and lunch, and the menu shifts throughout the day. Their most popular dish is their fried seafood, but they also have tons of other great entrees too.
The restaurant is relatively small on the inside, so plan on getting there a little early if you're planning on eating there for lunch on a weekend to make sure you get a spot. This restaurant is still a bit of a local hidden gem, so enjoy it while it lasts!
My Place by the Sea
My Place by the Sea is easily one of the best restaurants in Rockport, Massachusetts. It's located right on Bearskin Neck, and the area is lovely. It's also owned by a chef who has won many awards, Chef Kathy Milbury, and her co-owner named Barbara Stavropoulos.
The restaurant serves tons of traditional dishes, including seafood, which as you can tell by now is one of the most popular entrees in Rockport. If you're not a fan of fish, though, there's also pizza, salad, sandwiches, and more. Because of this restaurant's award-winning past, it is a bit pricier than other restaurants on this list.
Thai Choice Restaurant
Head to Thai Choice Restaurant for some of the best Thai food in Rockport! This excellent restaurant has a super extensive menu and has everything from little spice to extra spice if you're up for it!
With more than four types of curry and tons of seafood dishes, you can't go wrong with eating at Thai Choice Restaurant. Everything on the menu costs under $20 for the most part, depending on which dish you order.
The restaurant is super laidback with red walls and fun exposed brick throughout. There's lots of seating inside as well, with options for both small and large groups.
Rockport House of Pizza
Rockport House of Pizza is the pizza place in Rockport! They've been serving the Rockport area since the 1980s and have tons of fantastic pizza flavors. If pizza is what you're in the mood for and you just want a classic, greasy slice, this is the place to go.
The menu also expands with tons of great sandwiches and other dishes, including the roast beef sandwich that they are pretty well known for. Prices are highly affordable, with a base small pizza costing less than $10.
If you have specific food needs, Rockport House of Pizza also is inclusive and has specific menu sections like gluten-free pizza.
Lobsta Land Restaurant
Lobsta Land is an amazing seafood restaurant in Rockport. Seriously, you can't go wrong with eating here, especially with their great outdoor seating that has an open view of New England's beautiful sunsets!
This restaurant has been open for about 30 years and has quickly become a staple for both locals and tourists in the area. They're open for both lunch and dinner and have mid-range pricing with tons of great dishes.
Even though they mainly focus on seafood, they also have other dishes like chicken quesadillas and parmesan truffle fries if you're not a big fan of fish. Even the pickiest of eaters can eat here!
Heath's Tea Room
For a more unique restaurant in Rockport, check out Heath's Tea Room. This is another seasonal restaurant that's opened seasonally. Located near Bearskin Neck Wharf, this fun restaurant is the perfect place to go if you want to feel like you're in England without leaving the country.
The interior is elegant is reminiscent of tea rooms in England. There's lots of seating with beautiful floral tablecloths and arrangements. Because of the size of the tea room, it's recommended that you make a reservation in advance to make sure that you can actually eat there during your visit.
Traditional menu items include cheese platters, scones, salads, quiche, finger sandwiches, and more. They also have fun afternoon tea dishes that come with multiple tiers and are presented beautifully with sandwiches, scones, and sweet treats for around $20.
Two Little Birds Eatery
Two Little Birds Eatery is a quaint little restaurant that's perfect for a quick meal with delicious entrees. They're open for breakfast and lunch! At breakfast, you can get great meals like Nutella toast, avocado toast, and even breakfast burritos.
They also have a savory lunch menu, with dishes like boujie grilled cheeses, burrata salad, and shawarma buddha bowls. The menu changes on the time of the year and depends on the seasons.
While they have tasty eats, their drink menu is what really steals the show. There are great smoothie bowls, smoothies, juice, coffee, and tea. For an interesting flavor combo, order the Funky Monkey smoothie, which features cold brew coffee and cocoa powder in it as a few of the main ingredients!
Blue Lobster Grille
Another of the best restaurants in Rockport is the Blue Lobster Grille, an American restaurant with mid-range pricing. Blue Lobster Grille is most well-known for its seafood, just like the name suggests! No meal at this restaurant is complete without trying the lobster rolls.
From the outside, Blue Lobster Grille looks like a traditional New England restaurant! There's lots of outdoor seating, and the interior is very casual. This is a great place to eat in Rockport for lunch or dinner with mid-range pricing.
Before visiting, be sure to check their schedule because they're usually closed two days a week, typically on Wednesday and Thursday.
Rockport is one of the best places to visit in the Bay State, and there's always plenty of fun things to do during a Rockport getaway, and plenty of amazing choices for where to eat, too!

Read these next: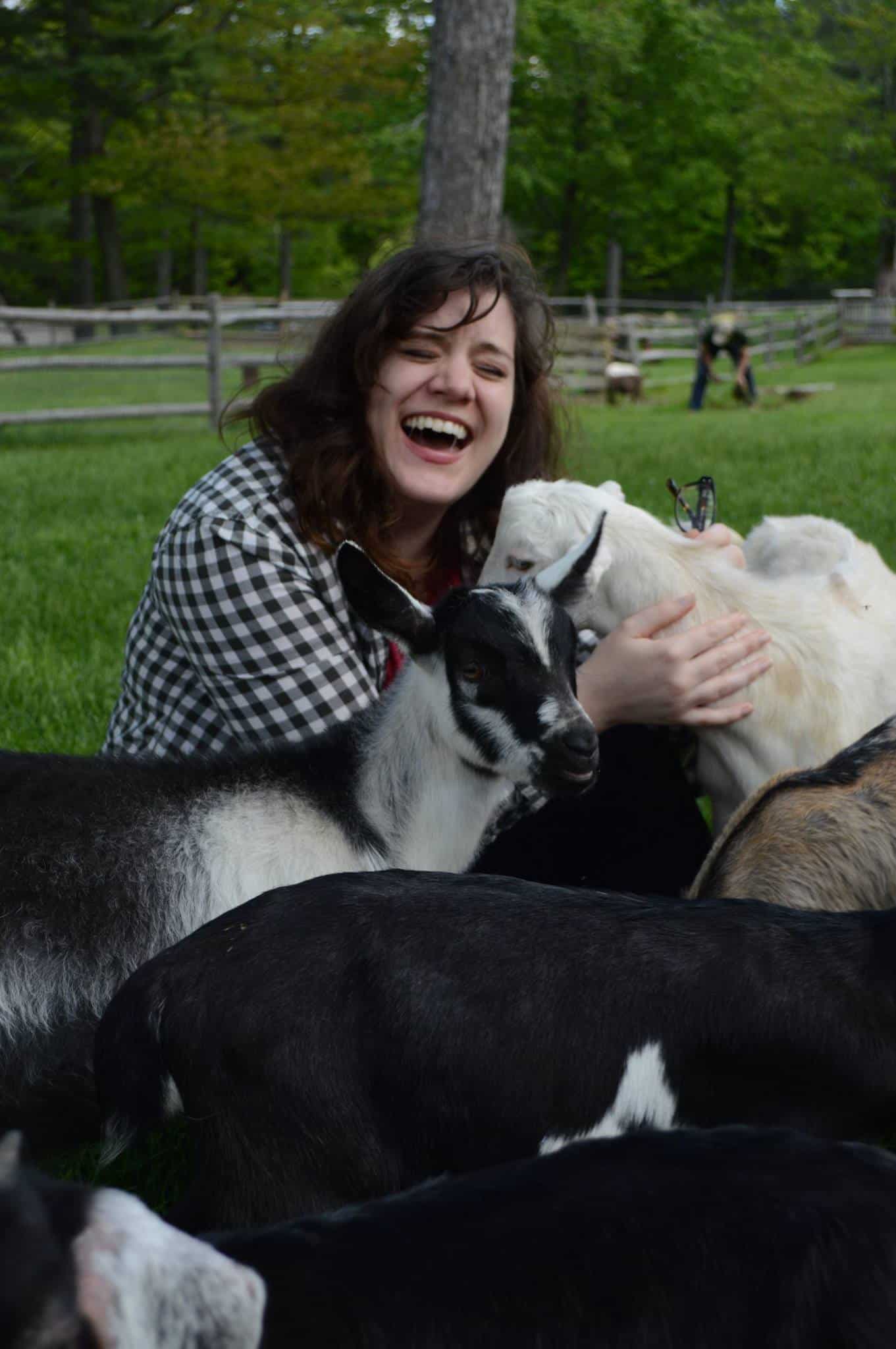 Amy is the founder of New England with love. A proud Vermonter, she hopes to share her love of New England and help you find the best adventures in the region. Amy is also blogger/founder at Two Drifters, where she writes alongside her husband about romantic and couples travel, relationships, honeymoons, and more. When not working on websites, Amy is probably reading, cuddling with her husband, son, and cats, & drinking a maple latte.