Boston, Massachusetts, is one of the best places in New England to travel if you're looking to visit museums and educate yourself while traveling. Luckily, we've rounded up the best museums in this post to help you with planning your next Boston itinerary.
From museums that are solely based on science to unique, quirky ones that are focused on plumbing, Boston has it all. No matter your interests, you'll be able to find museums in Boston on this list for you to visit during your next trip to Boston.
Without further ado, here are all of the best museums in Boston!
Best Museums in Boston
Museum of Science
First up is one of the Museum of Science, which is arguably one of the most famous and well-known museums in Boston. This museum was founded in 1830 and has been a Boston staple ever since. It's located right near the Charles River in a truly beautiful area.
Throughout this Boston museum, you can find tons of interactive exhibits all about science covering every topic, from dinosaurs to the weather. The Museum of Science is one of the best museums in Boston for both children and adults, which is why it 100% deserves a spot on this list.
One of the best parts of the museum is the electricity show, so make sure you try to attend that if you can.
Institute of Contemporary Art
Next is a must-visit art museum in Boston, the Institute of Contemporary Art! When it was first founded, it was called the Boston Museum of Modern Art but has since changed its name. The mission has always stayed the same, though: educating and showcasing contemporary art to the masses.
Founded in 1936, this Boston museum is filled with beautiful pieces of art. You could easily spend a few hours exploring.
Pro tip: to save yourself some money, consider visiting on Thursday nights for free admission between the hours of 5 and 9 p.m. There is also free family admission on the last Saturday of every month, so plan your trip accordingly!
Boston Tea Party Ships & Museum
The Boston Tea Party Ships & Museum is another of the more well-known Boston museums on this list. Many people actually come and visit Boston solely to visit this museum and learn more about the Boston tea party.
This MA museum is dedicated to the 1773 Boston Tea Party, and they often do reenactments there where you can experience it for yourself. If you're a fan of history or want to learn more about one of the most important parts of American history, then this is the perfect museum to go to.
At this cool Boston museum, not only can you explore exhibits, but you can also check out Abigail's Tea Room and the ship. What more could you want?
Museum of Fine Arts
One of the best museums in Boston, if you are a fan of the arts or even historical artifacts is the Museum of Fine Arts. It's located in the popular Fenway neighborhood of Boston, near the historic Fenway Park.
At the MFA, you can find 100+ different galleries throughout the museum, as well as tons of historic exhibits filled with old artifacts. The museum is broken up into other areas, so you can easily explore strictly European, American, or even another area's art.
This Boston museum is massive, so definitely grab a map when you first enter to use your time a bit more wisely.
The West End Museum
The West End Museum is one of the fun, quirky museums on this list of the best museums in Boston, so it just had to be mentioned. It's entirely focused on showcasing information about the history of Boston's own West End, and it also happens to be located in the same neighborhood that it is focused on.
While the museum is nowhere near as big as some of the other Boston museums on this list, it's still super fun to visit because of how quirky and different it is. Plus, the people who work there are genuinely invested in the history of the West End, so it's the perfect place to learn more about this area of Boston.
Boston Children's Museum
The Boston Children's Museum is another of the more popular and well-known museums to visit in Boston. It's particularly popular among families traveling to the area because the museum was literally built with the purpose of educating children.
It's located right on Children's Wharf in a beautiful area of the city. Inside the Boston Children's Museum, almost every single exhibit is entirely interactive to keep the attention of children for hours. There's no better way for kids to learn than by playing!
Plus, this Boston museum is one of the oldest of its kind in the United States.
The Paul Revere House
Located in downtown Boston, The Paul Revere House is an absolute must-visit, making it one of the best museums in Boston. The museum is actually the home that Paul Revere lived in back in the 17th century and has since been turned into a historical site filled with artifacts.
Inside The Paul Revere House, you can visit rooms set up precisely the way they were a few hundred years ago, along with tons of historical artifacts. While this Boston museum is pretty small, it's fantastic to see an authentic piece of history situated next to more modern buildings.
Nichols House Museum
The Nichols House Museum is another of the more unique Boston museums. It is situated inside an old Victorian mansion that belonged to Rose Standish Nichols and the rest of the Nichols family. She was a suffragist and gardener in the city.
Throughout the mansion, you can step back in time and explore what life was like during the 19th century and even see a lot of what belonged to the Nichols family. Be sure to be on the lookout for the Flemish tapestries and the classic Boston furniture, some of the must-see pieces inside the Nichols House Museum.
Isabella Stewart Gardner Museum
Just a short walk from the Museum of Fine Arts is the Isabella Stewart Gardner Museum! This is a more miniature museum that is sometimes overlooked by tourists but is truly loved by locals and those in the know. This beautiful Boston museum has art from all over the world and a peaceful garden that you can sit in.
It was also the very museum involved in the 1990 museum heist in Boston! Someone stole tons of art pieces from the museum, and the case, still, to this day, hasn't been solved. It's a crazy story, and it's fun to visit this Boston museum and see what all the hype is about.
Harvard Museum of Natural History
The Harvard Museum of Natural History opened in 1995 and is located in Cambridge. The museum is dedicated to natural history and is actually right at Harvard University so that you can visit both places at the same time. Definitely hop on a Harvard campus tour if you can!
Inside the museum, you can find a combination of multimedia exhibits and historical artifacts, making for a fun juxtaposition and interesting museum experience. While it's not a huge museum, it's still fun to visit. Plus, if you know anyone who goes to Harvard, you can visit the museum for free.
John F. Kennedy Presidential Library and Museum
One of the less-visited museums in Boston is the John F. Kennedy Presidential Library and Museum. The Kennedys, while they were super important to the United States' history, also had a considerable hold in the Boston area.
The museum opened in 1979 and is filled with tons to explore. There are both permanent and rotating exhibits, and during the year, they also host special exhibitions that are well worth checking out. You can even see some fashion from history!
The Plumbing Museum
Last but not least is The Plumbing Museum. While it's technically located in Watertown, it is in the greater Boston area, so it deserves a spot on this list. And before you ask, yes, it is a museum dedicated to plumbing.
Inside this museum, you can take a look at historical plumbing fixtures. It sounds totally weird, but it makes for a genuinely unforgettable museum experience. Because the museum is so small, you can often also get a tour directly from someone who works there.
This is a fun museum even for children to visit because they'll honestly find it pretty entertaining!
—
As you can see, there are so many great educational places to visit in the city with so many great museums in Boston. The great thing is that many of these museums are located somewhat near each other, so you can easily visit multiple in one trip if you want!

Which of these Boston museums would you most want to visit?
---
You might also like:
---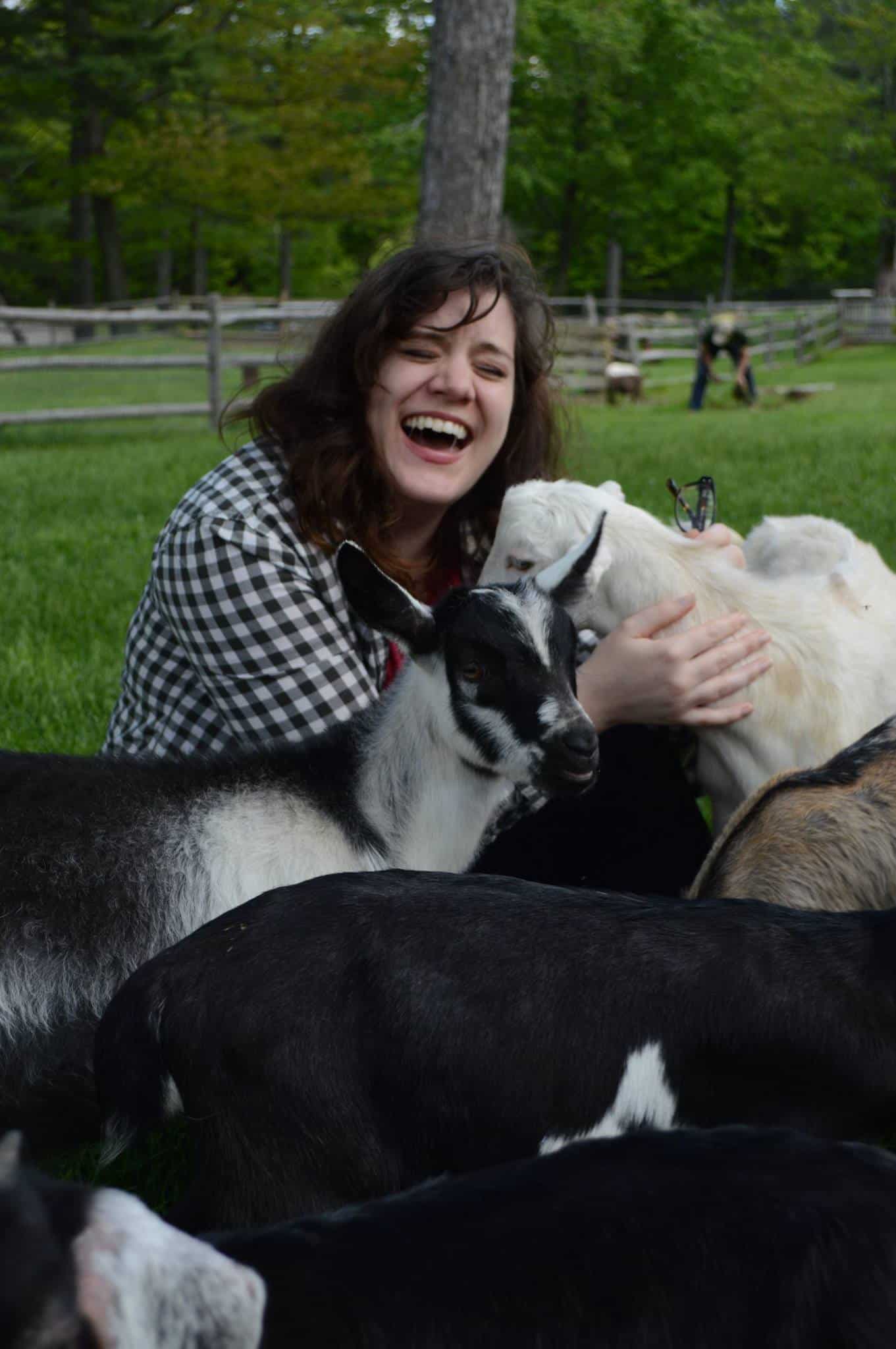 Amy Hartle is the founder and Editor-in-Chief of New England With Love, a comprehensive resource for travel in the New England region. Amy has been exploring New England since 2001. She lived in Vermont for many years and is a graduate of Plymouth State University in New Hampshire. Amy has been writing about travel for over a decade. On this site, Amy aims to share her love of New England and help you to have the best possible adventures!
Amy has been a full time blogger since 2012, and is also the publisher of Two Drifters, where she writes about couples travel and relationships, as well as Let's Adventure Baby, a family travel site. When not traveling the world or creating epic blog content, Amy can be found cuddling with her husband, son, and cats, & drinking a maple latte.