When visiting New England, you'll absolutely have to go on the hunt for the best lobster roll in Maine! ME is known for its seafood, and what better way to enjoy it than having one of the state's best treats?
Before we dive in, though, just in case you aren't sure what a lobster roll is, it's essentially lobster meat served fresh on a hot dog bun! Sometimes, it's served on fancier rolls or is jazzed up with other toppings like mayonnaise; it just depends on where you buy one from.
Now that you've gotten a bit of detail let's dive into where to find Maine's best lobster rolls.
Our Top Pick: The Best Lobster Roll in Maine
If you're on a time crunch, our top pick for lobster rolls is Bob's Clam Hut in Kittery. Here are a few reasons why:
Serves the tastiest lobster roll with butter (AND you can ask to add more butter if you want) but also has it Maine style (with mayo)

Offers gluten-free buns

Reasonable pricing for the quality of food

Great restaurant ambiance with ample indoor and outdoor seating
Best Lobster Rolls in Maine
Bob's Clam Hut, Kittery
As mentioned above, Bob's Clam Hut in Kittery is our top pick. This dazzling seafood restaurant has tons of items on its menu to choose from, with the lobster roll being one of the top orders, and for a good reason.
Bob's Clam Hut has two types of lobster rolls, one with hot butter (which you can totally ask for extra of) and one with mayonnaise, which is more commonly known as Maine-style.
Gluten-free buns are available for an extra fee (which can be hard to come by at other restaurants), and they serve their dish with fries and a pickle, with the option to swap for sweet potato fries.
Warren's Lobster House in Kittery
Another excellent option in Kittery is Warren's Lobster House. Overlooking the lovely Piscataqua River, this restaurant has classic seafood and, of course, has a lobster roll on its menu, too.
As you'd expect, one of their best sellers is the "Baked Stuffed Lobster Roll." It's a bit more pricier (around $30), but it's so worth it. This version is a classic lobster roll baked with butter and Ritz crackers. Plus, you can access the salad bar and a choice of potato or veggies on the side. Pair it with one of their appetizers, like fried calamari or an ultimate shrimp cocktail, for an unforgettable meal.
Thurston's Lobster Pound in Bernard
While many visitors to Maine opt to visit places like Portland or Kennebunkport, Bernard is home to an incredible seafood restaurant serving lobster rolls: Thurston's Lobster Pound. One of the best things about this restaurant is that they have incredible views over the water.
Their menu features a classic lobster roll filled with handpicked lobster meat. The fresh meat is lightly tossed with mayo and placed on a lettuce-filled grilled bun, with nothing else added. It is available in two sizes, in case it's your first time at the lobster roll rodeo.
To level up your experience, you could try opting for the lobster BLT instead, which is similar but also has bacon and tomato.
McLoons Lobster Shack in Thomastown
McLoons Lobster Shack is an incredibly underrated restaurant serving lobster rolls along the water. Located in Thurston, this seafood restaurant is family-owned, and though it's a bit further out from other touristy spots, it is worth the drive.
Because of the location, they are only opened seasonally, usually opening up for the year sometime in late May or early June, depending on the year. The menu features two types of lobster rolls: the regular one and a lobster Rolls Royce.
The regular lobster roll is a quarter pound of lobster meat on a buttered roll. Meanwhile, the lobster Rolls Royce is twice as big as the regular one and is on an 8-inch roll. Both are tasty, just depends on how hungry you are!
Chauncey Creek Lobster Pier in Kittery Point
Chauncey Creek Lobster Pier in Kittery Point is a quaint little shack known for its seafood. It's impossible to miss with its bright red exterior. They offer dine-in and takeout throughout their season.
Their menu features a classic lobster roll sandwich sold at the current market price. Many locals say that their lobster rolls are perfection, though is a bit on the saltier side. Be sure to try some of their other dishes too, like chowder and shrimp.
Bite Into Maine in Portland, Scarborough, and Cape Elizabeth
With locations all over Maine, it's easy to see why this spot made our list. Bite Into Maine has locations in Portland, Scarborough, and Cape Elizabeth, making it one of the easiest to get your hands on during a trip.
The lobster rolls are made with Maine lobster on baked bread, butter, and a side of chips. They have a regular and XL side, so you can choose based on how hungry you're feeling.
Bite Into Maine has a variety of flavors available on their menu, depending on what you're in the mood for. There's Maine style (mayo and chives), Picnic style (coleslaw, butter, and celery salt), CT style (warm butter), Wasabi (with wasabi mayo), Chipotle (with chipotle mayo), and Curry (yellow Indian curry). Talk about some unique flavors! We suggest trying the Maine style first, plus one of the others that pique your interest.
The other option is to order one of their lobster roll flights! You get to pick three flavors to try, and they'll serve them side by side. These normally come with Maine style, CT style, and picnic style.
Sea Salt Lobster in Saco
If you happen to head near Saco, Maine, be sure to stop by Sea Salt Lobster. This seafood restaurant has mid-range pricing and a casual environment inside. Plus, they serve incredible regional beers that pair nicely with the food on their menu.
What makes Sea Salt Lobster so unique is that they have a variety of different lobster roll types on their menu. Each is served on a New England-style roll with butter, and a side of either potato chips, french fries, or coleslaw.
Their flavors include the Saco (mayo and iceberg lettuce), OOB (warm with butter), Town Line (mayo, lettuce, and butter), Biddeford Pool (mayo BLT), and the Kennebunkport (pico de gallo, red pepper pickled cabbage, cilantro lime aioli, and cajun seasoning).
The Travelin Lobster in Bar Harbor
Situated in Bar Harbor, The Travelin Lobster is an incredible spot to try a lobster roll in Maine. They are a classic shack-style restaurant owned by a fisherman. It has a very laid-back vibe, and they are open seasonally throughout the year.
On their menu, they have six different types of lobster rolls that can be ordered, available in three different sizes: mini (2 oz), small (14 oz), and large (6 oz). There's a hot roll with buttered lobster, a classic roll with mayo on lettuce, a naked roll with only meat, a slaw roll with mayo, coleslaw, and thousand island dressing, a lobster BLT with BLT fixin's, and a sampler, which will give you three mini rolls: naked, hot, and classic.
Eventide Oyster Co. in Portland
Portland is home to Eventide Oyster Co., which is a more high-end seafood restaurant. It's popular among locals for celebrations and is often used as a place to go out on a night with friends or a lover.
The lobster roll on Eventide's menu is a bit unique as it's actually made with brown butter, which adds a unique flavor to an otherwise normal dish. You can also get sides of cole slaw, kimchi, or potato chips. If you're looking for a classic lobster roll, then Eventide Oyster Co is a perfect option for you.
The Highroller Lobster Co. in Portland
The Highroller Lobster Co. is a seafood restaurant in Portland that feels like a diner inside. It's styled very differently than other seafood restaurants in Maine, which truly helps it have a unique factor that keeps people coming back for more.
Their lobster roll is truly unlike any other and is best for those who have had one before. It's Maine lobster with chopped romaine on a freshly baked brioche bun with your choice of sauce. It's kind of like a build-your-own lobster roll.
Billy's Chowder House in Wells
If you find yourself in Wells, Maine, stop by Billy's Chowder House. It's a casual seafood restaurant with mid-range pricing near a wildlife preserve. Eating here provides quite a unique experience.
On their menu is Billy's famous lobster roll, which is one of their signature dishes. It's lobster meat mixed with mayonnaise on top of a grilled hot dog bun. Depending on how hungry you are, they have two sizes available: junior and a large.
We hope you've enjoyed delving into all the amazing places to try the best lobster roll in Maine! Now it's your turn to put them to the test. Enjoy trying as many lobster rolls as you can during your trip, and have the ultimate showdown.
---
Read these next: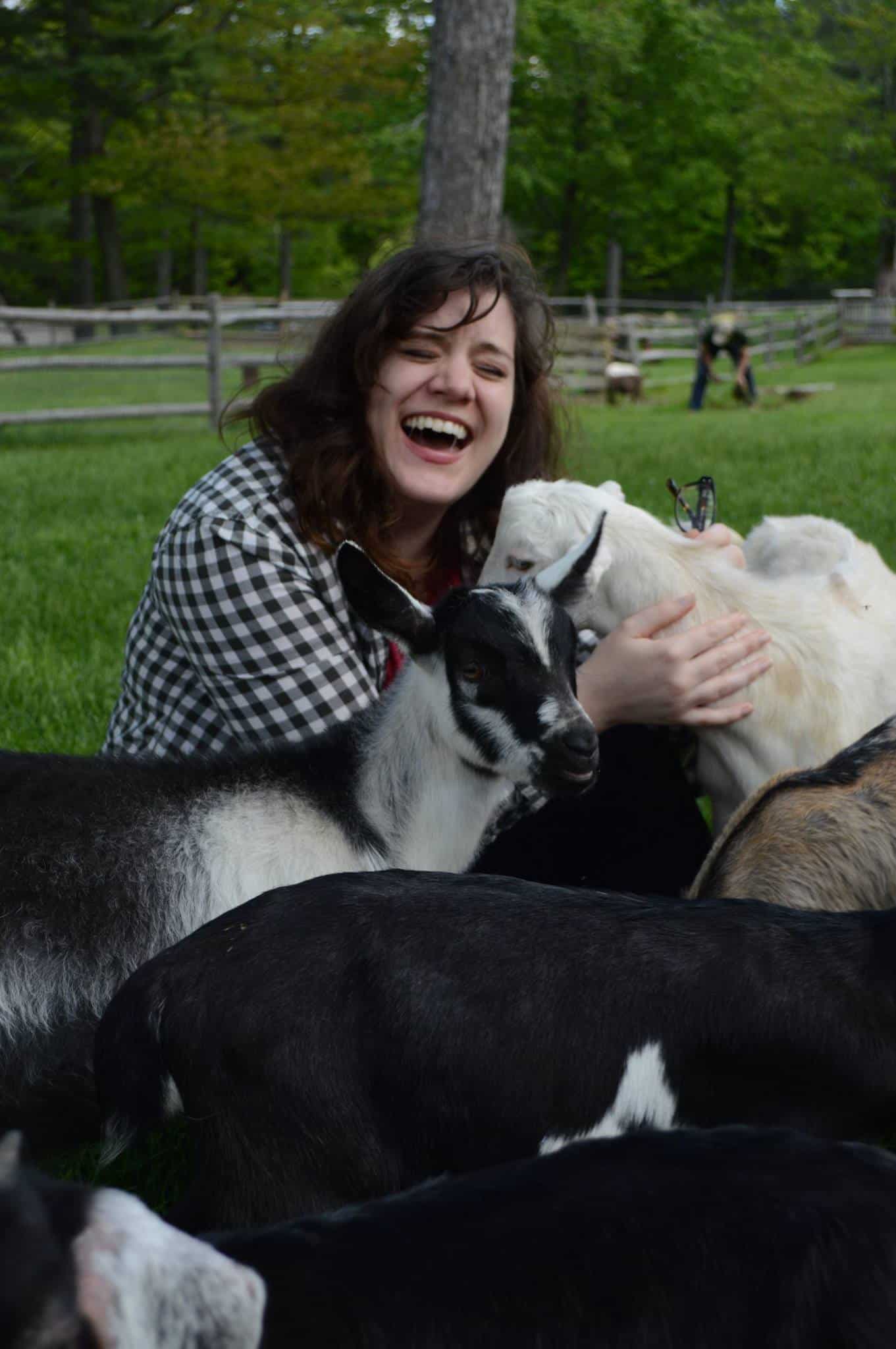 Amy Hartle is the founder and Editor-in-Chief of New England With Love, a comprehensive resource for travel in the New England region. Amy has been exploring New England since 2001. She lived in Vermont for many years and is a graduate of Plymouth State University in New Hampshire. Amy has been writing about travel for over a decade. On this site, Amy aims to share her love of New England and help you to have the best possible adventures!
Amy has been a full time blogger since 2012, and is also the publisher of Two Drifters, where she writes about couples travel and relationships, as well as Let's Adventure Baby, a family travel site. When not traveling the world or creating epic blog content, Amy can be found cuddling with her husband, son, and cats, & drinking a maple latte.