---
*Links in this article may be affiliate links, from which we may earn commission. See our
Privacy Policy
for full details.
---
Are you going hiking in Acadia National Park? The call for exploration on Maine's Downeast coast is understandable: rugged cliffs limned in salty mist and yet somehow, miraculously, sprinkled with sand beaches and chilly swimming holes. It's the perfect place for summer coastal adventures, and Acadia is the true crown jewel of Downeast outdoorsmanship. Where else, it's worth asking, can you venture from the summit to the sea so quickly and gracefully on the east coast?
Google all you want, but the answer remains the same: there's just nowhere like it on the eastern seaboard, and Acadia's densely packed collection of peaks, ponds, and traverses means endless options on Acadia National Park trails. That's a good thing, no doubt, but can make planning Acadia hikes a bit of a slog.
With so many paths, summits, trailheads, and possible routes—we're swooping in for the assist and highlighting some of our favorite Acadia trails for every skill level. While everyone else is waiting in line at Hulls Cove Visitor Center to chat with a park ranger about what Acadia hiking trails to hit, you'll be sitting pretty on a peak looking out over a beautiful seascape asking your friend to pass the granola bars.
PS We know you're ready to get on to the best hiking trails in Acadia National Park, but be sure to check the local weather conditions before you head out; some Acadia park hikes are fine in most conditions, others get a little dicey when the weather turns, so be sure to know before you go!
Best Hikes in Acadia National Park – Hiking For Every Skill Level
Easy and Flat
Yeah, summit selfies are all the rage, but sometimes you just want a low-key nature walk with some stunning views. As more and more visitors to Maine's coastal splendor look for outdoor activities, we're happy to see a renewed focus on making sure the al fresco fun includes every skill level, age, and ability. If you're bringing the whole family—kids, grandparents, everyone!—these should be your go-to options for easy hikes in Acadia National Park:
Jessup Path
Jessup Path begins and ends at the Sieur de Monts Nature Center, near the Wild Gardens of Acadia. A network of beautiful, raised boardwalks cuts through a marsh densely wooded with birch trees. You can string the Jessup Path together with so many other trails that begin and/or end at the parking area near Sieur de Monts, but the 2 mile out-and-back with groomed paths and well-maintained gardens is perfect for every skill level and even wheelchair accessible. The changing leaves against the marsh and bright white birch bark means autumn here, in particular, is a gorgeous affair, making this one of the best Acadia hikes to do in the fall.

Ocean Path
Acadia's Ocean Path runs parallel to Park Loop Road as it twists and turns along dramatic pink granite cliffs dropping straight into the briny North Atlantic. Ocean Path just so happens to begin and end between some of Park Loop Road's most famed attractions: Sand Beach, Thunder Hole, Monument Cove, and the Otter Cliffs.
The trail is 4 miles (2 in each direction) of mixed pavement, gravel, and dirt absolutely jam-packed with gorgeous sightseeing for a long, yet leisurely nature walk—but that pedigree of renowned vistas means you should expect serious crowds. Plan to park at the Sand Beach or Otter Point lot as early as possible to make sure you get a spot and get a leg up on everyone else. This is a great option for Acadia hikes with kids, as well: Monument Cove and Thunder Hole are fascinating to explore and the Otter Cliffs feel like an upgraded version of beachcombing.
Ship Harbor / Wonderland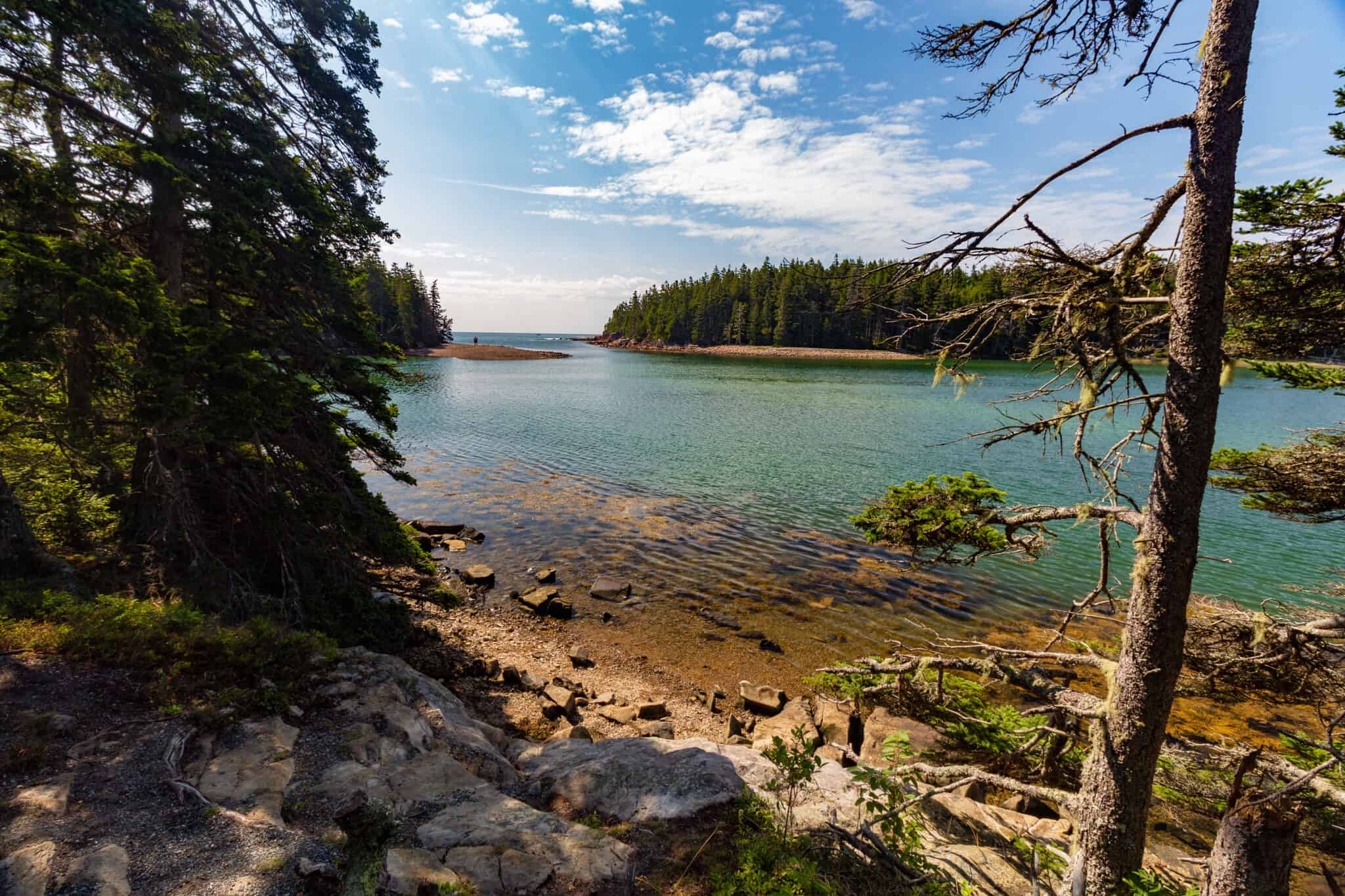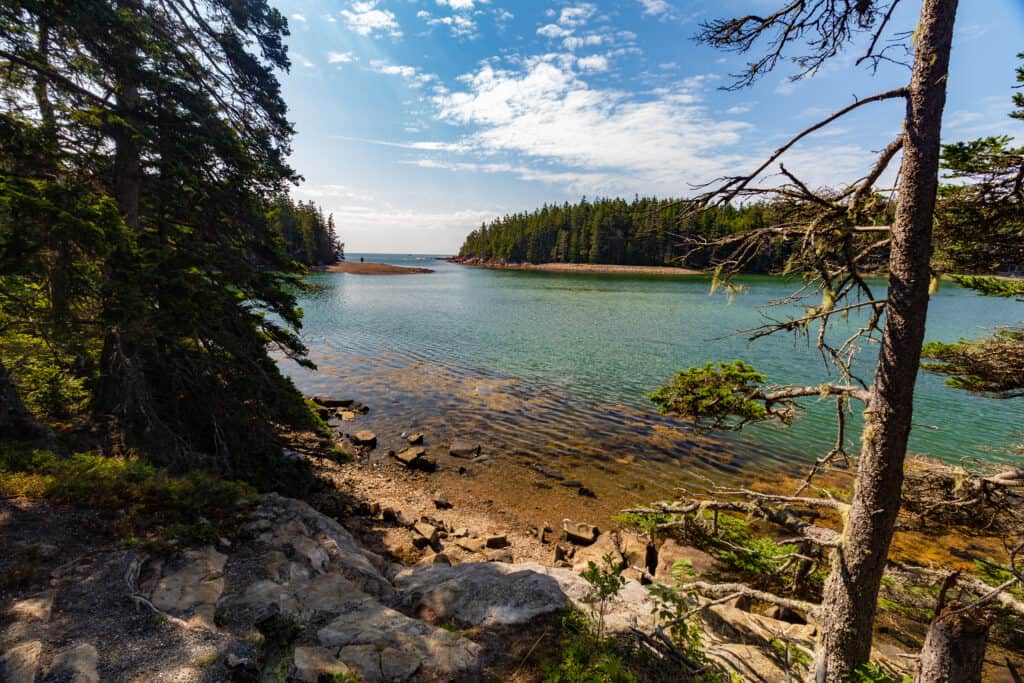 Alright… you caught us. This is actually two different trails. But they're nestled together in a beautiful stretch of Acadia quite separate from the rest: on the quiet side of Mount Desert Island between Seawall Beach and Bass Harbor Head Lighthouse.
Though the trailhead lots—separated by about a quarter mile—fill up quickly and he trails are heavily trafficked, these flat and easy nature walks still feel worlds away from the crowds of Park Loop Road. And at about 2.6 miles total for both trails together, it's a nice distance to break up a drive around Southwest Harbor.
They both follow rocky coastal outcroppings with naturally occurring coves and harbors dotted with gorgeously pungent coniferous trees. Ship Harbor empties out just about completely at low tide, and the harbor's entrance is beyond photogenic. These are easy trails with views and scenery that hit way above their weight class as some of the best hikes Acadia has to offer.

Sundew Trail
Technically located on the Schoodic Peninsula, we had to include this one because it's a nice, accessible, wheelchair friendly hike in Acadia that is less than 2 miles out and back. This is also a good one for families looking for stroller friendly trails in Acadia, and takes less than an hour to complete. Plus, it's open year round with lovely views, so if you're looking to hike Acadia National Park with kids, keep this one in mind as one of the best short hikes Acadia has to offer.
Moderate with beautiful views
One of Acadia's best features is a series of low-lying mountains that give a good, solid workout without being too technical for most casual hikers. The views from these peaks—rising right out of the sea—always feel like they're somehow pasted into place from bigger, harder, more challenging climbs. Some of the top hikes in Acadia National Park require just a little bit of work for a whole lot of payoff—just the right balance for a weekend spend hiking Acadia National Park!

The Bubbles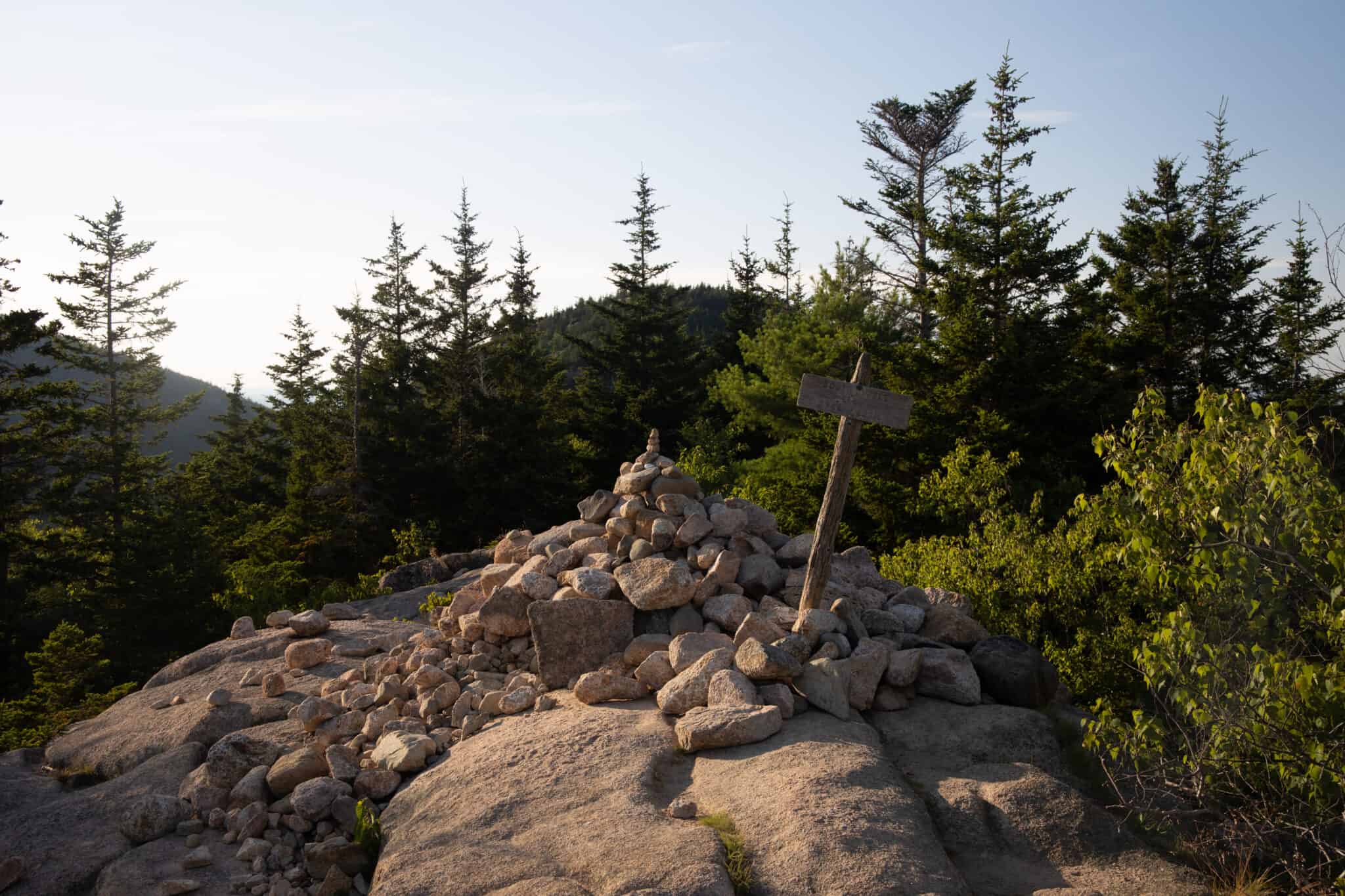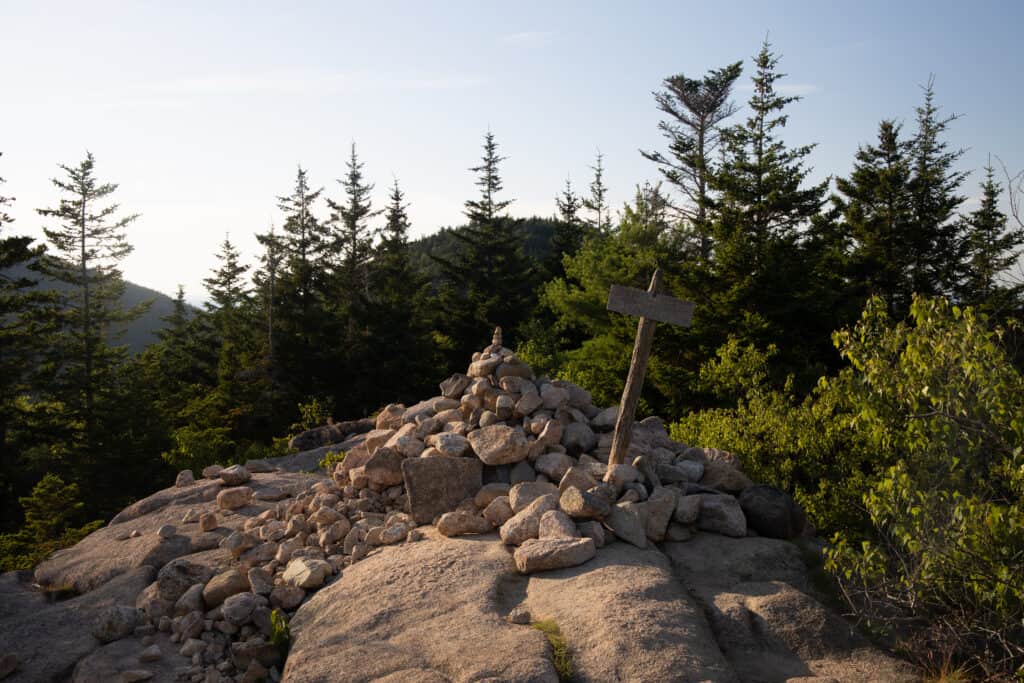 Just beyond Jordan Pond, two small mountains—North and South Bubble—stand stoic in one of Acadia's most photographed spots. Despite their diminutive stature, the dramatic rise from the base of a serene pond makes for a stunning sight. There are a few different routes for hiking the Bubbles, but the best two break into a shorter option and a longer option.
The shorter route begins and ends at the Bubbles Divide parking lot off Park Loop Road. The trail, out and back, is about 1.4 miles with nearly panoramic views of Acadia from the top of North Bubble: Jordan Pond, Pemetic Mountain, Seal Harbor, and Penobscot Mountain all for the viewing. Don't forget to snap a shot of Bubble Rock—the comically-positioned glacial erratic atop a sheer cliff that looks poised to topple over with faintest touch. (It won't. We've tried. Everyone has tried.)
About another half mile bags South Bubble for you, too—just heed the sign to branch off when you come back down from North Bubble and meet the Bubble Divide Trail.
The longer option begins and ends, instead, at the Jordan Pond House; go either direction around the pond and veer off up the steep side of North Bubble about halfway through. This adds about a mile of steep terrain to the flat, easy 3.4 mile Jordan Pond Loop—an excellent mix and a great way to enjoy this gorgeous area.
Acadia Mountain
On the quiet side of Mount Desert Island, right at the shores of tranquil Echo Lake, the trailhead for Acadia Mountain whispers for you to climb your way up and take in a stunning vista of Somes Sound. Just off 102 with a dedicated parking lot, this is a visitor favorite for its amazing scenery, moderate difficulty, and a few fun scrambles up rocky terrain.
The craggy peak with wind-twisted trees is the mid-hike picnic spot you've been looking for all this time. It's also a great spot to string together a number of other trails—depending on how you're feeling you can make this a little over two miles or closer to six.
The direct route to the top of Acadia Mountain connects to Man O War Waterfall with an easy and mostly flat return trail following a brook (clearly once an access road), but you can also connect to Saint Sauveur Mountain, Valley Peak, and Flying Mountain with the scenic Valley Cove Trail taking you right back to the Man of War Brook. Valley Cove is a perfect little coastal reverie, and Somes Sound's unique geography—especially for the east coast—never disappoints.
Bass Harbor Head Light Trail
If you're a sucker for lighthouse hikes, then this is the Acadia hike for you! Bass Harbor Head Light Trail a pretty quick little hike at less than half a mile long, and generally takes less than fifteen minutes to complete, so if you're short on time but looking for those lighthouse views, this might be the Acadia mountain hike for you. It's fairly easy but a little moderate in spots, so have fun on this short Acadia hike to see one of the most iconic lighthouse views in Maine!
Pemetic South Ridge Trail
If you're looking for an Acadia National Park hike that is mostly moderate and offers spectacular views, consider Pemetic South Ridge Trail. Less than 4 miles out and back, you'll start at Jordan Pond North Parking and follow the signs for Jordan Pond Path and then Pemetic South Ridge; you'll be rewarded with fantastic views of the Bubble Mountains.
Penobscot Mountain Trail
Absolutely one of the best moderate hikes in Acadia National Park, Penobscot Mountain Trail starts off with a bit of a steep climb up some rocks, followed by a fairly steady incline, but the 360 degree views of Jordan Pond and Sargent Mountain will be more than worth it!
A bit more work
We hinted at this a few times, but it's worth addressing in full: Acadia's trail system gives such flexibility with stringing together short hikes into a custom length, tailor-fit for your adventure crew. It's certainly part of the parks allure and what makes it so welcoming to all skill levels. On the larger and more well-known half of the island, two closely knit ranges of low mountains separated by a series of ponds make for great patchwork trail explorations. Follow signs, mark your map, and put a fun loop together.
Cadillac Mountain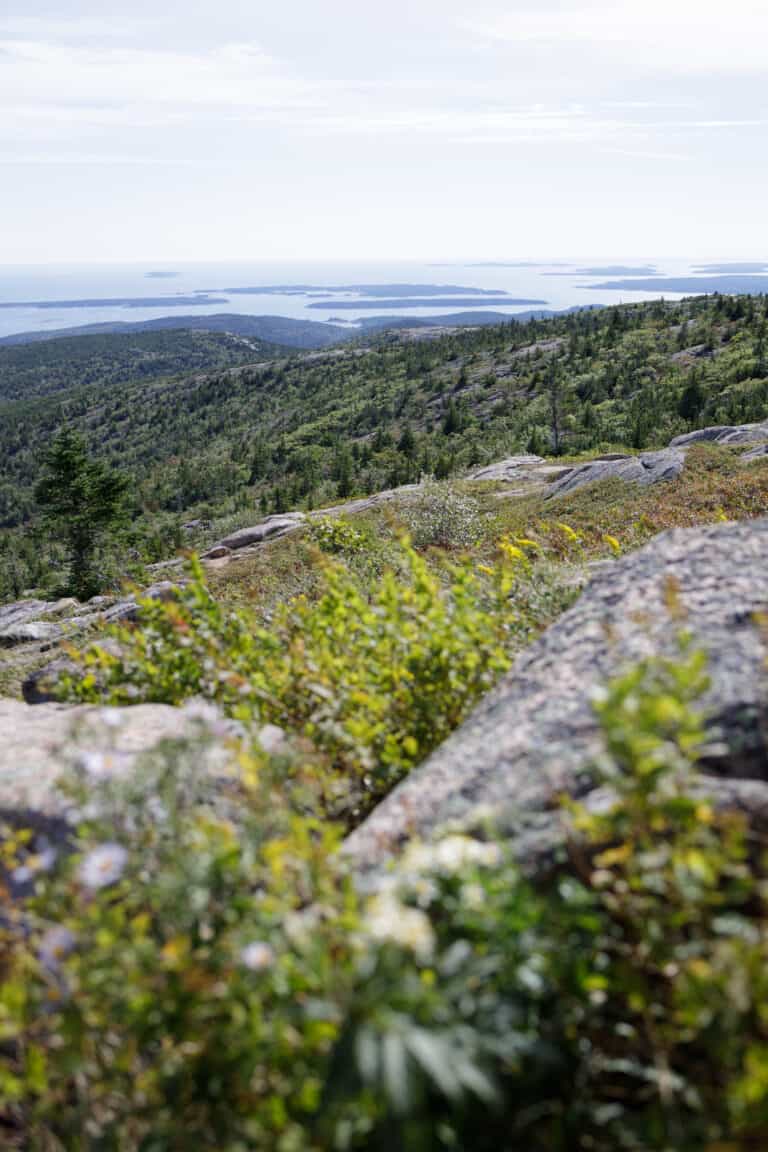 Cadillac Mountain is the epitome of what Maine's Abenaki have called the area for thousands of years: the Dawnland. Here, the sun's rays hit the Cadillac summit before anywhere else on the eastern seaboard.
Sunrise at Cadillac is one of the park's most well-known activities. It's also the park's highest peak—and a blast to hike! Summiting Cadillac can be done from various approaches, and strung together to also hit peaks for a number of surrounding mountains: Dorr, Champlain, and Gorham.
The most popular trail, by far, is the South Ridge Trail Loop. This 8.1 mile out and back packs some sweat inducing elevation gain into an otherwise moderate hike—perfect for getting some exercise and pushing yourself just a bit. The 360 degree panoramic view of Frenchman Bay and Downeast Maine makes this iconic hike a worthwhile venture.
Looking to put together a Cadillac hike that doesn't begin and end at the same place? Use Acadia's Island Explorer bus to shuttle your hiking crew back to your starting trailhead: leave from Blackwoods Campground, take the South Ridge Trail up, and come down the Gorge Trail and Schiff Path to the Dorr Mountain lot for about 6 miles of Acadia magic.
Sargent Mountain
Sargent Mountain is the tallest summit in compact range tucked between Jordan Pond and Eagle Pond on the east and Somes Sound on the west. Much like Cadillac, it's a great opportunity to explore a patchwork trail system.
Sargent's six approaches easily connects to low-lying summits on Brown Mountain, Chapman Mountain, and Penobscot Peak. The Parkman Mountain lot, about a quarter mile from the Sargent trailhead, is your best bet for parking if you're getting an early start ahead of the crowds. Take the Hadlock Brook Trail and Maple Spring Trail to the summit—a strenuous 4.5 mile loop with about 1150 feet of quick and steep elevation gain. Don't forget to check signs for Hadlock Falls, a 40 foot waterfall tucked between carriage trails and footpaths worth the quick detour.
If that lot is full, the Brown Mountain Gatehouse is another great option: start there, take the South Ridge Approach up through Cedar Swamp Mountain, and up to the top of Sargent with gorgeous views of Jordan Pond the whole time. The result: 6.5 miles of Maine summer perfection, and a good excuse for a local brew come evening.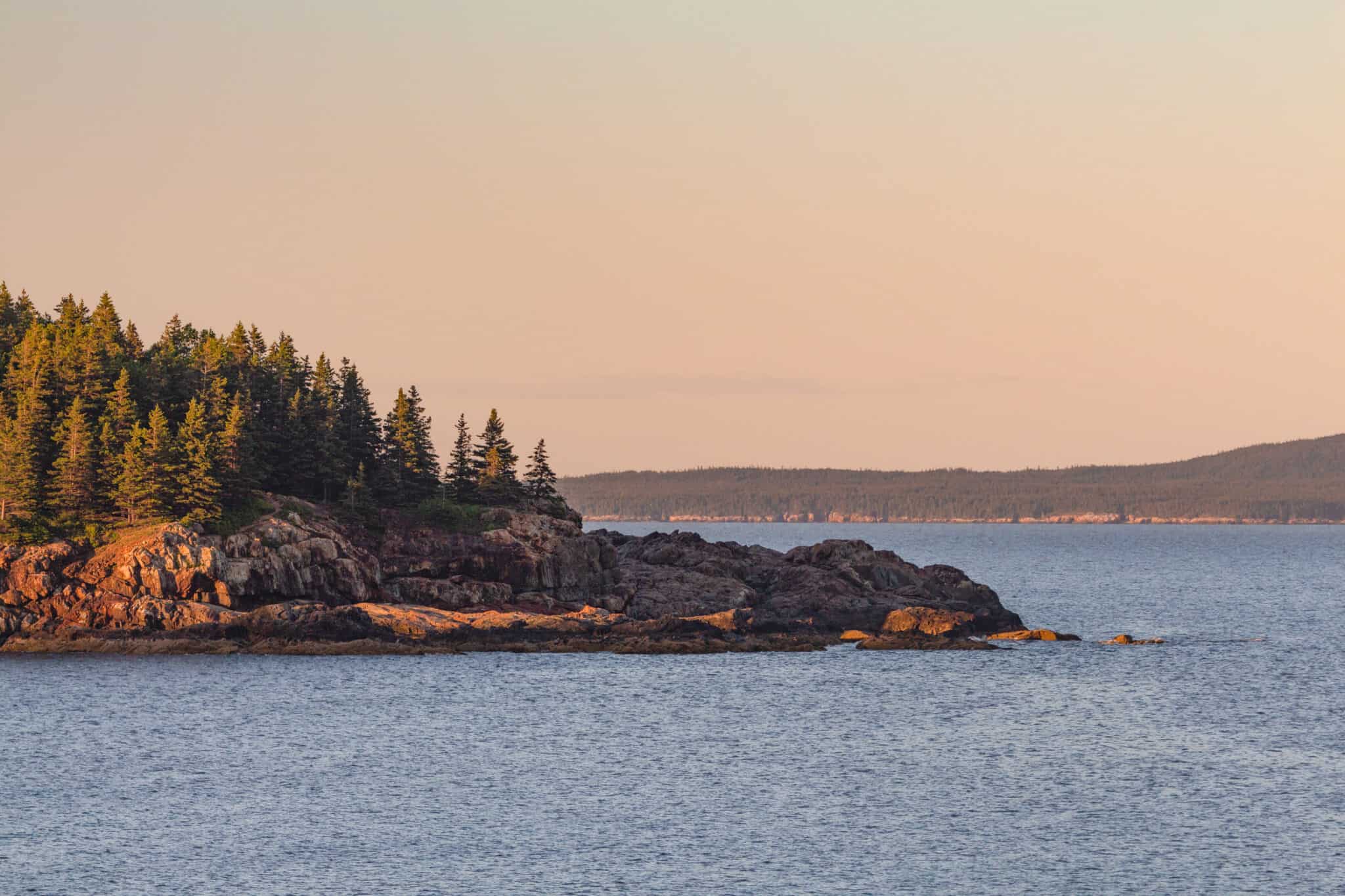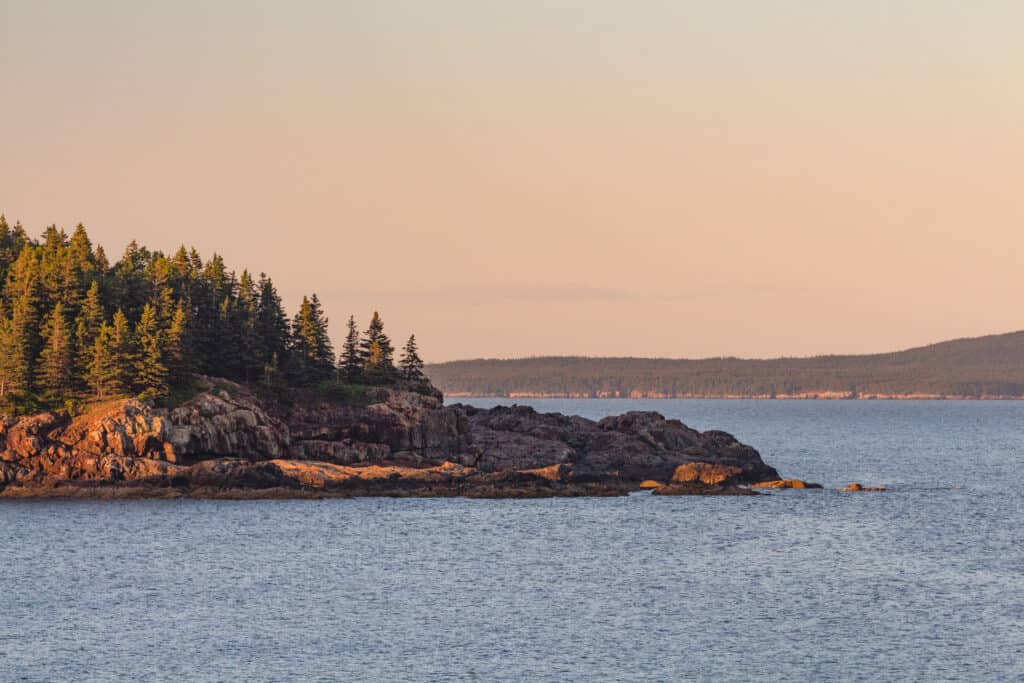 Challenging
The two trails listed below have a pretty infamous safety record, including serious injury and deaths; when we say do some extra research, wear the right clothing, bring the right gear, and make sure everyone in your party is experienced enough—we really, really mean it. What makes these trails so treacherous isn't necessarily how technical they are, it's how unexpected their technical elements are.
Acadia is compact; lots and lots of terrain and trails are cramped onto a moderately-sized island. As a result, none of the trails are particularly long. And because they aren't long, there's an assumption they mustn't be too difficult, either. How could a mile and a half hike be that dangerous? It's faulty logic that gets people hurt—but it's a predictable fallacy based on most travelers experiences in much larger national parks with wide open spaces and massively long trails. Some of the best places to hike in Acadia National Park require a certain skill level and a healthy helping of respect.

Beehive Trail
Acadia's well known Beehive Trail—you can easily spot hikers in brightly colored attire scaling the rock face from Sand Beach, Great Head, and a number of other spots—is a 1.4 mile loop with a considerable amount of nearly vertical sections; definitely one of the top hikes in Acadia. Iron rungs offer some assistance, but they are notoriously slippery. Park signs urge, strongly urge, that hikers ascend the steep face and descend the more traditional trail. Going down the vertical face is not a good idea.
This trail, with proper precautions and a careful pace, is actually a great introduction to challenging hikes! It's not too long and the latter half is quite easy—so it's a great way to get safely out of your comfort zone for a short amount of time. And it certainly doesn't hurt that the payoff is outstanding: unparalleled views of Acadia's verdant forests and rocky cliffs flirting their way into the sea, along with a splash of bright sandy beach, some of the best views in Acadia. Every Mainer that spends a fair amount of time in Acadia has stories of clueless visitors bounding up the Beehive in crocs—don't be that person.
The Precipice
If the Beehive is challenging hikes 101, The Precipice is extra credit for advanced students, and definitely one of the hardest hikes in Acadia National Park. We strongly suggest that you try the Beehive on for size before attempt its bigger, meaner brother.
Vast stretches of this 2.5 mile loop trail are entirely vertical with iron rungs to help pull yourself up. It's widely acknowledged as Acadia's most thrilling hike—but at a cost. There have been serious injuries, deaths, and as recent as February of 2021 a helicopter rescue for a stuck hiker.
As with the Beehive, we want to be very clear about this: do not descend the cliffs. Use the suggested route to ascend and take note of all the signs and warnings. Looking over your shoulder to jaw-dropping views of Schooner Head and a sheer drop below you is truly exhilarating. And a wonderful little cherry on top: the suggested route brings you right over the top of Champlain Mountain, as well. Easy parking with a named lot for the trail right off Park Look Road and varied sites and terrains on every part of this loop make it a true gem for those up to the task.
Something a Little Different…
Bar Island Trail
Bar Island—named for the sand bar extending between Bar Harbor and the closest Porcupine Island in Frenchman Bay—sits pretty just a third of a mile offshore as you sip a cocktail downtown. Yet the tidal action in Mount Desert Narrows has such a dramatic differential, the sand bar at low tide forms a land bridge big enough and sturdy enough to drive on.
If you time the tides just right, you can hike the land bridge to Bar Island and circle the island with plenty of time to make it back. It's an absolute dream for adventurous kids, so check the tide charts and go explore the 2.5 mile out and back path with tons of beachcombing, tidal pools, and coastal forests. Not bad for a trailhead minutes from some of Bar Harbor's choicest hotels.
---
You might also like:
---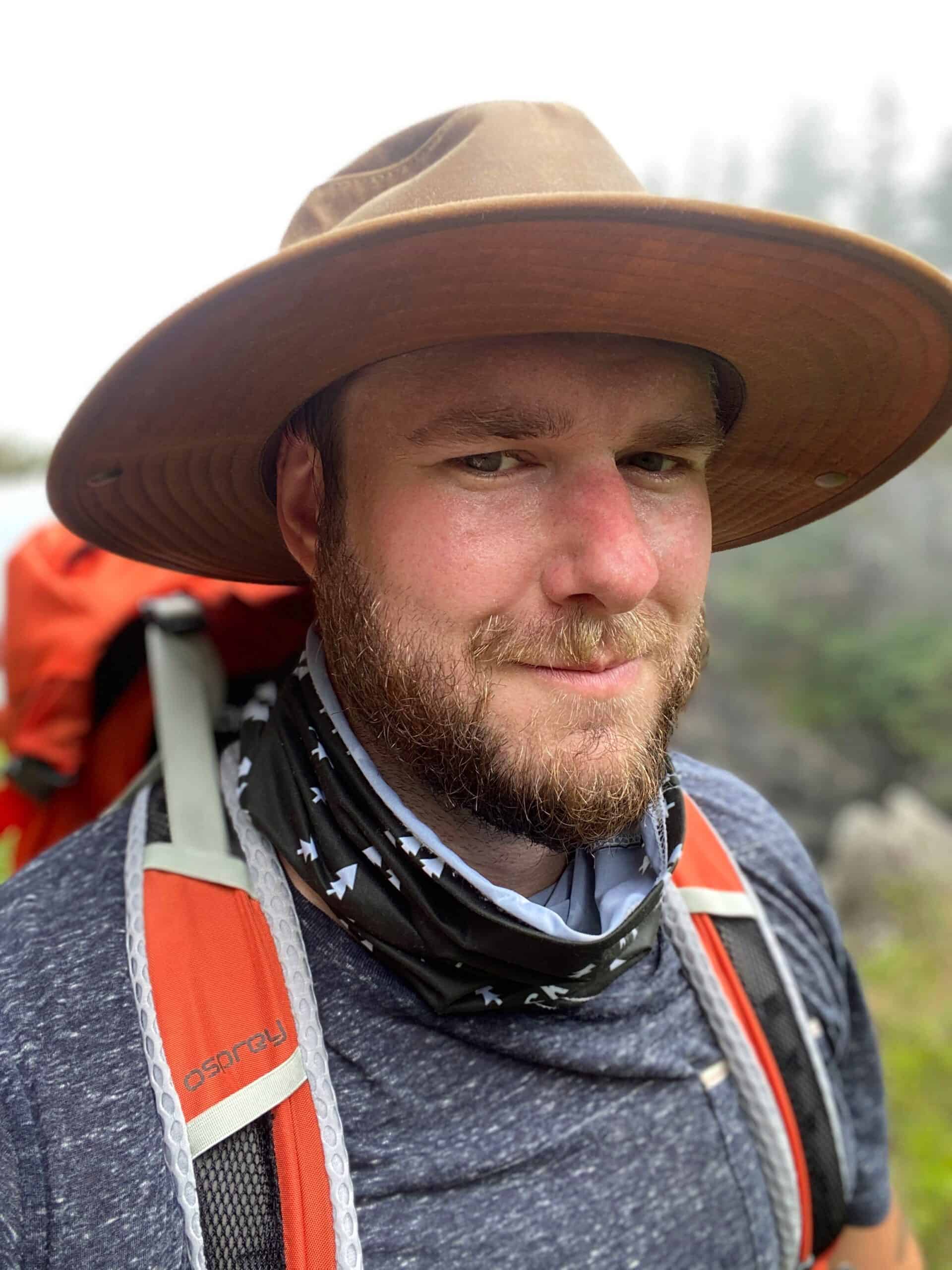 Justin is a writer and photographer based in coastal Maine.  He grew up in New Hampshire, went to college at GWU in Washington, DC, and trained as a chef at Le Cordon Bleu in Cambridge, Massachusetts. Justin has years of experience in professional kitchens, gourmet food sales, and as a wine buyer. He also co-founded Rosehips & Charcoal, a boutique social media consultancy that helps northeast getaway rentals tell their unique stories and grow their online presence.  When he's not working, hiking, or snapping pictures, you can most likely find him drinking wine in the woods in questionable footwear. You can follow along on his Maine adventures and wilderness gourmet shenanigans at @tidetopine on Instagram.