---
*Links in this article may be affiliate links, from which we may earn commission. See our
Privacy Policy
for full details.
---
Even novices in the world of beer know that Sam Adams beer is almost synonymous with Boston. And while the modest Sam Adams Brewery is a fun place to visit, there are tons more stops to find some hops when you're in Boston! The beer scene here is ever-expanding, so broaden your Boston beer horizons by patronizing one of many craft breweries, some new, some well-established.
Their menus are varied enough to satisfy a variety of taste preferences, and the venues offer variety too, including full breweries, tap rooms, and beer gardens. Don't know where to begin with your search? Start with this list for ten of the best breweries in Boston.
Turtle Swamp Brewing
One of those breweries worth checking out is Turtle Swamp Brewing, located in the same area as Sam Adams Brewery. Turtle Swamp is situated in one of Boston's hippest, yet casual neighborhoods, Jamaica Plain. The brewery opened in 2017 yet maintains an under-the-radar feel.
Situated in an area of the city that's historically been home to many breweries, it's now one of only a few in the southwestern part of Boston. With many brews named for local landmarks and sites, it's nearly impossible to pick a bad choice. Those who enjoy hops can't go wrong with the classic South Street, a New England IPA. A small menu of grilled cheese, paninis, and hotdogs will satisfy meat eaters and vegetarians alike.
Food trucks are also sometimes on site, so be sure to check the online calendar. The taproom is small but has two different indoor spaces that make it feel less crowded. There's also an outdoor patio set up with string lights and shade covering that complete the "hanging-out-in-the-neighborhood" atmosphere.
Trillium Brewing Company
Trillium Brewing Company frequently receives rave reviews on worldwide beer rankings, and its atmosphere and service across its locations match its drinks in perfection. It's original brewery and taproom in Fort Point is constantly buzzing with energy, having grown with the trendy Seaport neighborhood over the last decade.
Similarly bustling is its seasonal beer garden located on the Rose Kennedy Greenway. The latter makes a great pitstop for those partaking in Boston activities along the waterfront and the water (many day and evening cruise ships port nearby). Its newest location is in the community of Canton, neighboring Boston.
This location offers vastly more space, with seating for up to 500 patrons! It also boasts a full restaurant, making it a good choice for those seeking a more relaxed experience and a chance to linger.
Downeast Cider House
If you prefer to savor cider, then you won't want to pass up Downeast Cider House and its classic New England hard ciders. This East Boston destination serves up sweet and crisp drinks alongside stunning views. Open Thursdays through Sundays, there is a flights-only taproom plus a pop-up bar located outside that's situated on a pier overlooking Boston Harbor.
The more intimate setting makes it a good choice for a one-on-one catchup with a friend or for a date. For something extra special, call ahead to see if tours and tastings are happening during your visit! Whether you're in it for the sips or skyline views, you can't go wrong with Downeast.
Mighty Squirrel Brewing Co
Venture a bit down the Charles River from Boston and you'll land in Waltham, home to Mighty Squirrel Brewery. Combined, its indoor taproom, outdoor patio, and biergarten fit over 500 people, so you're unlikely to face a very long wait, if any.
If you're intrigued by its name, you'll be even more charmed by what's on tap at Mighty Squirrel. For one of the brewery's most popular IPAs, try Cloud Candy. Or, for a more whimsical sip, try the Strawberry Rhubarb Smoovy or one of many seasonal options.
Situated right beside the stunning Beaver Brook Reservation, a state park, Mighty Squirrel is the perfect place to go after a casual hike. It's also a family-friendly destination and the outdoor areas are dog-friendly, so bring the whole crew along!
Dorchester Brewing Company
On an industrial stretch of road in Boston's biggest neighborhood, Dorchester Brewing Company is unassuming at first. But take a look up and you'll notice its expansive roof deck and greenhouse-style rooftop beer hall, dubbed the "Hopservatory." Visitors can order a house- or locally-brewed beer, wine, or cider on tap and admire skyline views of Boston from the south.
Also featured on the main level of Dorchester Brewing Company are a game room and a barbecue joint, where you'll find a menu that meets most dietary needs and desires. This trendy spot opened in 2016 and it's only getting better every year!
Aeronaut Brewing
Aeronaut is one of those places that has grown significantly since it opened, yet still manages to maintain its authentically cool vibe. Aeronaut's expansive taproom features two massive seating areas and shares space with Carolicious, which serves scrumptious Venezuelan food, and Somerville Chocolate, which serves up locally crafted chocolate bars. Seasonally, visitors can sip beers in the spacious outdoor patio area too.
If you're heading here for the beers, you'll have a wide menu with numerous eclectic seasonal additions on the menu at any time of year. Whether Aeronaut is hosting a book and brews events, drag bingo, or a night of trivia with themes ranging from summer camp to Game of Thrones, you know you'll be entertained when you enter Aeronaut's premises. Located in Somerville, just north of Boston, it's within walking distance to trendy Bow Market and Union Square.
Night Shift Brewing
Night Shift is a brewery that really offers something for just about everyone – and in more than one place no less! The original brewery is situated just north of Boston in Everett, but if you can't make it there, don't worry – you've got three other sites at which you can enjoy some sips of Night Shift! The site at Lovejoy Wharf in Boston has a nice patio and views of the Bunker Hill Bridge.
There are also three seasonally-open beer gardens, called "The Owl's Nest" – two along the Charles River and one at Assembly Row in Somerville – that are the perfect place to gather with friends on a summer evening. So, what have all of these sites got to offer? Brews range from hoppy to refreshing to tart, with staples and seasonal releases sure to satisfy any beer connoisseur.
If you want to switch it up and go for something different, Night Shift even has its own line of coffee (available to purchase by the bag too!), hard seltzers, craft cider, and craft wine.
Harpoon Brewery
A staple among Boston beers, Harpoon has been on the scene since 1986. A trip to Harpoon's brewery in Boston's Seaport neighborhood isn't complete without a tour of the facility, when you'll have a chance to learn all about its intriguing history and try a sample afterward.
Once you've taken your tour, head to the beer hall or on-site seasonal beer garden, where there's plenty of room to sit or stand. Harpoon really nails it with its seasonal offerings; Camp Wannamango, Flannel Friday, and Winter Warmer are all superb.
Besides its mouthwatering beverages, Harpoon hosts awesome events on a weekly basis. Check out the calendar and you'll find events including cornhole tournaments, artisanal vendor fairs, a barbecue festival, and of course, Octoberfest.
Distraction Brewing
This young Roslindale outpost is a welcome distraction any day! Located in an historic flatiron-style building, guests are invited to sit indoors or outdoors in an alley-turned patio. Distraction's creative brews will appeal to anyone with a gutsy palette (there's the Jalapale, a jalapeno and lime-infused pale ale).
If you're into more casual brews, don't worry, there's something more sippable for you too (try the Daily Distraction, a juicy New England IPA). Distraction Brewing is new to the scene, having opened in 2019, but its friendly servers, cool neighborhood vibes, and interesting pours mean it'll be around for a while. A trip to Distraction pairs well with a visit to the nearby Arnold Arboretum, a nature preserve with walking trails, gardens, and flora galore.
Democracy Brewing
Democracy Brewing is a good spot to go after exploring Downtown Boston. Tucked on a side street steps from Boston Common and the Massachusetts State House, the mood in here fits the name: everyone is welcome. You'll find a variety of people at Democracy Brewing – some attending networking events, others on dates, graduate students stopping by after evening classes, and visitors having a pint after sightseeing.
Anyone who comes here will enjoy some fine brews that are named for people and elements of historic and political importance. Be sure to read the story behind the name of your beer before putting your menu down, and you'll surely impress whomever you're with!
---
You might also like:
---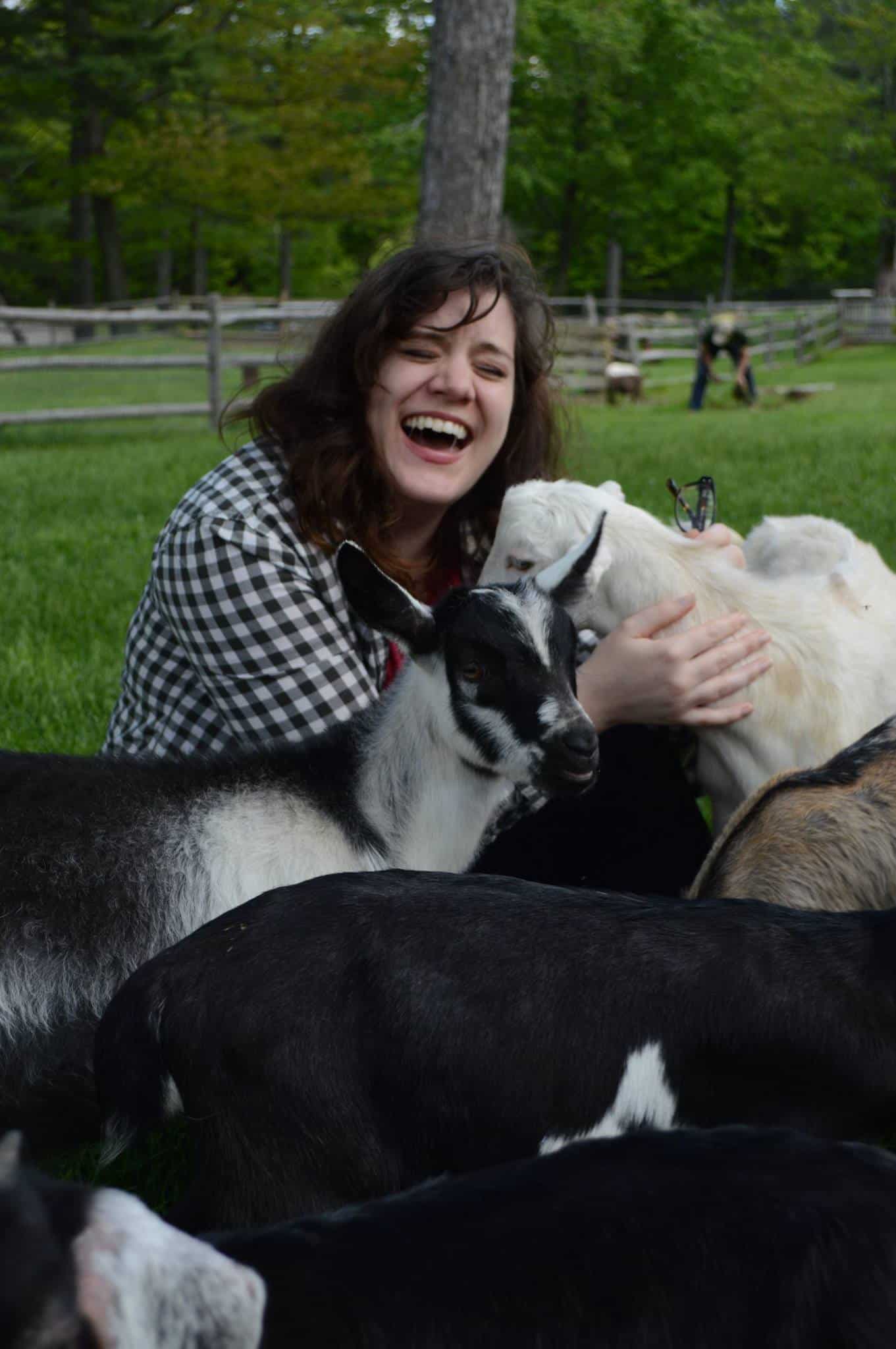 Amy Hartle is the owner and editor of New England With Love, a comprehensive resource for travel in the New England region. Amy lived in Vermont for 15 years, attended Plymouth State University in New Hampshire, and continues to travel regularly around the entire New England region. On this site, Amy aims to share her love of New England and help you to have the best possible adventures!
Amy has been a full time blogger since 2012, and is also the publisher of Two Drifters, where she writes about couples travel and relationships, as well as Let's Adventure Baby, a family travel site. When not traveling the world or creating epic blog content, Amy can be found cuddling with her husband, son, and cats, & drinking a maple latte.