---
*Links in this article may be affiliate links, from which we may earn commission. See our
Privacy Policy
for full details.
---
Yes, it's the smallest state in the USA, but you'll find nowhere better than the Ocean State for the variety of spectacular beaches on offer. With a coastline of 40 miles and a shoreline of 400 miles, there is something here for everyone – water sports, swimming, lighthouses, sunsets, sightseeing – the list is endless! There's a good reason why Taylor Swift has her holiday home here.

With pristine sand surrounded by charming beach towns, it's no wonder Rhode Island beaches are among the best in New England. Whether you're planning a beach vacation for the whole fam or your Rhode Island beach day will be a part of a romantic couples trip, there are beaches on this list that will be perfect for you.
I've put together a list of my favorite, most beautiful beaches in Rhode Island so you can experience them all – enjoy!
Best Beaches in Rhode Island
Watch Hill Beach & Napatree Point, Westerly, RI
Address: 151 Bay St, Westerly
Extremely bold statement but in my opinion, this is the best place for a beautiful Rhode Island sunset on the beach. I may be slightly biased (as it is my local beach!), but the colors are breathtaking.
In the summer, Watch Hill is one of the most popular beaches in the state. It's located in the southern part of Rhode Island in the upscale neighbourhood of Watch Hill. The Watch Hill lighthouse is a short walk away and you can follow the coastline to Napatree Point for a slightly longer walk along the narrow peninsula to spot a range of wildlife, too!
This beach is particularly known for its antique 'Flying Horse Carousel' which was built in 1867 and children can still ride today. There are events held throughout the summer and public restrooms are available. Watch Hill is lined with quaint shops and options for both upscale and casual dining.
The impressive Ocean House Hotel & Resort is also situated here where their outdoor terrace is always open to visitors. Parking can be very competitive here, so make sure you plan ahead, and if you're in the mood to splurge, booking a stay at Ocean House is always a great way to experience the beauty of RI beaches!

Click Here to Check Prices & Book!
East Beach, Westerly, RI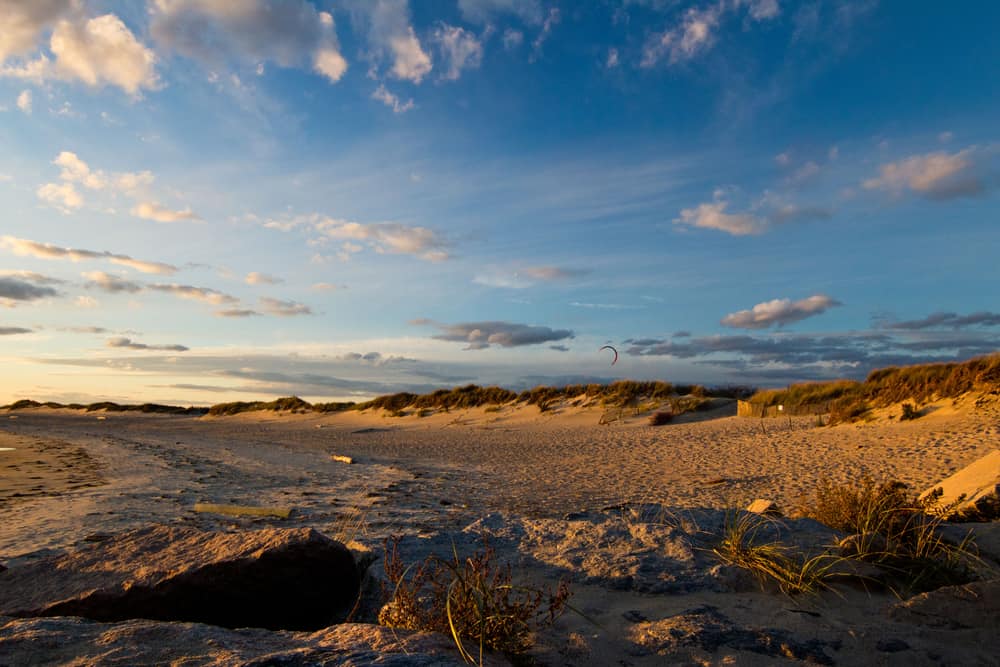 Address: East Avenue, Westerly
If you're interested in a bit of celebrity spotting, then this might be the Rhode Island beach for you! Walking up the hill on Larkin Road from the 'Flying Horse Carousel' you will naturally veer to the left at the top of the hill onto the street that becomes Bluff Avenue. On your right, you'll eventually see the narrow pathway to East Beach.
This is a great place to come to escape the crowds of Watch Hill Beach and it's free to visit! There is paid parking nearby on Larkin Street; don't park near the private houses nearby as you'll get a ticket!
Ocean House is just minutes away if you fancy post beach food and drinks and if you're really lucky, this beach is right next to Taylor Swift's summer home, so you might even catch a glimpse of her and her pals! I love this beach in both summer and winter.
Misquamicut Beach, Westerly, RI
Address: 257 Atlantic Avenue, Westerly
For a livelier and action-packed beach day in Rhode Island, Misquamicut is calling your name! It's a family-friendly RI beach with so much to do and see. You can rent jet skis, paddle boats and even have surfing lessons.
There is a carousel, water slides at 'Water Wizz' and as the evening draws in, there are beach concerts that take place, plus karaoke, fun bars, firework displays, and a drive-in movie theatre.
The water here is calm and clean and there are public restrooms available. There is a fee to visit as well. This is one of the most popular Rhode Island beaches so it's advisable to get here early to save yourself a spot!
Easton's Beach, Newport, RI
Address: 175 Memorial Blvd, Newport
Locally known as 'First Beach', this is Newport's largest beach ideal for families who love soft sand and gentle waves. If you fancy a stroll, there is a boardwalk, as well as a playground, 1950s carousel and the 'Save The Bay Exploration Center & Aquarium'.
There are seasonal facilities such as restrooms, picnic areas and showers and whilst I've not been yet, I've heard some fantastic things about the lobster rolls at Easton's Beach Snack Shop! It can become crowded here as this is a very popular RI beach for Newport residents!
Goosewing Beach, Little Compton, RI
Address: S Shore Road, Little Compton
Considered to be quite a hidden gem amongst Rhode Island beaches due to not many people being familiar with it, this beach is a great place to visit to escape crazy crowds and have a more peaceful, relaxing day. Parking is at South Shore beach followed by a short walk to Goosewing.
The 75 acre preserve is protected under the 'Nature Conservancy' and is kept in great condition. Some people opt for fishing, clamming and bird watching as an alternative to sunbathing and swimming at this beautiful Rhode Island beach – whatever floats your boat!
East Matunuck State Beach, South Kingstown, RI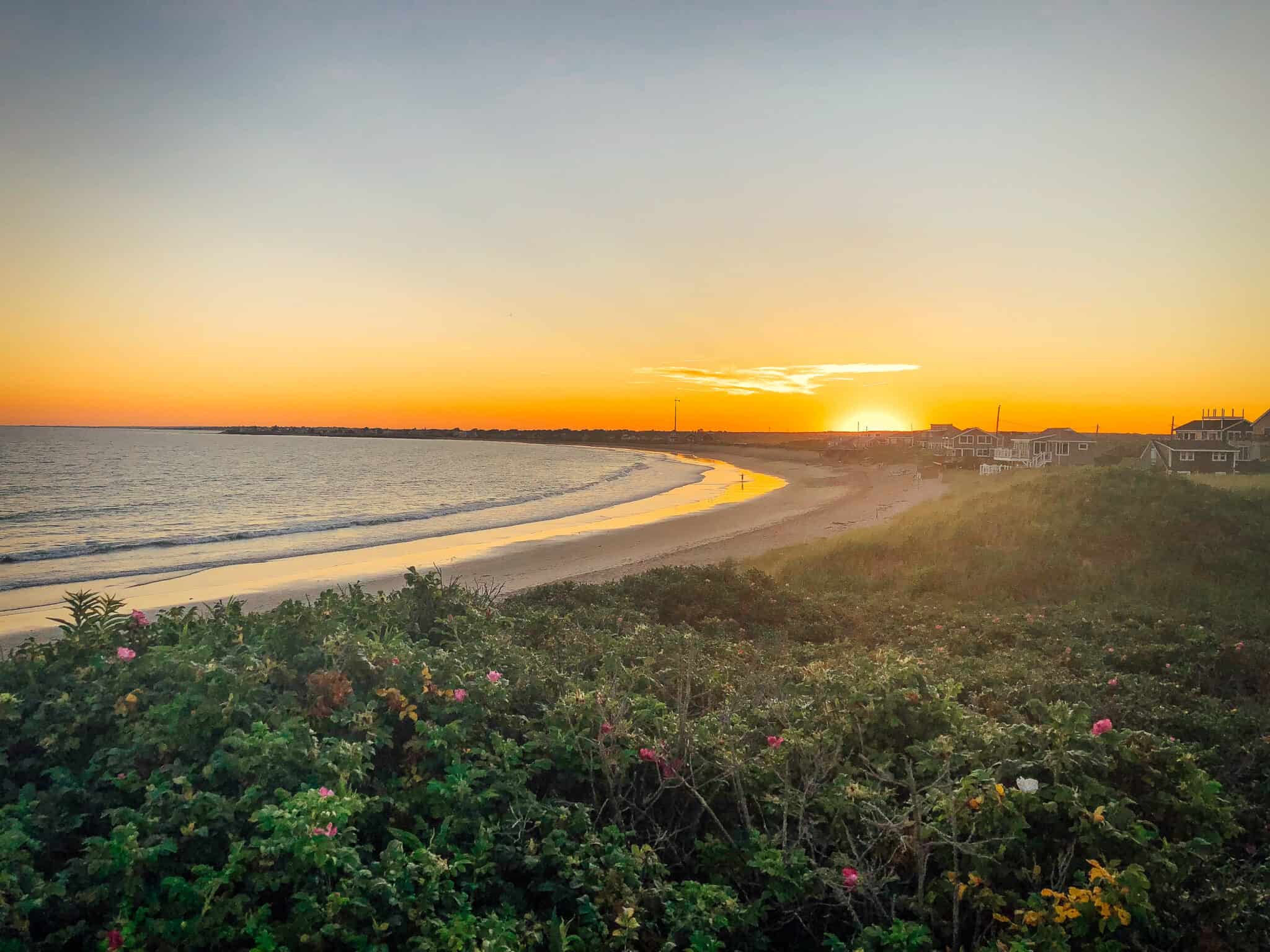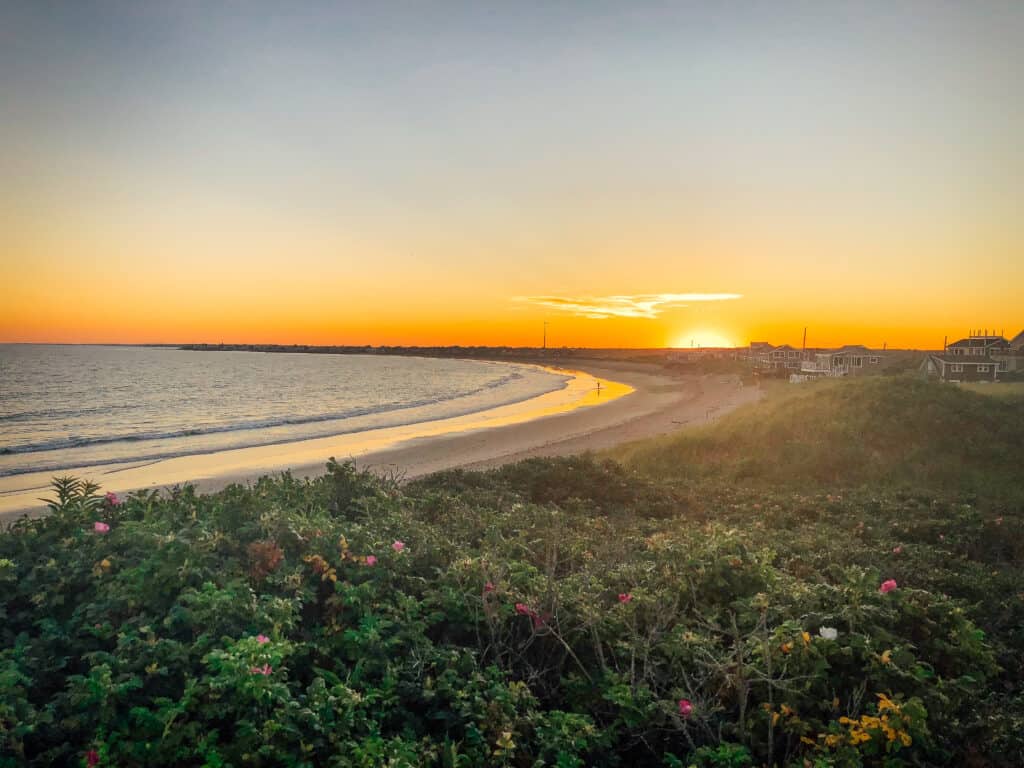 Address: 50 Succotash Road, South Kingstown
One of the top Rhode Island beaches for surfers, both beginners and the more advanced, and very popular for boogie boarding and windsurfers too. My partner windsurfs and this was the first place he scoped out when he arrived in Rhode Island!! There's also plenty of room to relax and unwind if water sports aren't your thing too.
There is limited parking available but you'll find this RI beach doesn't get too overcrowded. After a day at the beach, you can head to the famous Matunuck Oyster Bar for some exquisite seafood or more casual dining at nearby Ocean Mist or Jim's Dock.
East Beach, Charlestown, RI
Address: E Beach Road, Charlestown
There is only one way in and out to access this secluded beach which makes it one of the quieter beaches in Rhode Island. It stretches three miles altogether and has lifeguards during the summer months. There is also a campsite available. Parking is limited but you can find additional options at Blue Shutters Town Beach.
Popular activities here include swimming, fishing, bird watching and paddle boarding. The Ninigret National Wildlife Refuge is here too where you will find over 250 species of birds – get your binoculars out!
Town Beach, Narragansett, RI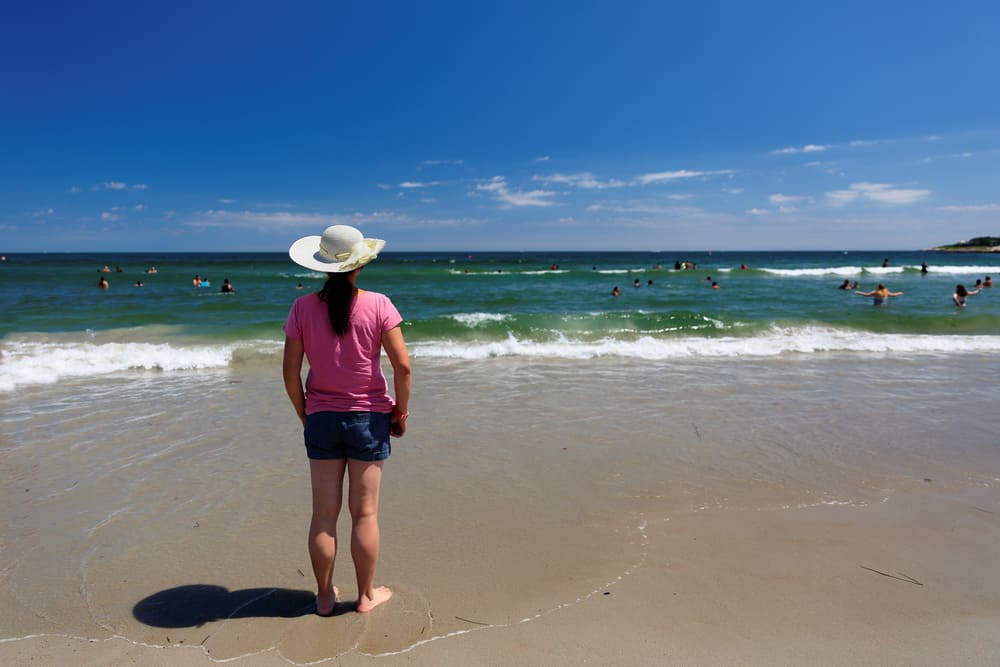 Address: 39 Boston Neck Road, Narragansett
Another surfer's paradise! Narragansett Town Beach hosts the annual Mid-Winter Surfer Championships every February. Surfboards are available to rent and you can even take lessons too.
The beach has a surfing-only area so everyone can enjoy the beach. This is your opportunity to say you learnt how to surf in the Ocean State! Dubbed as one of the best beaches in New England, there is so much going on here, with plenty of room for sunbathing, swimming and gazing at those fantastic views.
Always at the top of the lists of best beaches in Rhode Island, Town Beach is easily accessible from the town meaning you can grab lunch and drinks mid-day from the likes of Monahan's Clam Shack or the more upscale Coast Guard House with its ever-so-popular roof deck!
There are public restrooms and changing facilities available at this RI beach, too. The beach traffic can be heavy and parking spots can get snapped up quickly so if you have a bike, an alternative would be to bike the South County Bike Path to Narragansett (approx. 8 miles).
Sachuest Beach, Middletown, RI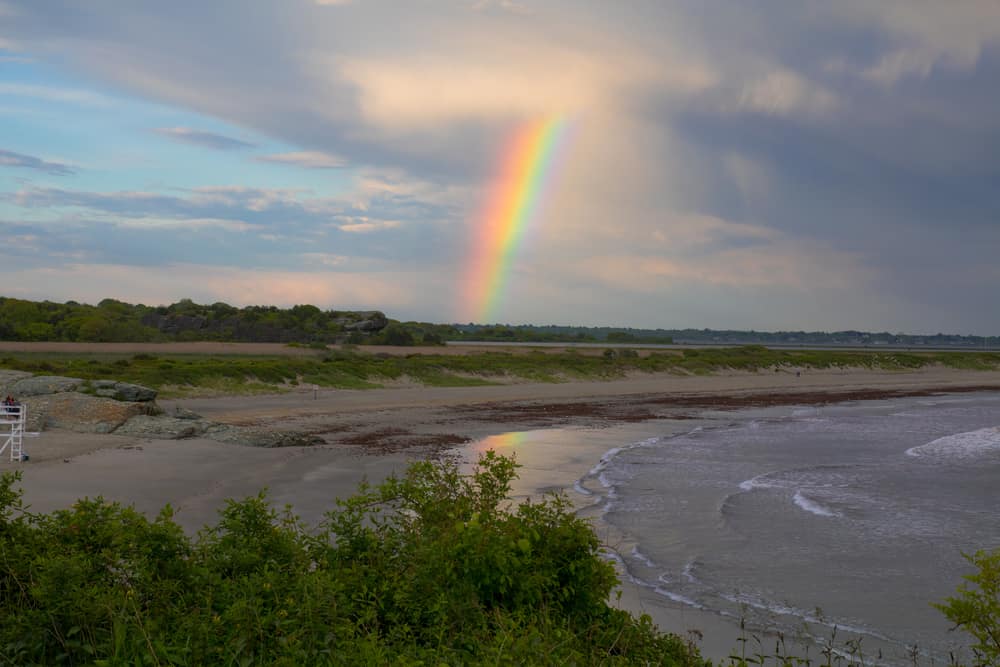 Address: 315 Sachuest Point Road, Middletown
Sometimes referred to as 'Second Beach', Sachuest is the perfect place for a family-friendly Rhode Island beach day. This is a good alternative to Newport's busier Easton Beach too. After exploring the quaint town of Newport, relax and unwind here in Middletown. Offering clear water and powdery sand, it's no wonder people love returning here.
The nearby gothic chapel of St George's School attracts many photographers and Surfers End at the northern part of the beach draws in surfers from all parts of Rhode Island. If you fancy a break from swimming and sunbathing, the Sachuest Point National Wildlife Refuge is close by for a dreamy sunset walk to finish a wonderful day.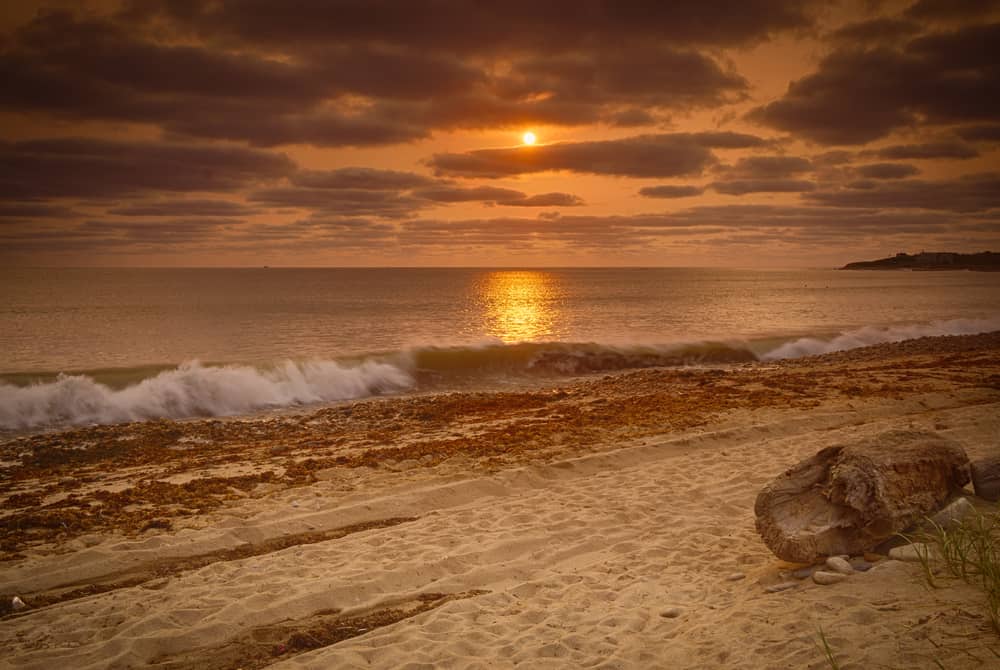 Address: New Shoreham
Last but not least – Block Island! If you've not got this on your list, it needs adding! Each summer we've hopped on the ferry from New London (CT) or Point Judith (RI), hired bikes, and cycled around the entire island, beach hopping as we go! I look forward to this trip every year, it's one of the highlights of the summer!
I recommend hitting up the following Block Island beaches:
You'll love them all! We often break the day up with a few drink stops at the likes of 'Dead Eye Dicks' or 'The Oar', (highly recommend their famous Mudslide drink!).
Wherever you decide to head for coastal bliss, enjoy these beautiful beaches in Rhode Island!
---
You might also like:

---
Hello! I'm Hannah and I currently live in the smallest state in the US – Rhode Island! I moved here in June 2019 with work from the North West of England near the Lake District and I've absolutely loved exploring this beautiful country so far, especially New England! I hope you enjoy my articles and they help inspire you to #travelmoore! Please check out my travel blog, Travel Moore, and Instagram to follow my adventures!