Among Massachusetts' many claims to fame, its beaches stand out as one with widespread appeal. Whether your beach persona is wave-rider, tranquil tanner, beach game-initiator, book-reader, nature enthusiast, or something else entirely, pack a bag and don't forget your sunglasses! Sandy spots up and down the Massachusetts coast and even in inland communities have a lot to offer. So next time you spend an afternoon (or morning… or evening…) daydreaming longingly of the shore, plan a trip to one of these beautiful Massachusetts beaches.
We've got over 15 of the best beaches in Massachusetts on this list, some of them perennial favorites and others under-the-radar sandy spots. They include saltwater and freshwater beaches, beaches in proximity to the best seafood, places to catch waves — or not, beach destinations to take in breathtaking views all day long, picture-perfect lighthouses, boardwalks and hiking trails, beachcombing, and more. Read on for the top beaches in Massachusetts!
Madaket Beach, Nantucket, MA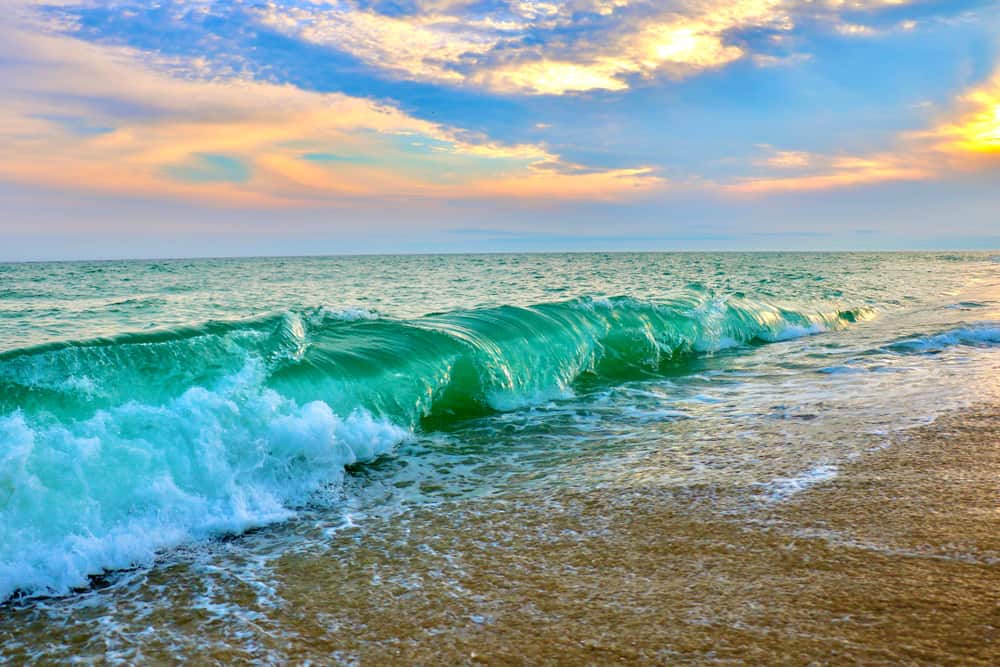 A trip to Nantucket is a dreamy escape. Hop on a ferry, don your cutest beachwear, and enjoy the getaway. Situated on the west coast of Nantucket, the sunsets at Madeket Beach are heavenly, even in winter. But don't wait until sunset to visit Madaket, because this spot is worthy of your whole day. A picturesque scene, the seaside is speckled with shingled cottages and windswept sand dunes. The waves are powerful and the wind is consistent, so make sure you're ready to take it on – if not, enjoy the waves crashing into your feet from the shore. When your stomach starts talking, head up to Millie's, an institution for visitors and locals alike.
Nantucket is also home to some of the best beach resorts in Massachusetts!
Crane Beach, Ipswich, MA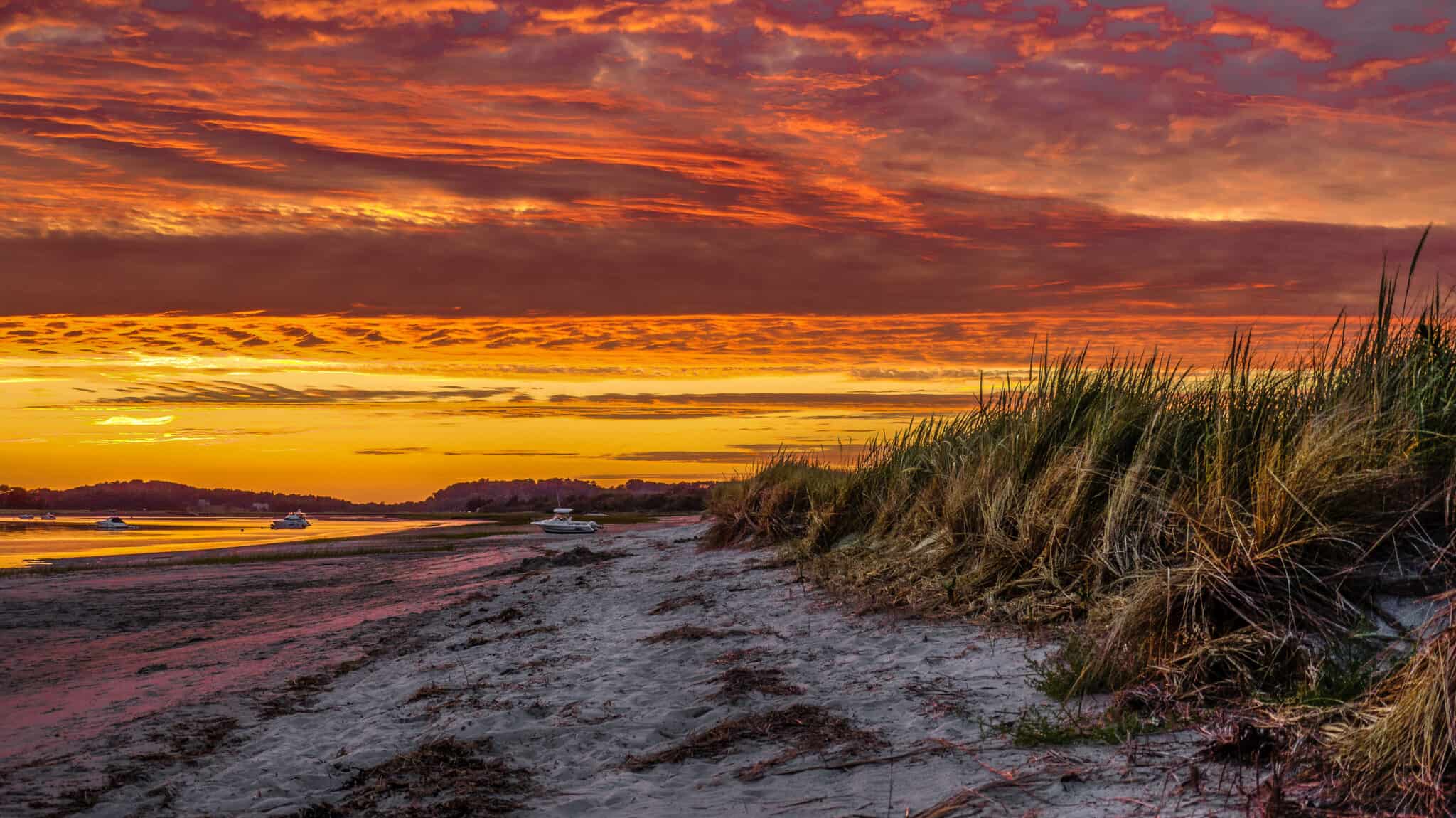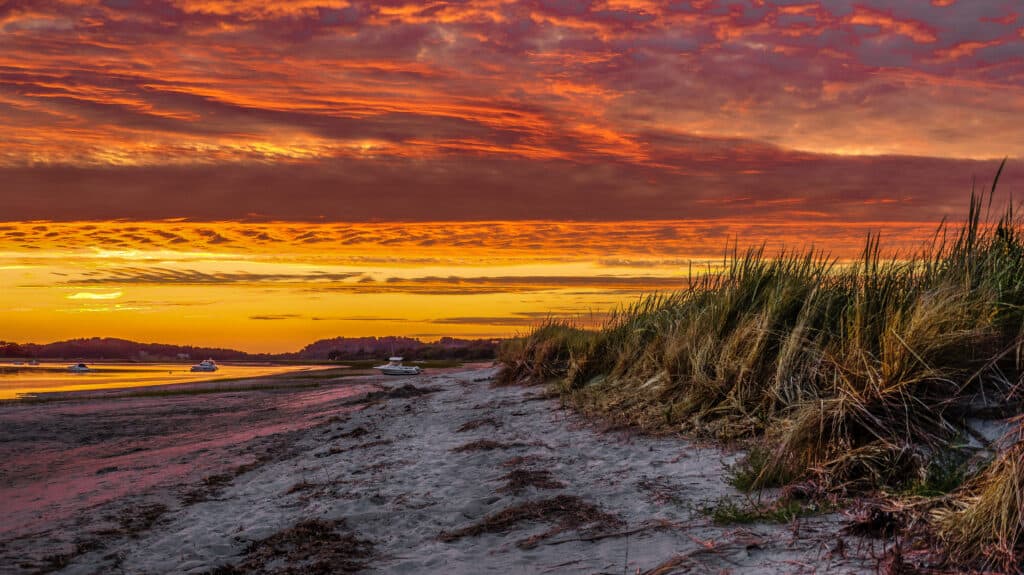 The pristine gem of Crane Beach is situated on the North Shore of Massachusetts and is surrounded by exquisite conservation land. With two miles of shore, an expanse of soft sand to lay on, and stunning views, Crane is one of those pretty beaches in Massachusetts that you won't want to leave, even after spending the entire day there.
Managed by the Trustees of Reservations, the beach is part of the Crane Estate, which includes the Great House, a mansion sitting atop a hill. Check the Trustees' calendar to see what events or programs are occurring while you're in town, or take a walk through the saltmarsh or woods. Once you pack up for the day and shake off the sand, stop by Appleton Farms for straight-from-the-fryer apple cider donuts or the Ipswich Clambake for the freshest of fresh seafood.
Wingaersheek Beach, Gloucester, MA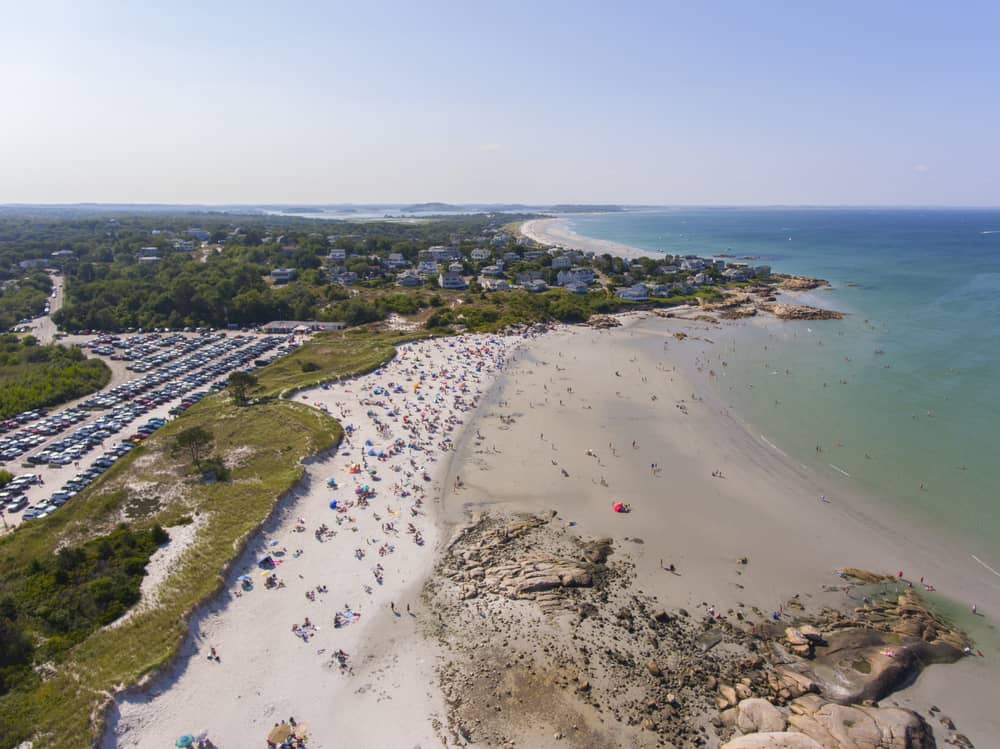 This calm MA beach is tucked away in the very northeast corner of Mass. To get here, you'll traverse winding, pine-bordered roads and pass by enchanting farms. Hold onto your breath though, because once you make it to Wingaersheek, the views will take it away. The beach itself is just half a mile wide, but there's plenty to see; this is definitely one of the best North Shore beaches MA has to offer.
Besides enjoying the sun, sand, and saltwater, take some time to explore the tide pools, and if it's a windy day, admire the kitesurfers or try flying a kite! If you want to get out on the water, head over to downtown Gloucester, where whale watches and boat tours depart from the harbor.
Lynn Shore & Nahant Beach Reservation, Nahant, MA
If what you want is a classic, no-frills, soaking-in-the-sun beach day, then head to Lynn Shore & Nahant Beach Reservation. This one lands on our list of beaches in Massachusetts that must be visited because its miles-long coastline means you won't struggle to find a spot to set up your umbrella, and because it is easily accessible by public transit, bike, or car. A beach day here is a getaway without going away.
If you're feeling especially active, you can arrive via the "Bike to the Sea" route. With most of the path paved and the rest set to be completed by 2022, this off-road network of trails connects the City of Everett (with connections to Boston and beyond) to Nahant and Lynn, coastal communities north of Boston. If you're in search of a more relaxing journey, just be sure to get an early start, since parking fills quickly, or arrive after the peak morning rush.
The Town of Nahant is located on a peninsula past the main beach and parking areas. Continue onward and you'll reach Henry Cabot Lodge Park, which rests at the very end of the peninsula. There, you'll find a wooded greenspace with short trails and boulders that overlook the water – the perfect spot to enjoy views of the Atlantic Ocean and Boston's skyline.
Mayflower Beach, Dennis, MA
This mid-Cape beach sits on the bay side of Cape Cod, meaning the water is warmer and calmer than the ocean side. The beach itself is expansive and has a picnic area and boardwalks. But what really makes Mayflower Beach one of the best public beaches in Cape Cod are its natural amenities: powdery sand, tidal pools, sandbars at low tide, and awe-inspiring sunsets. Once the sun has set on your beach day, make sure to pay a visit to the iconic Sundae School in nearby Dennisport for ice cream!
Wellfleet Kettle Ponds, Wellfleet, MA
The Wellfleet Kettle Ponds are freshwater oases that provide a quiet, calm sanctuary for Cape Codders looking for a little respite from the crowds at the more popular beaches. Access to the Wellfleet Kettle Ponds is restricted to residents only, so this is one of those Massachusetts' beaches that you're going to need to have a local friend to help you get there if you're not a Cape Codder yourself.
Coast Guard Beach, Eastham, MA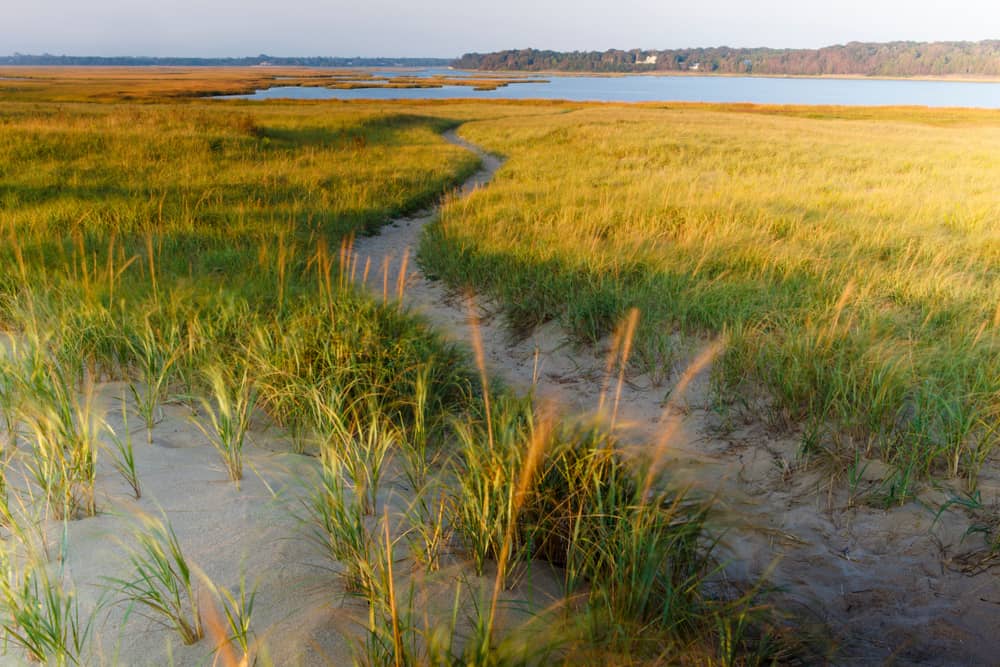 Part of the Cape Cod National Seashore, Coast Guard Beach boasts massive waves, nesting seabirds, bobbing seals, marshes, and spectacular sand dunes along the Atlantic Ocean. Among Cape Cod's most popular beaches, it can get crowded. However, its shoreline is also substantial, so if you're willing to trek, you're sure to find a place of your own to nest. Coast Guard Beach has reliable waves perfectly suited to bodysurfing, boogie-boarding, or just staying cool. Once you've dried off, visit the Coast Guard museum or check out Nauset Light, a classic lighthouse just down the road.
Head of the Meadow Beach, Truro, MA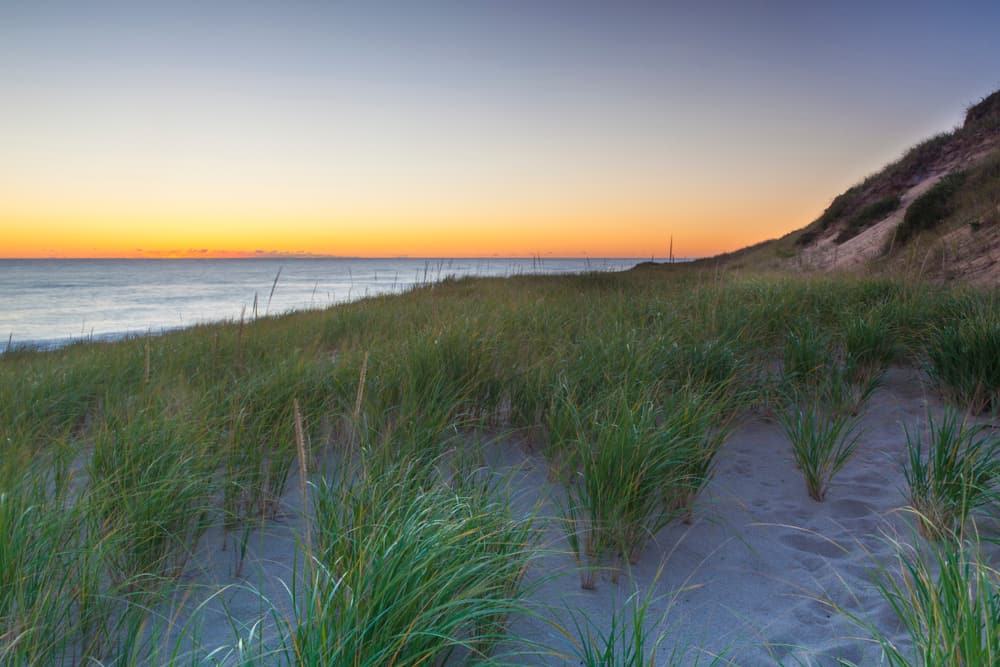 Also located on the Atlantic Ocean, Head of the Meadow has some serious waves. However, unlike its more popular neighbor, Coast Guard Beach, this immense seashore is far less crowded. It's the ideal strand to enjoy the serenity of the sea while gazing at the bluffs overlooking the water or reading. As one of the most eastern places in Massachusetts, you'll find spectacular sunrises over the Atlantic that really are worth waking early for; definitely one of those great perks of Massachusetts ocean beaches!
After your time at the ocean, enjoy some sips at Truro Vineyards, located just down the road. With iconic lighthouse-shaped bottles, their wines also make excellent souvenirs. If you've trekked this far up the Cape, drive a few more miles up the road to Provincetown, a community abundant in cultural, culinary, and natural delights.
Walden Pond, Concord, MA
Who says a day at the beach has to include saltwater? Walden Pond has a mythical quality, thanks to transcendentalist Henry David Thoreau and his nineteenth-century nature writing. Feel for yourself how a trip to the woods twenty miles outside Boston can be restorative. A visit to Walden Pond is an easy and worthwhile day trip for locals and visitors alike. Its beach offers sandy shores and warm water, plus lifeguards and changing rooms are available seasonally. This is a unique beach in Massachusetts to visit!

Besides taking a dip in the famed water, you can circumnavigate the pond on a 1.7-mile trail or ponder while trekking on one of countless interconnected side trails. While walking around the main pond path, you'll cross the site of Thoreau's cabin. The setting might just inspire some prose, so be sure to pack a notebook or open up your phone's notes app. If hiking and swimming haven't tired you out, stop in the recently-renovated visitors center to learn about the historic, literary, and ecological significance of Walden Pond. Nearby, Concord Center offers local fare (there's even a cheese shop!) and boutiques with the classic charm of a New England village.
Marconi Beach, Wellfleet, MA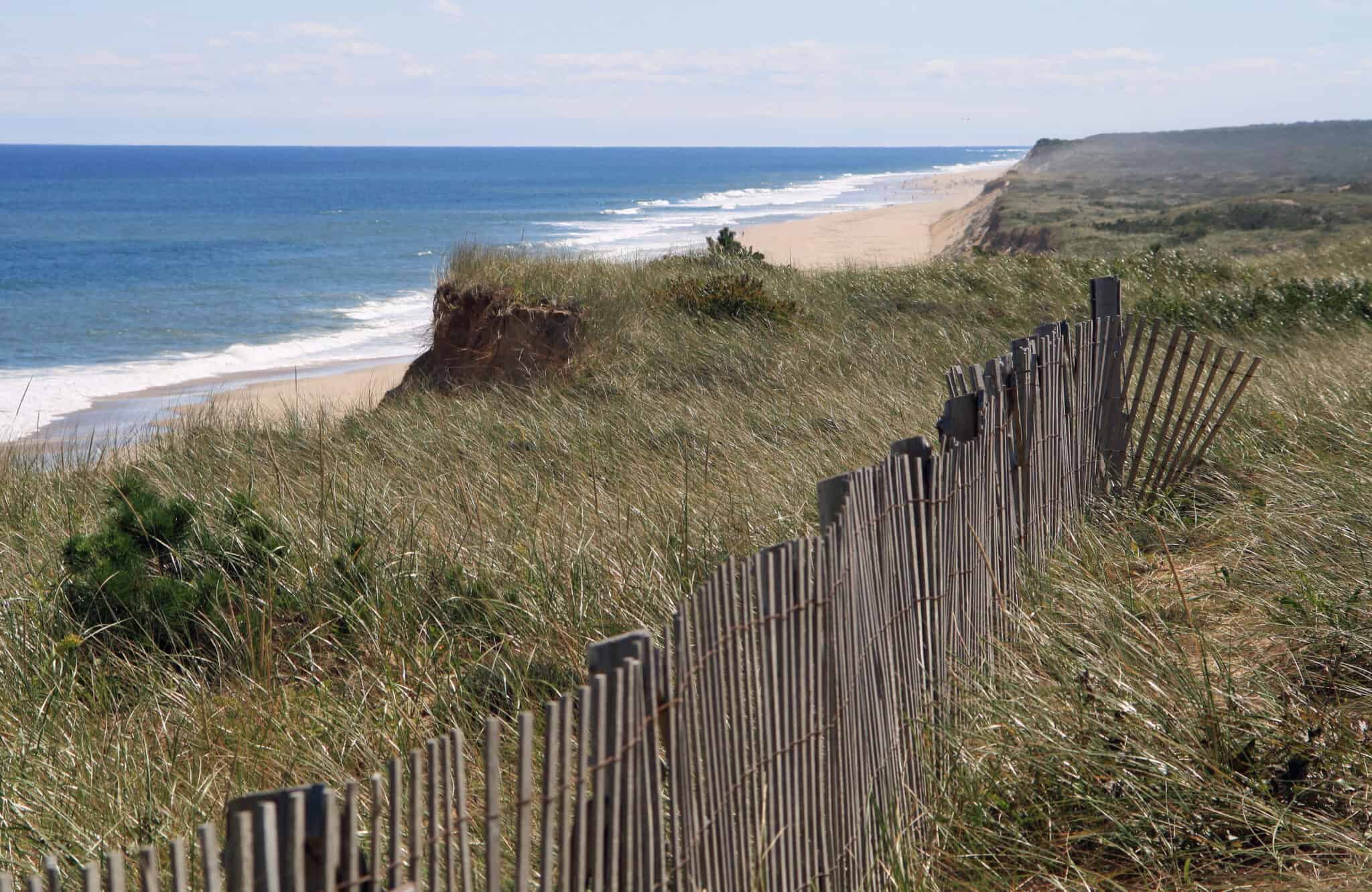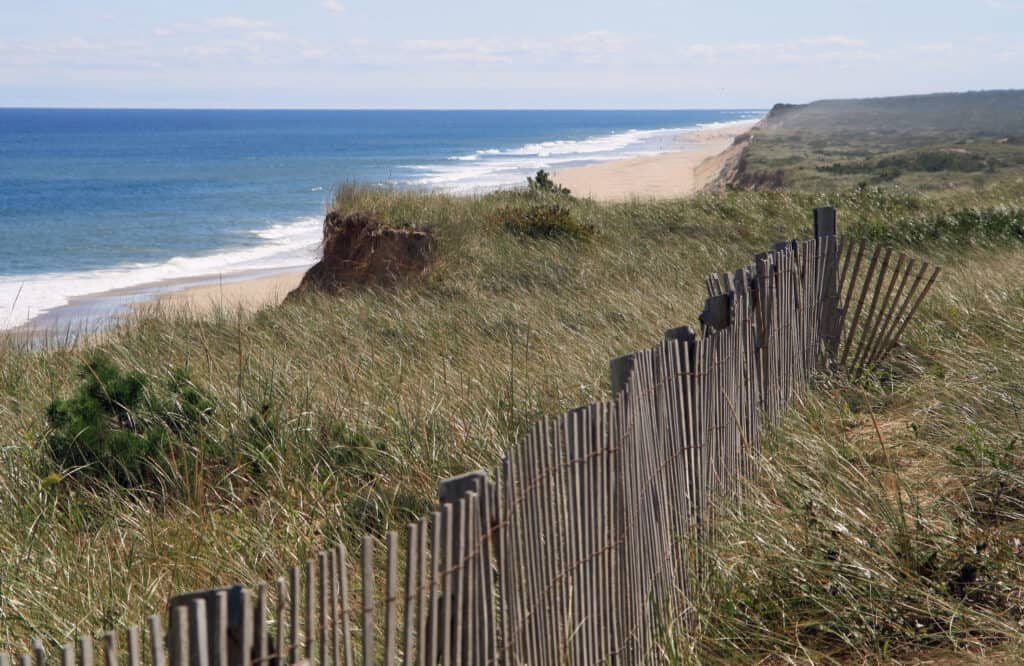 Another treasured space on the Cape Cod National Seashore is Marconi Beach, no doubt one of the best beaches Mass has to offer! Upon first arrival, you'll view the beach from above; to enjoy its Atlantic shores, you'll need to descend the beach cliff stairs. The descent is worth it! When you reach the sand, you'll find a well-rounded beach with something for all. Its long, flat stretches are excellent for walking or finding a place to bliss out in relative privacy, and the water has waves suitable for swimming or surfing.
If you need a break from the waves and wind, take a walk or ride on the Cape Cod Rail Trail. Marconi Beach is near the northern terminus of the 22-mile trail, which is the perfect spot to get some shade, with pines overhead and sand and water to the side. When night falls, you won't want to pass a chance to visit the classic Wellfleet Drive-In, which plays double-features all through the spring and summer. If a day hunting for antiques and artisan goods is your thing, stop by the drive-in on a weekend morning instead, where the space transforms into a giant flea market teeming with treasures.
Menemsha Beach, Chilmark, Martha's Vineyard, MA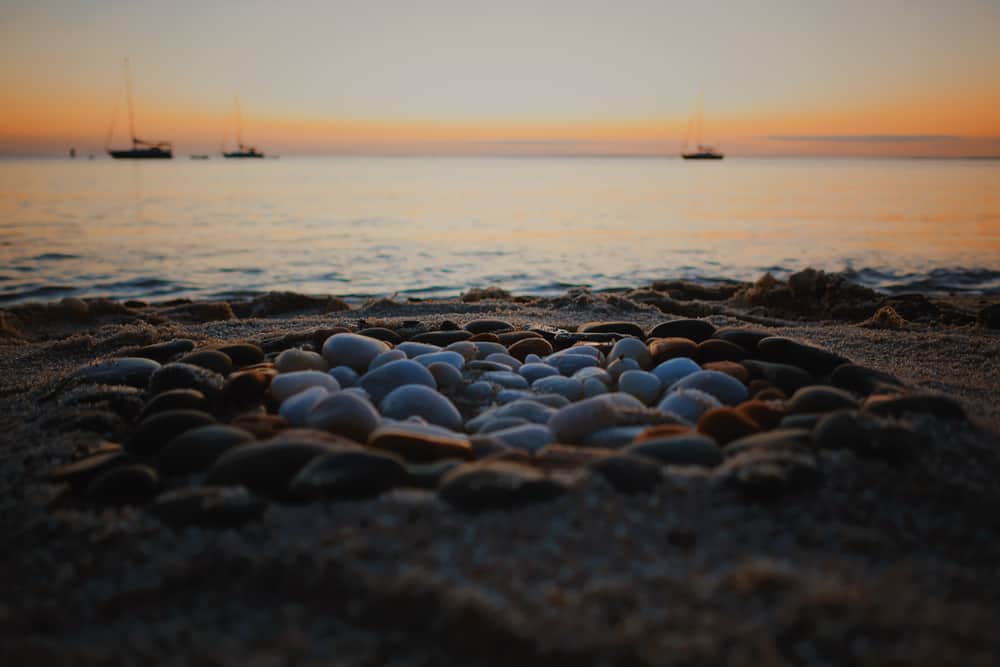 Martha's Vineyard is a cute and stylish summer destination with superb beaches, shopping, and sightseeing. With its gentle surf, the waters of Menemsha Beach are appealing to most swimmers, and the beach is popular with families. If you'd prefer a calmer time of day to enjoy the sea, head over in the evening for a pink-streaked sunset straight from a postcard. Depending on your timing, you may see fishermen preparing to head out or returning for the day, signs of the prominence of the fishing industry in Chilmark.
One of the best ways to get around on Martha's Vineyard is by bike, so rent one or bring your own and get ready to explore. From the feel of salt air on your skin to the smell of lobsters, and the stunning sunsets to the sand beneath your feet, a trip to Martha's Vineyard will awaken your senses! Martha's Vineyard is absolutely one of the best beach vacations in Massachusetts.

Demarest Lloyd State Park, Dartmouth, MA
On the south coast of Massachusetts, Demarest Lloyd State Park is a quiet beach that offers a serene place to relax in the sand or play beach games with friends. Located on Buzzards Bay, the water stays shallow for a significant distance, making it perfect for splashing your feet and floating, and one of the best beaches in Massachusetts for families with kids. The shallow water is also suited to beachcombers, so be on the lookout for the perfect shell! As part of the Buzzard's Bay estuary, Demarest Lloyd State Park is a mecca for seabirds and other wildlife.
Race Point Beach, Provincetown, MA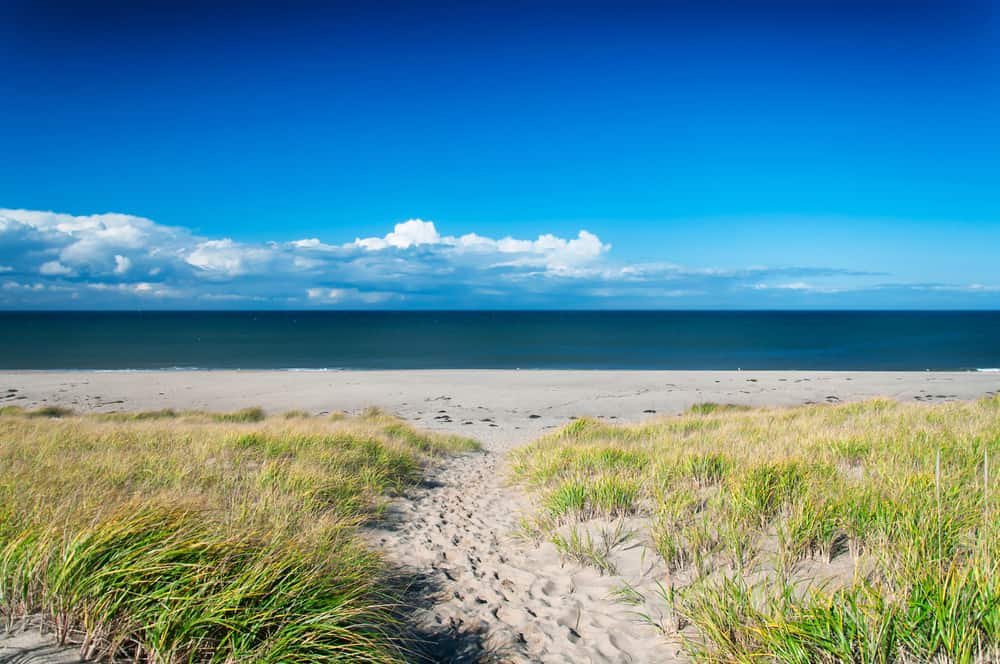 At the very tip of Cape Cod, Race Point Beach is a generous tract of sand with persistent waves. Unlike its neighboring beaches to the south, Race Point is largely flat. Sunbathers will delight in the strong rays shining directly overhead, unhindered by cliffs or vegetation. A day at the top of Cape Cod isn't quite complete without a visit to Race Point Lighthouse, which graces the westernmost point of the cape. Plus, it's a pretty beach in Massachusetts with clear water. Perfection!

If you're transfixed by the mental images of lighthouses, waves, and beach grass, book an overnight stay at one of two houses beside the lighthouse! Be sure to dedicate some time to spend in Provincetown, a community abundant in cultural, culinary, and natural delights.
Otis Reservoir, Otis, MA
Within Tolland State Forest in the Berkshires of Western Mass, Otis Reservoir is the largest natural body of water in the state. The sandy shores and fresh water are surrounded by forested public lands. Small boats are allowed on the water, so if you own a canoe or kayak, be sure to bring it along. Nearby, a state-operated campground is situated on a scenic peninsula with easy beach access. Otis Reservoir and Tolland State Forest are the best place to go when you need a calm escape into nature and want a chance to float or boat.
Old Silver Beach, Falmouth, MA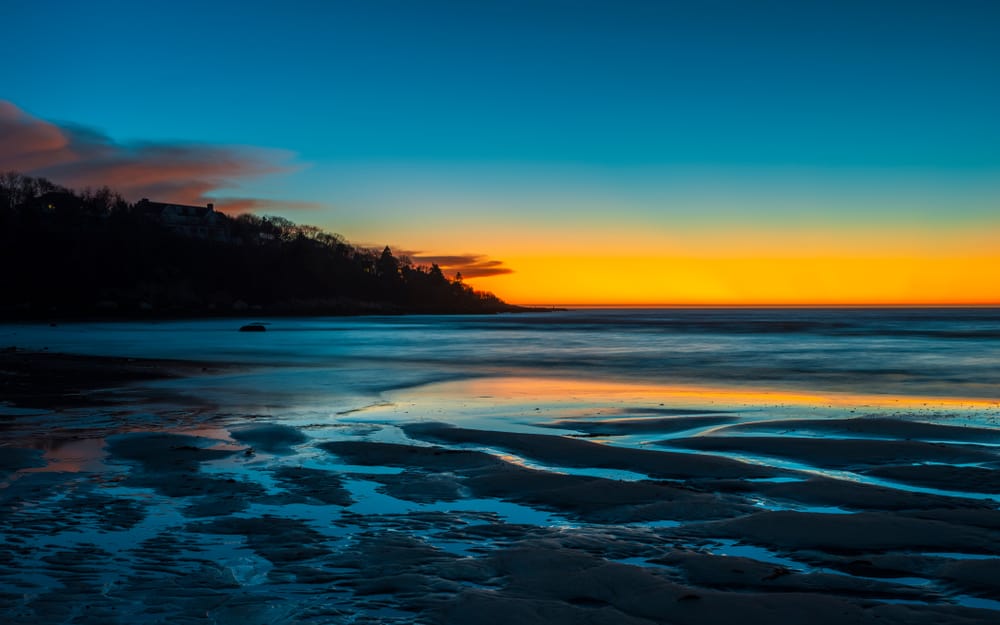 On the eastern end of the lower Cape, Falmouth is a beach town to its core. You'll savor a day at Old Silver Beach, with its wide stretch of sand and warm, clear water. Sitting beside a saltmarsh, the water is rich in marine life. You're likely to see schools of small fish swimming about! Old Silver Beach is popular, so arrive early to get your pick of places to set up your umbrella. When you're sitting on the beach overlooking Buzzard's Bay, watching sailboats or sunsets, you'll see why Old Silver Beach is the embodiment of summertime fun and a strong contender for the best beach in Falmouth MA.
Spectacle Island Beach, Boston, MA
Why travel all the way to an island just to go in the water? You'll see why when you take a trip from Boston to the Boston Harbor Islands (boats run seasonally). Spectacle Island gives you the feeling of being worlds away from it all, while appreciating the wonder of seeing a major metropolis in a new light. Spectacle Island is a special place to enjoy the sea, soak in the stunning views, and take a hike in nature. Does Boston have nice beaches? Well, if you're seeking a change of pace and perspective, hop on a boat to Spectacle Island this summer to check out the best beach in Boston!
---
You might also like:
---