While waking up to a hot summer day in the middle of July normally screams 'beach day,' in my opinion, these marvelous stretches of sand can be enjoyed throughout every season. Whether it's a full day with your family and friends, cooler in hand, soaking up the sun or it's wrapping up warm, gathering your thoughts, and strolling along an empty beach on a crisp winter's evening to watch the sunset… either one sounds like a perfect way to enjoy the best beaches in Connecticut!
Whilst Connecticut is a relatively small state, it overlooks Long Island Sound and hosts some fantastic beaches along the coastline. From Norwalk in the South West to Stonington in the North East (and every gem in between!) below is a list of my top 15 best beaches in Connecticut to visit, whatever the season, while here in the beautiful Nutmeg State…you won't be disappointed!
Best Beaches in Connecticut
Calf Pasture Beach, Norwalk, CT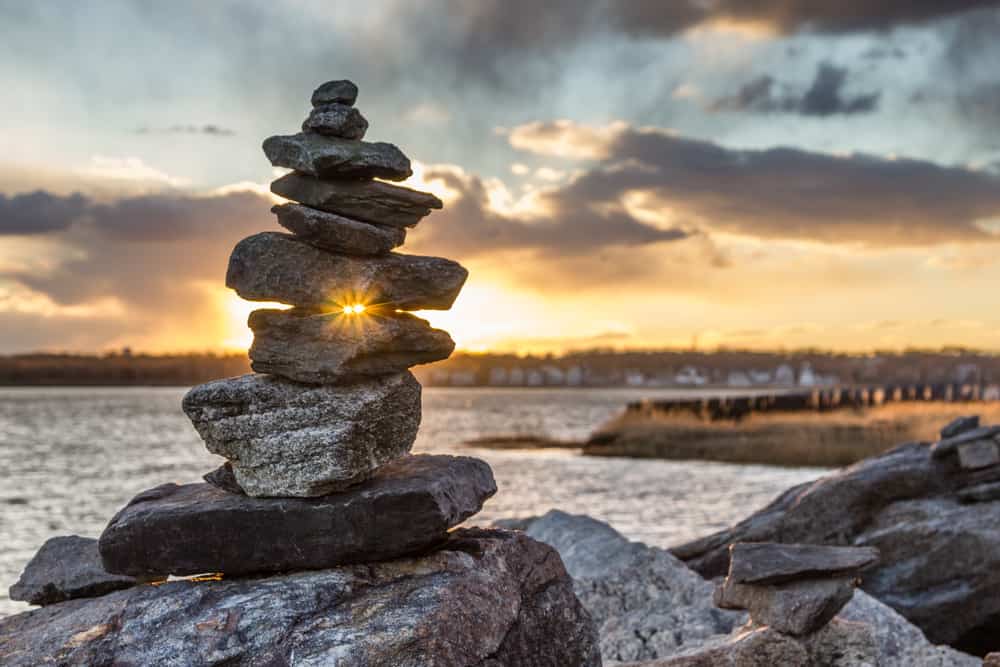 Address: Calf Pasture Beach Road, Norwalk
A popular CT beach for families, it's understandably busy in the summer months as Calf Pasture offers swimming, fishing, boating and walks, as well as areas for basketball, beach volleyball, skateboarding and baseball. Whilst free for Norwalk residents with a season pass, it can be expensive for non-residents…but, if you're making a day out of it with a big group then this can help minimize the cost!
Also, if sunbathing isn't your thing, Norwalk Sailing School rents sailboats and kayaks if you wanted to spend more of your time out on the water. There are special music events throughout the summer too, so this is one of the best beaches in Connecticut for all kinds of activities!

Compo Beach, Westport, CT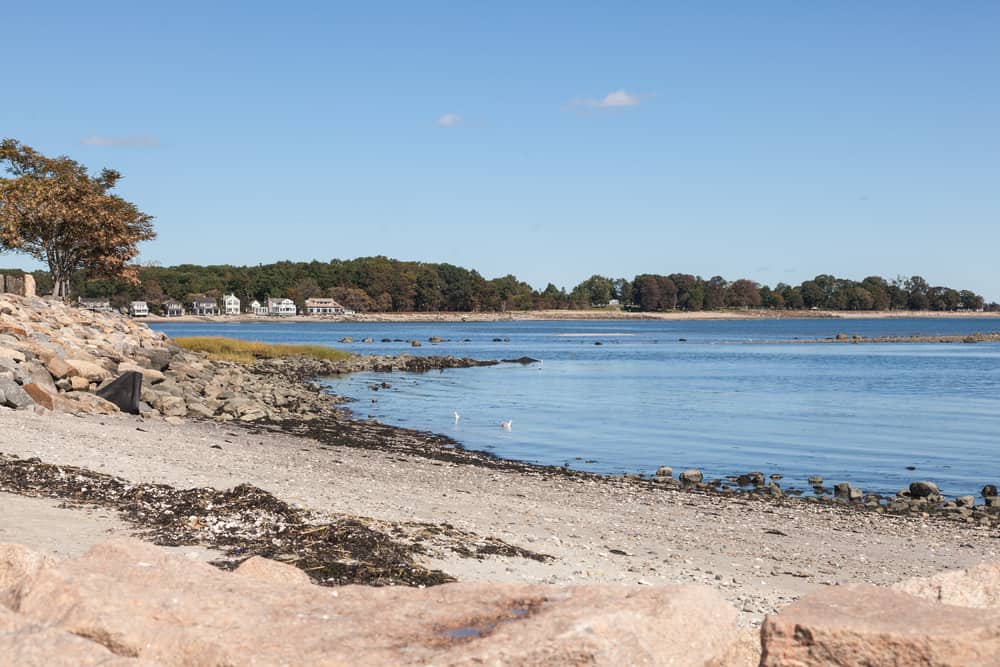 Address: 60 Compo Beach Road, Westport
Compo Beach is located along Saugatuck River and is part of a 29 acre park. You have access to a boardwalk, basketball court, sand volleyball court and their playground area has raving reviews from friends of mine with small children who live close by!
Daily passes are often limited and can be costly if you are a non-resident – so get a group of you together! There are both lockers and bathroom facilities available too at this popular CT beach.
Sherwood Island State Park, Westport, CT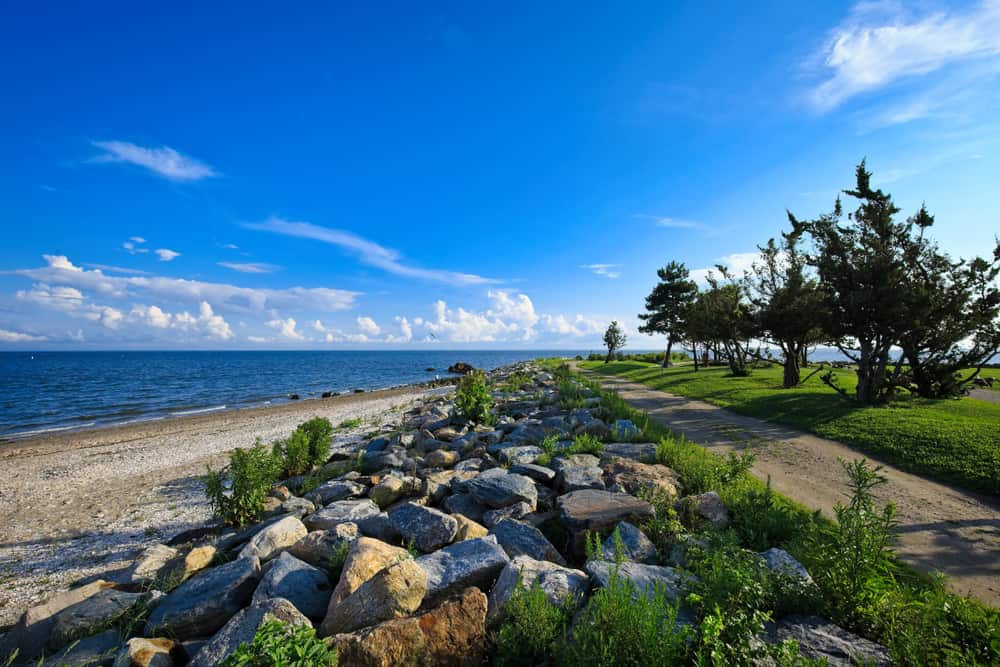 Address: Sherwood Island Connector, Westport
Another Westport Beach! This is Connecticut's first ever state park and is also particularly well known for its three color sand – red, black and tan! Every time the tide comes in and out, the minerals separate leaving behind coloured stripes across the sand which is really cool to see.
The state park covers 238 acres of beach, sand dunes and woodlands, meaning any day trip here will leave you with plenty to see and do. Many people visit for hiking, fishing, swimming and a visit to the Sherwood Nature Centre (open seasonally). The state park is also home to Connecticut's September 11 Memorial.
Jennings Beach, Fairfield, CT
Address: 880 S Benson Road, Fairfield
This is one of the most popular Connecticut beaches for families due to the Henry Rowland Memorial Playground located next to the parking lot. There is a boat launch available at Ash Creek Open Space too!
You will find parking fees are significantly lower when you visit though the week. As well as 27 acres of sand, there is also a pavilion which hosts special events throughout the summer months.
Silver Sands State Park, Milford, CT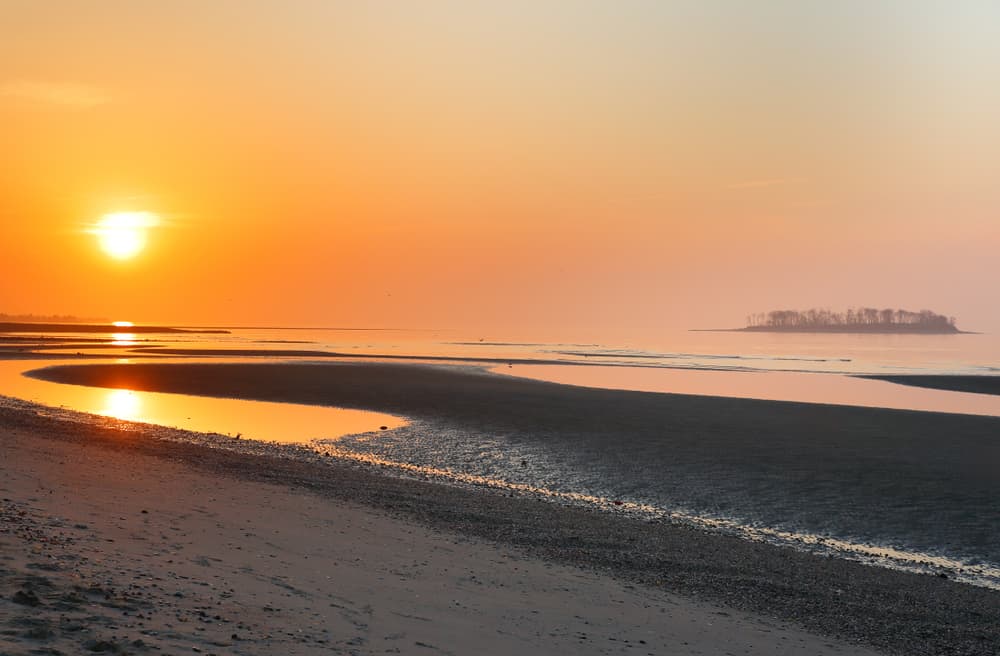 Address: 1 Silver Sands Parkway, Milford
Silver Sands is just less than 300 acres of woodland, hiking trails and salt marshes. The beach itself has over half a mile of shoreline and is a perfect place to unwind and relax when it's open to visitors during the summer (closed outside of these times to protect nesting birds!) Whilst the facilities available here are fairly basic, there is no parking cost at all which is a massive bonus compared to others along Connecticut's coastline.
It is also a particularly unique place to visit (especially for bird lovers!), as when the tide is low, a sandbar appears which forms a passageway to Charles Island – a beautiful nature preserve. It is quite a remote place, so this is one of the best beaches in Connecticut for scenery and a little peace and quiet!

Jacobs Beach, Guilford, CT
Address: 140 Seaside Avenue, Guilford
Dubbed as one of Connecticut's best secret beaches over the summer months, Jacob's beach is peaceful and oozes in tranquility as it rarely attracts overwhelming crowds. As a result, the entrance fee is also kept fairly low. You'll often find kayakers in the water and there are several picnic areas dotted about to enjoy your food.
The beach is nestled on Seaside Avenue, and gives you access to 25 acres of shoreline which you don't really have to share! There is also a playground nearby for young children. Residents can obtain a season pass whilst non-residents must purchase a daily pass.
Hammonasset Beach State Park, Madison, CT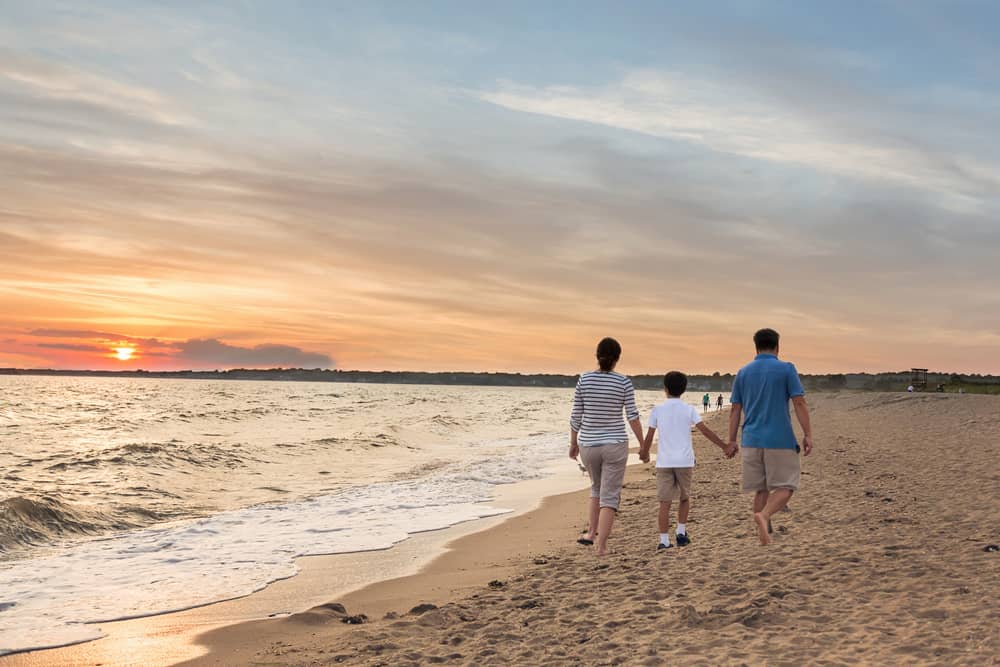 Address: 1288 Boston Post Road, Madison
I visited this beach at the beginning of November 2020, and it was hands down the most beautiful sunset I had ever witnessed in Connecticut – the colors were phenomenal! Hammonasset is the largest beach in the Nutmeg State as it runs for two miles along the shore of Long Island Sound. There are endless opportunities for a fun filled day trip here!
Popular activities include swimming, renting bikes, hiking trails, boardwalk strolls and kayaking. Non-residents are required to pay a parking fee for the day. The state park offers over 500 campsites and the Meigs Point Nature Center has a jam packed schedule of daily and weekly activities for all ages – check it out online!
Harvey's Beach, Old Saybrook, CT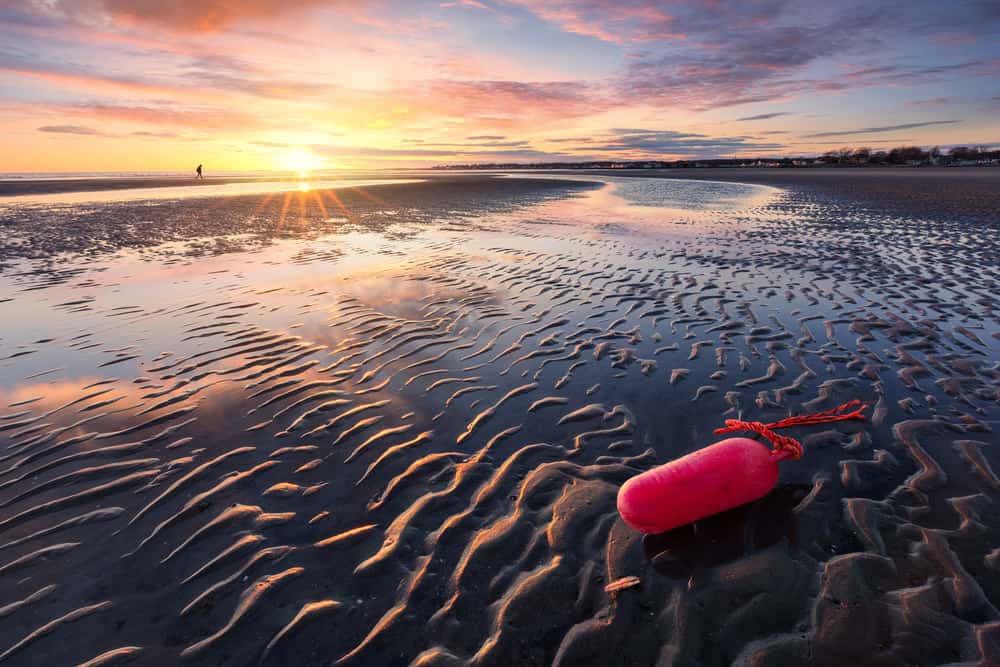 Address: 29 Plum Bank Road, Old Saybrook
Located in Old Saybrook, Harvey's beach is a must visit when in Connecticut. It's an ideal place to spend your morning before heading into town for a late lunch then back again for the beautiful sunset. The shoreline is 100 yards long and the water can be shallow due to the gradual decline which is ideal for any younger swimmers.
For those a bit more strapped for cash, the parking rates are lower than a lot of the other CT beaches so this is a great option! There is beach yoga in the summer along with other fun activities. It has restrooms available too as well as a playground for those who bring small children. I believe there are also options for boat tours!
Rocky Neck State Park Beach, Niantic, CT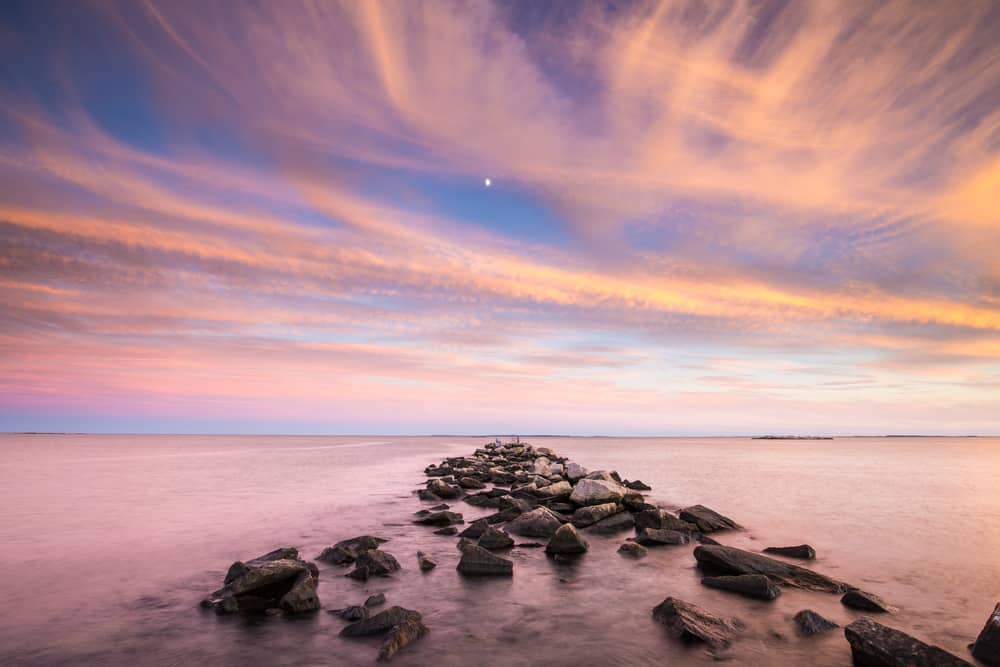 Address: 244 W. Main Street, Niantic
The biggest piece of advice I can offer for Rocky Neck State Park Beach is to set your alarms and get there early! I have tried to visit for hikes before in the past and because I left it too late I have had to turn around as the parking lot was full – nightmare! Located about half an hour away from Connecticut's capital, Hartford, this is one of the biggest and best beaches in Connecticut.
There is something here for every member of the family, whether that be sunbathing, swimming, hiking or fishing for the famous blackfish located here. Many people also choose to make a weekend of it and utilise one of the 160 open campsites that are available!
Hole in the Wall Beach, Niantic, CT
Address: 4 Baptist Lane, Niantic
This CT beach is located in East Lyme and is part of McCook's Point Park (62 acres). The beach is a great place to relax and includes activities such as swimming, crabbing, fishing, canoeing, kayaking, and hiking. It's worth remembering a boat launch pass is needed too if you want to launch your kayak/canoe from the beach area!
There are lifeguards present during the summer months and a pass is required for the beach if visiting between Memorial Day and Labor Day. As long as your dog is on a leash, they are allowed to come with you, so be sure to add this to your list of dog friendly beaches in Connecticut!

Waterford Beach Park, Waterford, CT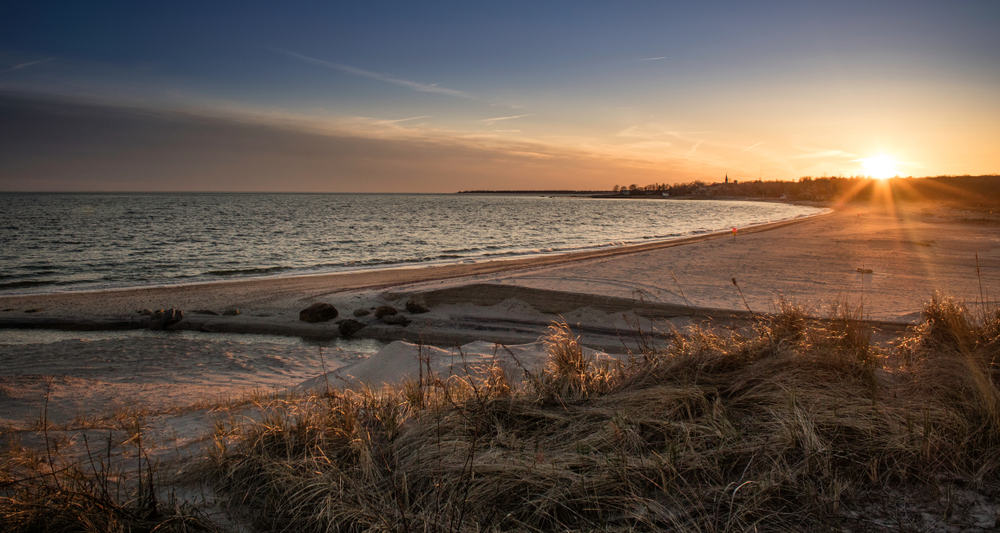 Address: 317 Great Neck Road, Waterford
I've lost many games of Spikeball at this beautiful Connecticut beach yet I keep coming back! Although small, it's full of charm and is one of my favorite places to visit, both in summer and winter. I actually spent 4th July 2020 here and it was so much fun. Harkness Memorial State Park is conveniently located next door too if you fancied a short hike in between sunbathing and swimming!
There are restrooms available here and lifeguards on duty during summer. The parking lot can get busy in the summer so it's advised to head here early, but in the winter, it's empty…allowing you to have the beautiful New England sunset all to yourself.
Ocean Beach Park, New London, CT
Address: 98 Neptune Avenue, New London
This particular beach was voted as one of the best by National Geographic! It definitely deserves to be included on this list of best beaches in CT.
It is the perfect family day out with so many activities available for all ages. The shoreline is half a mile long and includes a boardwalk which is ideal to stretch your legs in between sunbathing! Swimming in the sea isn't for everyone, which is what makes Ocean Beach Park so unique as they have an Olympic sized freshwater swimming pool that can be used by all.
Other activities include a fairground, an 18 hole miniature golf course, video game arcade, picnic area, playground, gift shop and food courts. Throughout the summer months a special programme of events is put together for every day of the week too!

Eastern Point Beach, Groton, CT
Address: 1 Beach Pond Road, Groton
Eastern Point Beach is a family friendly beach located in Groton. It's an ideal place to bring children due to the shallow water and you are in close proximity to a number of wonderful towns such as Stonington and Mystic where you could always head afterwards for post beach day food! Residents will tend to have a season pass for this beach and parking can get busy so plan ahead.

Esker Point Beach, Groton, CT
Address: 900 Groton Long Point Road, Groton
If you head to Groton, be sure to also check out Esker Point Beach located right next to the Groton Long Point Community. This Connecticut beach offers fantastic views of Long Island Sound and you'll often find people playing beach volleyball during the summer months.
I love coming here; especially on Thursday evening's through the summer when the beach hosts live music events with a different band/singer scheduled for every week. It's a great evening full of laughter, dancing and music and is always something to look forward to at the beginning of a working week!
DuBois Beach, Stonington, CT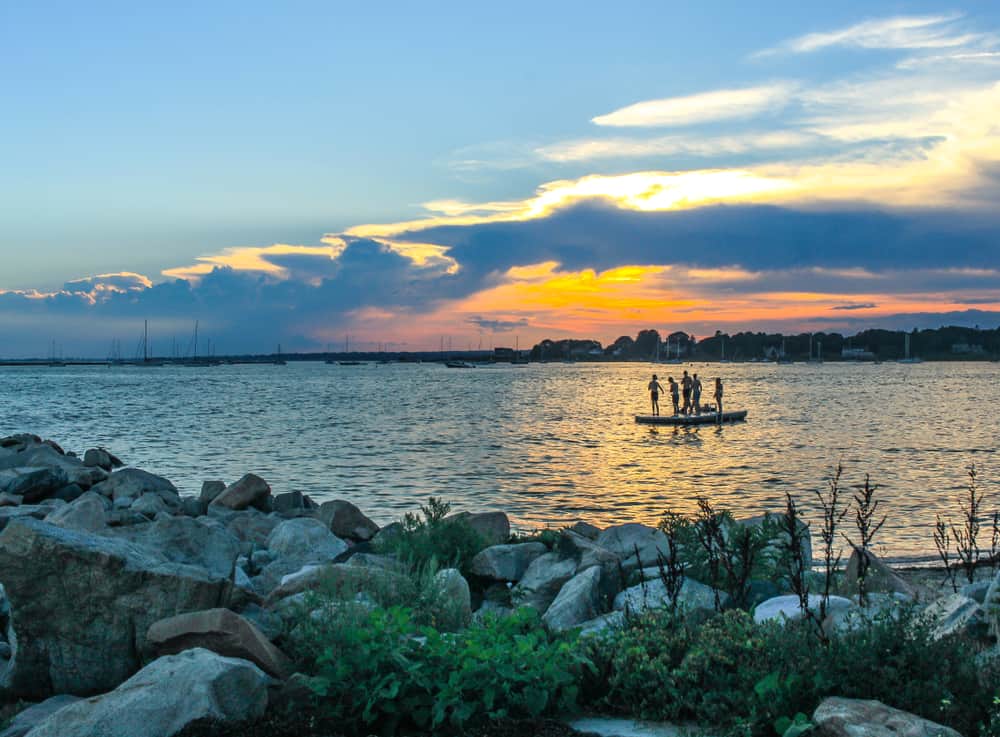 Address: Stonington Point, Water Point, Stonington Borough
Last, and certainly not least on this list of Connecticut beaches, is this little gem at the very tip of Stonington Borough. It is one of my favorite places to grab a coffee to go (The Social Cafe is amazing!) and head to the beach to watch the sunset. This small beach is family friendly and daily passes are available for you to soak in the incredible views of the Harbour. There are jetties for crabbing and a gazebo for some shade when it gets that bit too hot!

This list of the best Connecticut beaches is subjective, of course, so get out there and start exploring CT beaches for yourself and find your favorite sandy spot on the Sound!
---
You might also like:
---
Hello! I'm Hannah and I currently live in the smallest state in the US – Rhode Island! I moved here in June 2019 with work from the North West of England near the Lake District and I've absolutely loved exploring this beautiful country so far, especially New England! I hope you enjoy my articles and they help inspire you to #travelmoore! Please check out my travel blog, Travel Moore, and Instagram to follow my adventures!