---
*Links in this article may be affiliate links, from which we may earn commission. See our
Privacy Policy
for full details.
---
We might not immediately think of a beach day when we think of Boston, but if you're craving a little Vitamin Sea in Beantown, you've got options. There are beaches near Boston where you can put your toes in the sand and soak up some sun, or just have a lovely little stroll along the shore. In fact, there are even a few places in city limits to do this!
If you're looking for Boston beaches to get a little facetime with the sea, we've got you covered here with this list of the best beaches near Boston!
Don't have time to read the whole post? These are our top recommendations:
🌊 Best Beach in Boston City Limits: Carson Beach

🌊 Best Boston Area Beach with Kids: Yirrell Beach

🌊 Best Swimming Beach Near Boston: Nahant Beach

Beaches Near Boston
Revere Beach
Just 5 miles north of Boston is a sandy stretch of beach called Revere Beach, the oldest public beach in the United States. Lifeguards are present in the summer months, but this beach is particularly famous for hosting the International Sand Sculpting Competition mid-summer.
Restrooms and other amenities are available at this beach, making this one of the most popular beaches near Boston.
L Street Beach
Right next door – and sharing neighboring stretches of sand to Carson Beach – is L Street Beach. Sometimes these two beach names are used interchangeably with the other, but L Street Beach tends to be a little quieter and less crowded than its neighbor, Carson Beach.
Constitution Beach
Sometimes referred to as Orient Heights Beach, Constitution Beach in East Boston is one of the best beaches in Boston for those looking for a sandy place to play with family or friends.
There are amenities onsite like restrooms, showers, concessions, and lifeguards on duty, and there is a playground nearby that's perfect for letting the kids loose on when the water gets a little too chilly to splash around in.
Lovell's Island
One of the beloved Boston Harbor Islands, Lovell's Island is popular for summertime camping, hiking, and swimming at its quiet, secluded beaches.
There are no concessions or facilities on island other than composting toilets, so this is a rather primitive beach near Boston. However, if you're looking for peaceful, out of the way beaches in Boston area, Lovell's Island might be the perfect spot!
Tenean Beach
Not one of the best swimming beaches in Boston, Tenean Beach is a better spot for a waterside picnic and a kids' play date at the playground. There are portapotties, a few covered picnic tables, and walking trails.
It's also a popular place for dog parents to take their pups, and in the off season between late September to late May, they're even allowed to be off leash as long as they are under voice control, according to WagWalking.
Yirrell Beach
Located in nearby Winthrop, Yirrell Beach is only about a half hour drive outside of the city, so a completely easy destination for a beach day from Boston! This is an especially popular Boston area beach for those with kids as the water is fairly shallow for a few hundred feet, and lifeguards in the summer months.
Pleasure Bay Beach
Pleasure Bay Beach is one of the Boston area beaches that many do swim at – and there are lifeguards often during the warmer months – but there are better Boston beaches for swimming, as this one is often reported to have quite a few jellyfish present.
One of the best parts about a day at Pleasure Bay Beach is the proximity to Sullivans, where you can grab a bite to eat at one of Boston's favorite restaurants. It's basically the perfect place to have a beach picnic!
Carson Beach
Located in Boston's Southie neighborhood, Carson Beach is a popular summer hang out space with volleyball nets, walking paths, a picnic area, restrooms, and of course, swimming.
Interestingly enough, Carson Beach has some of the cleanest waters of all urban beaches not just in the Boston area, but also in the entire US!
Nahant Beach
Only about a half hour outside of the city, Nahant Beach is a lovely swimming beach near Boston! This little beach area has restrooms, visitor center, and a playground, but no lifeguards.
This Boston area beach is also open year round, so if you're looking for a sandy spot to sit and take in the water views throughout the year, Nahant Beach is a solid option.
Spectacle Island
If you're looking at Boston Harbor islands with swimming, check out Spectacle Island! This is a nature lover's paradise with amenities, so if you're looking for a lovely place to explore nature and still have access to conveniences like restrooms, plumbing, and concessions, this is the spot.
Swimming is available next to the pier, but it's very rocky so bring those water shoes!
Winthrop Beach
Just a quick half-hour drive out of Boston is Winthrop Beach, the main public beach in Winthrop. This is a popular swimming beach, but there are rocky shores before you get back up to the sand. This public beach has restrooms available onsite, as well.
Nickerson Beach
Nickerson Beach in Quincy is an easy half-hour drive south of the city, but it's not one of those Boston area swimming beaches. What makes this beach so interesting is that it is more often than not mostly empty, so for those who are looking for a waterfront to take pictures or just stroll in silence, this is the perfect Boston area beach!
While Boston area beaches are often overlooked for the more popular, often more aesthetically pleasing beaches nearby (we're looking at you, Cape Cod!), there are plenty of places to get out and enjoy the water in Boston.
You might also like: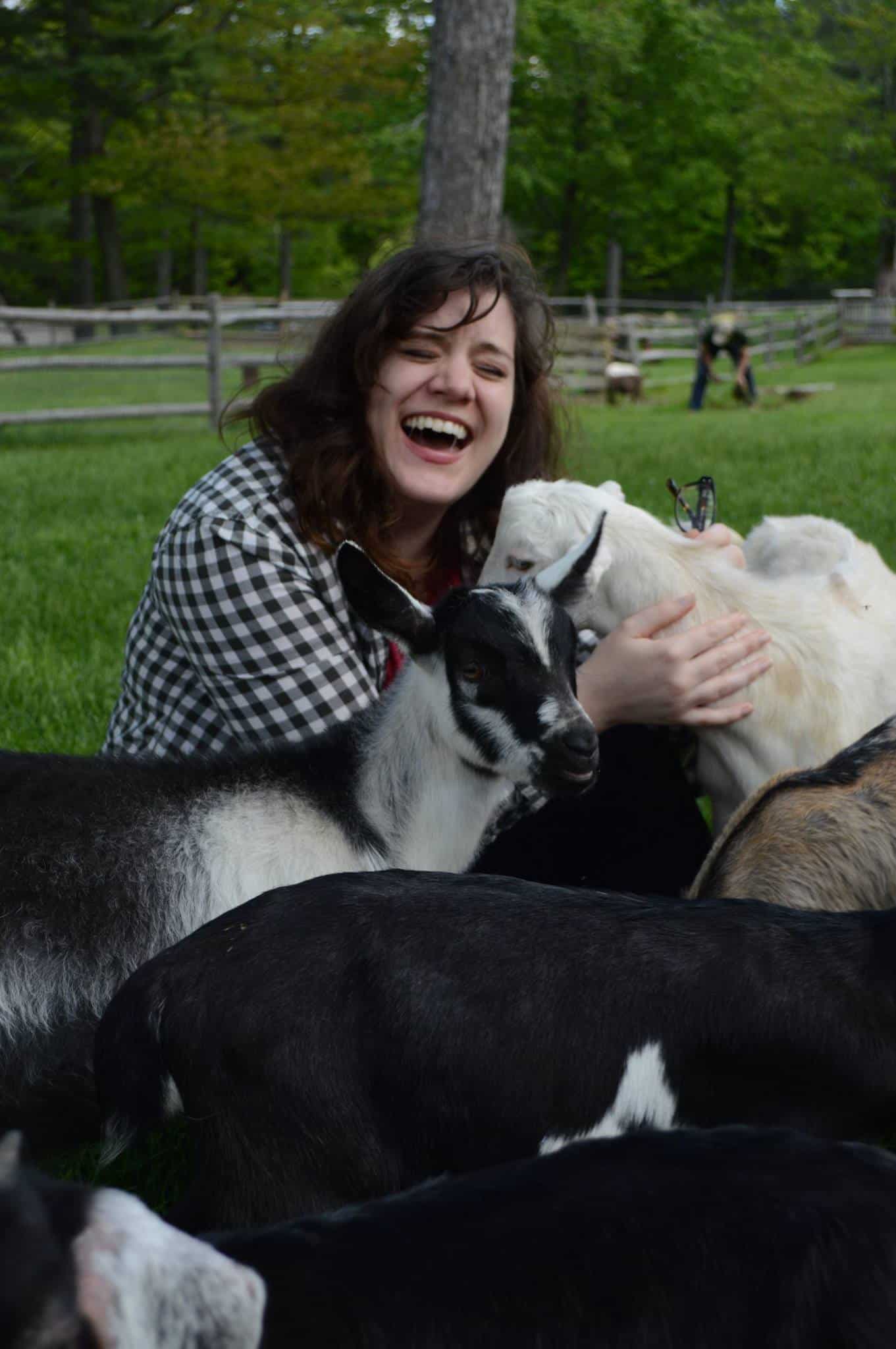 Amy is the founder of New England with love. A proud Vermonter, she hopes to share her love of New England and help you find the best adventures in the region. Amy is also blogger/founder at Two Drifters, where she writes alongside her husband about romantic and couples travel, relationships, honeymoons, and more. When not working on websites, Amy is probably reading, cuddling with her husband, son, and cats, & drinking a maple latte.